|
Location: Stamfordham, Northumberland
Event: 30 June 2013
Report: Andrew Kennedy/Snowdon Sports
|
---
Hannah Barnes (MG-Maxifuel) took an emphatic win in the Curlew Cup in Stamfordham, Northumberland.
This is Barnes' first win of the series and with four more races still to go, the series is still wide open.
The 55-mile race held over undulating terrain dry conditions with strong wind over exposed sections.
The early part of the race saw practical riding from the 55 women with early attacks quickly chased down and brought back into the main peloton.
The first significant break of day was started by Anne Ewing (Breast Cancer Care) together with Joanne Blakely (Champion Systems).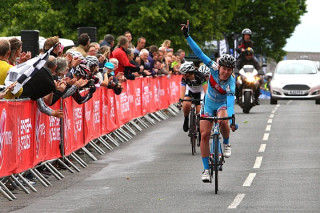 These two broke away and remained in the lead for nearly a lap until they were caught by Hannah Barnes, Corinne Hall (Matrix Fitness) and Lucy Coldwell (Breast Cancer Care).
These five riders maintained a good lead with only Emily Kay (Scott-Contessa) trying to bridge to the leaders from the main field.
Going into the closing lap, the Hannah Barnes group had extended their lead to 1:30 with Emily Kay unable to make the bridge.
With one kilometre to go, it was Barnes, Hall, Ewing and Coldwell who formed the leading group. Coming into the finish, Barnes showed the crowd her powerful sprint and was five lengths clear at the line.
Video Interview
Women's National Road Series: Hannah Barnes speaks after 2013 Curlew Cup win from British Cycling on Vimeo.
Barnes said: "Today has been a hard race the wind made it very difficult to get away from the girls. I tried a couple of times on the climb out of the finishing area but it was too windy to stay away on my own.
"I felt confident coming into the finish and it was made for me with the long fast straight. I'm happy to get the win, it's good to be back on the road after doing so many circuit races. I'm enjoying the National Road Series."
Result:
1 Hannah Barnes (MG-Maxifuel)
2 Corinne Hall (Matrix Fitness)
3 Anne Ewing (Breast Cancer Care)
4 Lucy Coldwell (Breast Cancer Care)
5 Melissa Lowther (Matrix Fitness)
6 Emily Kay (Scott Contessa)
7 Hannah Walker (Matrix Fitness)
8 Eileen Roe (Breast Cancer Care)
9 Lowri Devey (Abergavenny RC)
10 Jo Tindley (Matrtix Fitness)
11 Charline Joiner (MG-Maxifuel)
12 Karla Boddy (MG-Maxifuel)
13 Clemence Copie (High Wycombe CC)
14 Gabriella Shaw (Breast Cancer Care)
15 Lauren Brown (Abergavenny RC)
16 Natalie Grinczer (Abergavenny RC)
17 Gemma Neill (Pedal Power RT)
18 Alice Cobb (Scott Contessa)
19 Julie Erskine (Granite City RT)
20 Karen Poole (GB Cycles.co.uk)
21 Iona Sewell (Geoffrey Butler Cycles Ladies RT)
22 Helen Wyman (Kona Factory Team)
23 Ruth Taylor (Manchester Wheelers)
24 Jessie Walker (Matrix Fitness)
25 Amy Gornall (Scott Contessa)
26 Annasley Park (Abergavenny RC)
27 Jennifer Taylor (Equipe Veloecosse/Montpeliers)
28 Elizabeth Malins (Abergavenny RC)
29 Tracy Best (Zappis Ladies Team)
30 Vittoria Bussi (Zappis Ladies Team)
31 Eve Dixon (Champion System)
32 Anna Christian (Scott Contessa)
33 Gabriella Nordin (Pedal Power RT)
34 Sarah Byrne (Champion System)
35 Gabby Day (Matrix Fitness)
36 Emma Grant (Matrix Fitness)
37 Louise Borthwick (Edinburgh RC)
38 Sian Cahill (Zappis Ladies Team)
39 Bryony Board (Glendene)
40 Joanne Blakeley (Champion System)
41 Zoe Armstrong (Scott Contessa)
42 Jane Barr (Breast Cancer Care)
43 Mannon Lloyd (Abergavenny RC)
44 Laura Murray (Breast Cancer Care)
Please credit www.britishcycling.org.uk and link back if you use any of our race results.
---
British Cycling would like to thank the organising team, officials and everyone else who helped promote this event. Our sport could not exist without the hundreds of people, many of them unpaid volunteers, who put in many hours of hard work running events, activities and clubs.