Location: Leazes Park, Newcastle
Event: 28 June 2013
---
Team UK Youth's Niklas Gustavvson took the 2013 Elite Leazes Criterium title after an exciting three-man breakaway in the annual Leazes Park Criterium, part of the Virgin Money Cyclone cycling event in Newcastle this weekend.
Swede Gustavvson secured the win with fine sprint finish from Team Raleigh's Evan Oliphant and Rapha Condor JLT's Mike Cuming following 50 minutes and five laps of the park's 1km circuit.
Olympic cycling track gold medallist, Ed Clancy finished at the head on the main field in fourth place after showing strongly in the early stages.
Upon receiving the winners' bouquet and the £1000 prize, Gustavvson, who also took the points prize, said: "We try as hard as we can and we have got a good thing going."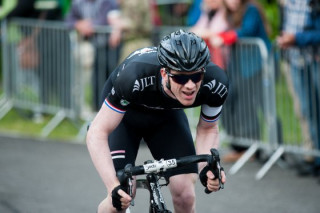 Paul Lloyd, marketing director at Virgin Money, who presented the elite and senior race winners' prizes, said: "It has been a wonderful night of racing and it is great to see the riders racing at full tilt in Leazes Park. Tonight's event augers well for what promises to be a great weekend of cycling."
Honours in the Senior race went to Jake Wormersley from Team Sportscover with Alex Hopper (Team Wallis CHH) and local favourite Nick Spencer (Gosforth RC) in third.
Tomorrow (Saturday 29 June) around 3,700 riders beginners to professional racers will take to the roads of Northumberland in the Virgin Money Cyclone Challenge rides.
On Sunday it is the turn of the professionals again in the Curlew Cup women's race from 9.30am and Beaumont Trophy men's race from 1pm from the village of Stamfordham.
Keep up to date through the weekend and tell us about your Virgin Money Cyclone weekend on Facebook or follow us on Twitter @VMCyclone. More information is also available at www.virginmoneycyclone.co.uk. You can follow @VMCyclone on Twitter and like the Virgin Money Cyclone page on Facebook.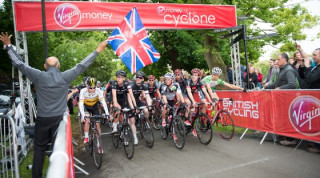 Results:
1 Niklas Gustavvson Team UK Youth
2 Evan Oliphant Team Raleigh
3 Mike Cuming Rapha Condor JLP
4 Ed Clancy Rapha Condor JLP
5 Ian Wilkinson Team UK Youth
6 Alex Peters Madison Genesis
7 Chris Opie Team UK Youth
8 Graham Briggs Team Raleigh
9 Josh Hunt Team UK Youth
10 Thomas Stewart Team Raleigh

Please credit www.britishcycling.org.uk and link back if you use any of our race results.
---
British Cycling would like to thank the organising team, officials and everyone else who helped promote this event. Our sport could not exist without the hundreds of people, many of them unpaid volunteers, who put in many hours of hard work running events, activities and clubs.