Location: Sprotborough, Doncaster, South Yorkshire
Event: 23 June 2013
Report: Ian Hindley/Snowdon Sports

---
Ashley Proctor (Bike Box Alan/Whiston Velo) sprinted to victory in the Danum Trophy, a 60-mile road race promoted by Doncaster Wheelers on roads around Sprotborough, near Doncaster.
The event was traditionally a tough early season race based around Wentwoth. Today the event was promoted for the first time by Martin Maltby on a new six-mile circuit based around Sprotbrough and Cadeby to the west of Doncaster.
At the end of lap two, eventual winner Andy Proctor was away on his own, holding a 17 second advantage over the bunch. The following lap he was joined by Chris Fothergill (Rock Racing Team) and the advantage had increased to 37 seconds.
During the next lap, reports came over the race radio of an accident on the course involving a motorcyclist not connected to the event. No other vehicle was involved but the rider was injured and partially obstructing the road.
He was attended to by a First Aider in the race convoy before an Ambulance Responder arrived on the scene. There was concern that the road might have to be closed to deal with the incident but fortunately news came through soon after that the race could continue as scheduled.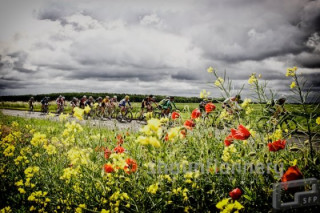 At half distance, Proctor and Fothergill were being pursued by James Baillie (Langsett Cycles) and Gareth McGuinness (Energy Cycles) who were 26 seconds back. The two duos became one quartet by the end of lap six and they were now being chased by former Northern Athletics 800m & 1500m Champion Rob Watkinson and Andy Shaw. The gap was 35 seconds with the main bunch a further 36 seconds behind.
With one lap remaining, the four leaders enjoyed a cushion of 1-18 over Watkinson who in turn held a 15-second lead over Shaw. The main bunch had now fragmented into smaller groups of five and six, and the first of these now had a deficit of 1-32 on Shaw.
The final sprint saw Proctor lead all the way down the finishing straight to claim victory by two lengths followed by Baillie and McGuinness. Fothergill crossed the line 12 seconds adrift.

Results:
1 Ashley Proctor Bike Box Alan/Whiston Velo - 60mls in 2h 30m 02s
2 James Baillie Langsett Cycles ST
3 Gareth McGuinness Energy Cycles ST
4 Chris Fothergill Rock Racing Team @ 12secs
5 Rob Watkinson Doncaster Whs @ 1m 48s
6 Andy Shaw Out Of The Saddle CC @ 2m 17s
7 Simon Maudsley Dirt Wheels
8 Alex Orrell-Turner VS Cycles
9 Richard Moore Squadra RT
10 Tom Bracegirdle Biketreks Racing Academy
11 Andrew Sedgewick Langsett Cycles
12 Harry Shackleton Team Elite
13 Steven Fidler Dave Hinde RT
14 Glen Turnbull Patron
15 Ben Harvey Rutland CC

Please credit www.britishcycling.org.uk and link back if you use any of our race results.
---
British Cycling would like to thank the organising team, officials and everyone else who helped promote this event. Our sport could not exist without the hundreds of people, many of them unpaid volunteers, who put in many hours of hard work running events, activities and clubs.