Location: Oakham, Rutland
Event: Sunday 29 April 2012
Source: Organiser PR
---
On Sunday 29 April 2012, a strong field of national and international riders will line up for the 8th edition of the Rutland – Melton International CiCLE Classic, Britain's only UCI ranked single day race which is sponsored this year by Mountivation.
Zak Dempster win the 2011 race - he's back but riding for Endura for the 2012 edition
This will be the longest ever version of the race ever taking the riders 114 miles between the neighbouring towns of Oakham (Rutland) and Melton Mowbray.
Starting in Oakham town centre at 11.00am, the race will be flagged away by local dignatories including Oakham town Mayor, Joyce Lucas and the Rt. Hon. Alan Duncan MP presided over by BBC TV cycling commentator , and former four times World Cycling champion Hugh Porter MBE.
From there the race takes in an opening two laps of the main roads around Rutland Water before re-entering Oakham to contest the Oakham Wines sponsored Hot Sport sprint award racing onwards to Langham and Cold Overton and the first King of the Hills climb of the day and the narrow roads which characterise the race. From there the race then enters it 'heart' covering over the next two hours the narrow and rough roads and hills around the villages of Somerby, Owston and Burrough-on-the-Hill where the race is played out highlighted by two passages of the notorious 'Somerberg' sector near Knossington , which is arguably the roughest road use for a cycle race in Britain.
The race then moves to its finale as it then heads to Whissendine and Burton Lazers, both of which the race passes through twice for the first time this year. On the first passage of Whissendine the races last Hot Spot sprint of the day will take place and as usual Sawgate Lane will serve as the final and often deciding rough sector of the day. However after this final sector the race will retrace back to Whissendine and back to Burton Lazers giving full opportunity for spectators to the final rough passage before making their way to the finish in Sherrard Street around 15.25.
Supporting attractions will be taking place around both the start and finish in Oakham and Melton town centres and as ever Owston will be offering up its famous BBQ and a commentary position for several hours of the event. The annual Melton St Georges Day parade will also take place once again a short time before the arrival of the leading cyclists.
Where to see the race?
In 2012 the opportunities to view the race many times has been increased significantly. For the enthusiastic spectator it is possible to see the race in over 10 places during its circuitous route between Oakham and Melton. Here are a few suggestions:
- The START in Oakham Town Centre
- At the Stamford Road bypass island just outside Oakham as the race completes its fitrts lap of Rutland Water.
- In Oakham Town Centre to see the Oakham Wines sprint be contested.
- The top of Cold Overton hill for the first King of the Hills climb.
- In Somerby for the first passage of the race there.
- Owston or Burrough on the Hill for the races many passages through those villages.or back to
- Cold Overton Hill for the fourth King of the Hills climb, or onto 'Somerberg' (Bruces Lane) for the ultimate CiCLE Classic experience .
- Leesthorpe Crossroads or Whissendine village to see the first passage of the race through the village and final Hot Spot sprint of the day.
- At the exit from the final rough sector of the race at Sawgate Lane just on the edge of Melton.
- At the FINISH in Sherrard Street.
Please allow plenty of time to get from one point to another and be prepared to encounter the road closures which will apply as soon as the race approaches and will apply until the last of the 'effective' race passes.
Also please remember to park your cars well off the road especially if parking on any of the many narrow roads that the race uses particularly around Owston and Burrough on the Hill.
If viewing at Owston please use the identified car parks and always obey any instructions from race marshals.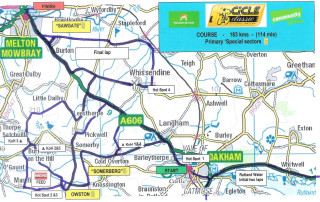 Riders to Watch
Last year Zak Dempster, riding for Rapha- Condor –Sharp, scored an emphatic sprint win from the leading group of 13 who had survived the 105 miles race. This year Dempster returns, wearing number one and heading his new Endura team who have this year record an impressive list of performances in events in continental Europe. He will be supported by a strong team which includes former National road race champion and Team Sky rider Russell Downing.
Rapha Condor Sharp field a young squad this year, but with wins to his name already this year Ben Grenda looks a solid bet for a podium place.
The Danish Glud & Marstrand –LRO team returns again for their fifth challenge on the race which has already netted them one win, one second and two third places in previous editions. With Niki Ostergaard one of Denmarks bright hopes for the future amongst the team and with the event being one of their targets for the early season, Ostergaard, or any of his teammates could claim the win.
Arrayed against these three is a strong line-up of domestic and international teams, all capable of getting a man into the all-important break and with the rough roads and unpredictable conditions, luck will also play a part in deciding the winner.
Start List
Endura (GBR)
D.S: SMITH, Brian
1 DEMPSTER, Zak (Aus)
2 ANDERSON, Jack (Aus)
3 BLAIN, Alexander (Fra)
4 PARTRIDGE, Rob
5 WINDSOR, Dean (Aus)
6 DOWNING, Russell

Team UK Youth (GBR)
D.S: POVALL, David
50 GUSTAVSSON, Niklas (Swe)
51 OPIE, Chris
52 McGOWAN, David
53 TANGUY, Richard
54 STEWART, James
55 LEWIS, Gruff

Wheelbase- MGB (GBR)
D.S: DALTON, Toby
102 REID, Stuart
103 PENN, William
104 SUMNER, Grahame
105 PULLAR, Jack
106 GREENHAULGH, Tony

Hope Racing (GBR)
D.S:
146 OLDHAM, Paul
147 WILLIAMS, Matthew
148 BOOTH, Daniel
149 THOMPSON, James
150 COLLINS, Dave

Cycle Premier (GBR)
D.S. FREEMAN, Rod
7 BERLING, Michael (Den)
8 ADAMS, Stephen
9 BJERGFELT, William
10 MOZLEY, Jon
11 FALDER, Russell
12 BLACK, Tom

KTM- Murcia (ESP)
D.S:
56 THOMAS, Simon
57 PEREZ, Juan Miguel
58 RIENDA, Juan Carlos
59 CASARUBIO, Oscar
60 GONZALEZ, Hugo
61 JUAREZ, Ramon

Herbalife- Leisure Lakes (GBR)
D'.S: TAYLOR, Neil
107 GILHAM, Kit
108 HAWDON, Andrew
109 HASSAN, Robbie
110 COUPE, Andrew
111 CUTSWORTH, Jack
112 KAY, Alistair

Team Wallis Cycles (GBR)
D.S: WALLIS, Martin
151 SMAIL, Robert
152 ABBOTT, Stephen
153 TIPPER, Jacob
154 CRELLIN, John
155 NICHOLSON, Calum

Node 4 -Giordana. (GBR)
D.S: ELLIOT, Malcolm
13 ROGERS, Rico
14 BIALOBLOCKI, Marcin
15 CRONSHAW, Matt
16 NORTHEY, Mike
17 LAVERY, Philip
18 WILLIAMS, Pete

Deschuytter-Westk'ke (BEL)
D.S: Deschuytter, Filip
62 BULTINCK, Jimmy
63 VOLCKAERT, Tom
64 DELAMEILLEURE, Matt
65 LAPIERRE, Ward
66 LIBBRECHT, Emmanuel
67 VANDERMEIREN, Ward

VanillaBikes.Com (GBR)
D.S: HODGSON, Geoff
113 GREENWOOD, Ben
114 BYRNE, Dillon
115 ROBINSON, Alisair
116 JACKSON, Samuel
117 FINN, Ashley

Team Raleigh -GAC (GBR)
D.S: PRIDHAM, Cherie
19 SULZBERGER, Bernard(Aut)
20 HOLLOWAY, Daniel (Usa)
21 HOLOHAN, Liam
22 HORTON, Tobyn
23 OLIPHANT, Evan
24 HAMPTON, Russell

Geofco- Ville D'Alger (ALG)
D.S: COUPE, Geoffrey
68
69
70
71
72
73

Performance -CMI (GBR)
D.S: WALTERS, David
118 MURISON, Al
119 HOTCHKISS, Todd
120 RYAN, Connor
121
122 DUNBAR, Luke

Lough. Univ. Perf. Team. (GBR)
D.S:
160 KING, Alexander
161 NICHOLS, Dave
162 THELWELL, Michael
163 ULMER, Matthew

Rapha - Condor (GBR)
D.S: SOUTHAM, Tom
25 ROSSI, Oliver
26 GRENDA, Ben (Aus)
27 ENGLISH, Felix (Irl)
28 GRIVELL-MELLOR, Luke
29 JENNINGS, Christ (Rsa)
30 KENNAUGH, Timothy

Asfra- Flanders (BEL)
D.S: ASSEZ, Luc
74 BOWATER, Perry
75 BARNES, Michael
76 HEASTHCOTE, Richard
77 McCARTHY, Eoin
78 NICHOLSON, Michael
79 ROBERSTSO, Scott

Sportscover-Altura (GBR)
D.S: BROWN, David
123 BROWN, Ashley
124 MORALEE, Duncan
125 DUGGLEBY, Adam
126 THWAITES, Mark

GWR-Swindon (GBR)
D.S:
164 DUNCOMB-ROGERS, Brock
165 WIECKOWSKI, Jess
166 DENNY, Rupert
167LKINSON, Chris

Hargroves - Trant (GBR)
D.S HARGROVES, Pete
31 FIELD, Ian
32 CRAWFORTH, Jody
33 HARGROVES, Andrew
34 JAMES, Steve

CMI- Trilogy Group (USA)
D.S:
80 GUCWA, Zbigniew
81 JULIEN, Sebastian
82 GREEN, Simeon
83 SOULA, Guillaume

Spin Rotor Racing (GBR)
D.S: BATT, Neil
127 SCOTT, Jamie
128 LONDORS, Paul
129 PALMER, David
130 ROBERTSON, Paul

Team Corley Cycles (GBR)
D.S: HOOPER, Dick
168 JONES, Matthew
169 COX, Ashley
170 STONES, Liam
171 SMITH, Michael

Glud & Marstrand –LRO (DEN)
D.S: SKELDE, Michael
35 OSTERGAARD, Niki
36 JORGENSEN, Kasper
37 GADE JACOBSEN, Mathias
38 STEREBO, Rasmus
39 HANSEN, Jesper
40 CLAUSEN, Patrick

Metaltec (GBR)
D.S: SWAIN, Andrew
84 SIX, Marcel
85 APPLEBY, Dale
86 GEE, Matt
87 HALPIN, Stephen
88 LLOYD, Rhys
89 WILSON, Steve

B.C. East Mids.l Reg(GBR)
D.S:
131 HENRY, Ryan
132 COYLE, Chris
133 BARRATT, Matt
134 JENNINGS, Matt

Twenty3C.co.uk-Orbea (GBR)
D.S: SHANNON, Dean
172 LYONS, Andy
173 SZLACHTA, Wojciech
174 BERRIL, Clem
175 ATKINS, Lewis

Velo 29 -OTR( VANKRU (GBR)
D.S: WILLIAMSON, Richard
41 NORLEDGE, Joe
42MARK, Christopher
43 SMITH, Dan
44 ORR, Rob
45 MOYE, Anthony

IG Markets- Sigma (GBR)
D.S: FREWING, Becky
90 RICHARDSON, Simon
91 LAST, Tom
92 LLOYD, Daniel
93 CRAVEN, Dan
94 LAMPIER, Steve
95 SYBRANDY, Wouter

DirtwheelsCycles (GBR))
D.S: HENDRY, Neil
135 PERRY, mark
136 ROSE, Graham
137 BULMER, Matthew
138 WHITEHEAD, Zak
139 DROGER, Dieter

G.B. U 23 Academy (GBR)
D.S: LAMBERT, Keith
176 YATES, Simon
177 DOULL, Owain
178 GALLAGHER, Kenta
179 FERGUSON, Grant.

Arbo-Grbruder-Weiss (AUT)
D.S.: HAUSER, Oskar
96 ERLER, Tobias
97 SCHRANGL, Alexander
98 RANACHER, Lukas
99 GROMER, Philipp
100 GOGL, Lichael
101 SCHINAGL, Philip

ETCETERA-WorldofBike (GRE)
D.S: TENTSOS, Georgios
140 Van de SCHUEREN, Kenny
141 IONNIDIS, Nikolaos
142 KATRAKIS, Christos
143 KONSTANTINIDIS, Konstant.
144 SCHULTZ, Phillip
145 TOLLES, Joachim