Sam Walton Border Trophy Road Race
Location: Netherwitton, near Morpeth, Northumberland, 86 miles
Event: 14 August 2011
Report: Snowdon Sports
---
Robert Hassan won the 2011 Sam Walton Border Trophy Road Race at Netherwitton, near Morpeth in Northumberland, when he proved strongest in a break which stayed clear for much of the race.
The Endura-Pedal Power rider edged out two rivals in the sprint for the line at the end of the 86-mile race which took in some of the most scenic but toughest hills in the area.
He had been part of a 20-rider break which attacked after just five miles while the race was on relatively flat terrain. But once they hit the first of the hills the strong men forged ahead, leaving a group of 11 at the front of the race.
Sigma Sport's Kit Gilham showed his prowess on the hills by winning three of the four primes to earn himself the King of the Mountains title - but he had to settle for second spot in the final result.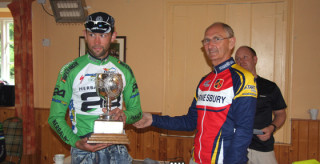 The pace increased again as they headed for the line, and the leading group fragmented on the run in, while the remains of the bunch trailed in more than five minutes behind.
Results:
1 Robert Hassan (Endura/Pedal Power) 3-36-14
2 Kit Gilham (Sigma Sport RT)
3 Alastair Kay (Herbalife-Wheelbase) all @ same time
4 Chris Mark (Velo 29 Cycling Team) @ 13 sec
5 Gary Hand (Endura/Pedal Power) @ st
6 Daniel Smith (Velo 29 Cycling Team) @ st
7 Colin Humphrey (Team Sportscover) @ 24sec
8 Ian Taylor (Herbalife-Wheelbase) @ 36sec
9 Matthew Robinson (All Terrain Cycles) @ 3-06
10 Andrew Hawdon (Herbalife-Wheelbase) @ 5-11
11 Harry Tanfield (Team Wallis) @ 6-58
12 Andrew Beattie (Infinity Cycles) @ 8 -15 secs
13 Scott McCrossan (Team Endura/Pedal Power) @ 8-58
14 Tony Fawcett (Blackhawkbikes.com) @ st
15 Karl Denton (Yorkshire Velo) @ st
16 Tim Blathwayt (VC Edinburgh) @ st
17 Simon Baxter (Herbalife-Wheelbase) @ 9-36
18 Alan Nixon (Blackhawkbikes.com) @ 10-54
19 Thomas Timothy (Velo 29 Cycling Team) @ st
20 Gordon Murdoch (Team Cyclelane) @ 12-24
21 Tommy Murray (Glasgow Wheelers) @ 13-06
22 Russell Bayliss (GS Metro) @ st
23 Ian Norris (Activ Cycles) @ st
24 Steve Gibson (Peak RC) @ st
25 Ronald McWilliam (VC Lincoln) @ st
26 Jordan Stokes (Team Endura/Pedal Power) @ 14-08
27 John Cann (Infinity Cycles) @ st
28 Raymond Turner (Newcastle Phoenix) @ st
29 Colin Ash (Activ Cycles) @ st
30 Jack Rees (Velo 29 Cycling Team) @ st
31 Rob Carter (Velo 29 Cycling Team) @ 15-46 (puncture)
32 Rich Semple (East Kilbride CT) @ 23-46
33 Paul MacInally (Rock n Road Cycles) @ 30-00