| | | | | | | | |
| --- | --- | --- | --- | --- | --- | --- | --- |
| | Follow britishcycling.org.uk on | | | | | | |

Rider Report: Sarah Storey at the Bedford 2 Day
Event: 1-2 May 2011
Promoted by: Squadra Donne - Shutt VR/Bikefood
Venue: Millbrook Vehicle Testing Centre
Event Details and Full Result
Horizon Fitness rider and race winner Sarah Storey reports on round two of the National Women's Series, The Two Days of Bedford stage race, held at the Millbrook Vehicle Testing Centre.

After the elegance and poise of the Royal Wedding on Friday 29th April, which I watched and thoroughly enjoyed! It was time for the Horizon Fitness Prendas team to head for Bedford, whilst our team mates were rocking the roads of Luxembourg!
As defending yellow jersey winner from the Bedford Two Day last year, it was time for me to don the number 1 and try and defend the title whilst leading a very talented group of our young riders. Fresh from winning the bunch sprint to place 5th at GP Dottignes just a few days earlier, Hannah Rich was in fighting form, having also placed 2nd at Cheshire Classic. Penny Rowson was also on the team sheet and after a very strong ride in Cheshire Classic and her amazing climbing performances at the team training camp in Italy she was ready and raring. Ruby Miller was joining us for her first team race in Horizon Fitness Prendas colours and with her bunch race experience and Ella Sadler Andrews the Time Trial specialist we knew we were lining up as a strong unit.
Looking at the start sheet though we weren't alone in our strength and with very strong line ups for For Viored, Motorpoint and VC St Raphael, not to mention some talented riders like Claire Galloway, Corrine Hall, Nicki Juniper and Lowri Bunn also riding within their own respective teams, it was a class field and a race we knew we would have a tough job to control.
First up for the four stages is a short but challenging Team Time Trial, just 9.5km in length and into pretty much a block headwind. The challenge of keeping the team together and finishing with the minimum requirement of four riders was always going to be tough for all concerned. We had practiced our formation and rotations during the training camp in Italy, so we were confident we could spread the energy around the team very well.
Above: Sarah and co in action in the Team Time Trial
Two thirds of the way down the course we got a time check from Penny's Mum to say we were 15 seconds down, so we all stuck our heads down and gave it everything to the finish line, which was a nasty kick up in the road. The extra drive worked and we won the first stage by 25 seconds which meant it was very much "race on" for the rest of the event. As first Horizon rider across the line in the TTT I was also wearing yellow for stage two.
With time bonuses of 5, 3 and 1 second available for sprint and hill primes in both road stages, it was important to make sure the riders snapping at our heels didn't get too much of a chance to pick up these valuable extra seconds, so going into the 1st road stage on the afternoon of day 1, we knew we needed to stay alert at the front of the bunch and try and make sure we didn't let our rivals score too many points. This of course is no easy task and with the bunch bashing round the circuit the primes came thick and fast, but we managed to cover them and take some points before the final bunch sprint.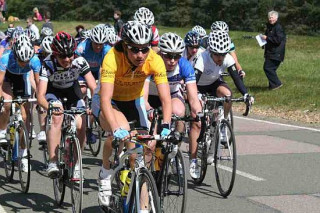 Above: Sarah heads the pack in the road race stage.
With Hannah safely on my wheel we manoeuvred through towards the front and I gave my best shot of a lead out, but the Motorpoint girls were all gunning for the win themselves and Lucy Garner streaked away with Hannah coming in 7th and me holding on for 10th, losing just 3 seconds when the bunch split up the finish rise.
With Hannah and I both winning a sprint and a hill prime each, it meant we'd retained the yellow jersey with Hannah being the overnight leader and me in second with Penny, Ella and Ruby all still occupying 3rd, 4th and 5th spots having finished with the lead bunch. Unfortunately though, in keeping me safe at the front, Ruby had turned herself inside out and came down with a heavy cold, so was unable to start the second day.
Day Two was perhaps even more windy than day one and the prospect of the 6km Individual Time Trial around the amazing Milbrook Testing Centre's "Speed Bowl" everyone was wondering whether a rear disc was going to be the right choice of wheel. In the end, thanks to some great advice from VC St Raphael's Hannah Layland, everyone who had a disc, used one and it proved to be a quick day. I sliced 20 seconds off the time I'd done on the same circuit last year and was able to win the stage by 35 seconds from Claire Galloway and most importantly for our yellow jersey put a bit more time into the next placed riders on the General Classification.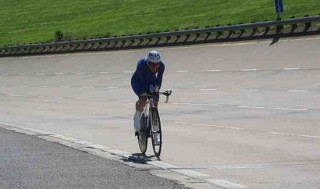 Above: Storey in familiar pose - burning rubber in the individual time trial on Millbrook's famous banked test track.
With the final stage being 9.5 laps of the hilly and technical road circuit of Milbrook, there is always the chance for riders to go on the attack up the fantastic climbs, so we knew as a team our cushion of 1 minute 25 seconds was going to be very important. I was back in yellow and after a rousing team talk from Barney we were all set to defend our lead.
Overnight, I'd been placed second in the climbers jersey competition, so it was in the back of my mind that I could maybe pick up some points on the final stage's hill primes, to not only add some seconds to the lead, but also to maybe sneak another jersey. From the off the racing was fast and attacks went up every climb. Hannah, Penny and Ella all did a great job keeping me safe at the front of the bunch and each lap got me to the bottom of the climb in the first few riders. Ella unfortunately pulled out with breathing problems, but Penny and Hannah stepped up and were ever present to protect me.
I picked up some hill primes along with V C St Raphael's Sarah Byrne, the overnight climbing leader Lowri Bunn and stage two winner Lucy Garner. Emma Grant was also attacking hard as the highest placed rider on GC after Horizon Fitness Prendas and Claire Galloway was riding very strongly on the front too. It was fantastic to ride in such an aggressive and hard race, everyone was working hard to get a break up the road, whilst I was staying near the front and making sure that if anything did go then I was going to be in it.
As the bell lap came through the bunch has been whittled down to an elite group of about 30 riders and all the big teams were in there, For Viored, Motorpoint, VC St Raphael, Abergavenny and Zappi's. Coming into the speed bowl for the final few kilometres I drifted to the back with Hannah and we decided a lead out wasn't the right thing, I needed to try and win the stage whilst Hannah covered some wheels and tried to make sure my attack stayed away. I lurked at the back, the "Speed Bowl" is a nightmare because it all looks the same, there are no distinguishing markers and only the 1km to go sign to let you know where you are in relation to the finish! I didn't want to go too early, I needed to time it well, and so I thought I'd have a go at around 800m. I'd managed to stay pretty fresh so I gathered my focus and stamped on the pedals to get over the bunch and off towards the finish on my own. I'd gone at about 900m, a bit earlier than planned, more because the bunch had started to accelerate and I didn't want to lose the speed advantage I thought I could gain. I was willing the line to come but I had no idea whether it would appear round the next bend!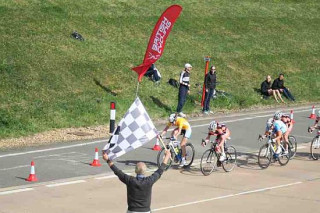 Above: That agonising 'will-they-won't-they' moment that Sarah describes, caught on camera.
I pushed and pushed and there the line was. I crossed the line looking left to see Lucy Garner right by me. It was probably a really comedy finish, everyone thinks I'm there but then the bunch charge gets there first as my dying legs lose the momentum! Hannah Rich was right there on Lucy's wheel so we scored 2nd and 3rd in the stage and most importantly had secured the overall win and the bonus of both Hannah and Penny being 2nd and 4th respectively!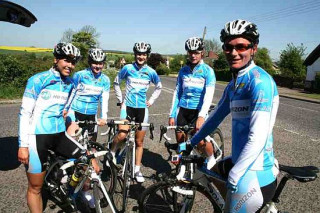 Above: A great result for Sarah and the whole Horizon Fitness team.
What a great day and what a great race! I'd scored enough points to secure the climbers jersey too! It was a great team effort and we were all delighted to secure the top two slots on GC for the second year running!
Results
General Classification
1 Sarah Storey Horizon Fitness Racing Team-Prendas Ciclismo 4:46:13 @ 0:00:00
2 Hannah Rich Horizon Fitness Racing Team-Prendas Ciclismo 4:47:39 @ 0:01:26
3 Emma Grant For Viored 4:47:45 @ 0:01:32
4 Penny Rowson Horizon Fitness Racing Team-Prendas Ciclismo 4:47:53 @ 0:01:40
5 Rebecca Curley For Viored 4:47:55 @ 0:01:42
6 Hannah Barnes Motorpoint 4:47:58 @ 0:01:45
7 Lucy Garner Motorpoint 4:48:04 @ 0:01:51
8 Rohan Battison For Viored 4:48:12 @ 0:01:59
9 Hannah Walker Motorpoint 4:48:15 @ 0:02:02
10 Kara Chesworth For Viored 4:48:15 @ 0:02:02
11 Angharad Mason For Viored 4:48:20 @ 0:02:07
12 Claire Galloway Team Zappi 4:48:27 @ 0:02:14
13 Charlotte Colclough For Viored 4:48:34 @ 0:02:21
14 Sarah Byrne VC St Raphael 4:48:35 @ 0:02:22
15 Marianne Britten VC St Raphael 4:48:43 @ 0:02:30
16 Harriet Owen Motorpoint 4:48:44 @ 0:02:31
17 Lowri Bunn Abergavenny RC-Gateway Cycles-Nick Lane Construction 4:48:58 @ 0:02:45
18 Lauren Creamer Abergavenny RC-Gateway Cycles-Nick Lane Construction 4:49:11 @ 0:02:58
19 Clare Leaver Team Zappi 4:49:36 @ 0:03:23
20 Nicola Juniper AW Cycles 4:49:40 @ 0:03:27
20 Corrine Hall Twickenham CC 4:49:40 @ 0:03:27
22 Genevieve Whitson Squadra Donne-Shutt VR-Bikefood-CC Originals 4:49:57 @ 0:03:44
23 Emily Bagnall Surrey League 4:50:20 @ 0:04:07
24 Iona Sewell Squadra Donne-Shutt VR-Bikefood-CC Originals 4:51:01 @ 0:04:48
25 Gemma Neill Sandy Wallace Cycles 4:52:14 @ 0:06:01
26 Rachel Armitage London Dynamo 4:53:04 @ 0:06:51
27 Emma Cradock Surrey League 4:53:05 @ 0:06:52
28 Rebecca Milnes PSUK/Gigawave 4:54:14 @ 0:08:01
29 Stephania Magri Squadra Donne-Shutt VR-Bikefood-CC Originals 4:56:49 @ 0:10:36
30 Nicola Soden MaxGear Champion Systems 4:57:03 @ 0:10:50
31 Lynn Hamel Team Zappi 4:59:22 @ 0:13:09
32 Hannah Manley MaxGear Champion Systems 4:59:24 @ 0:13:11
33 Lauren Whitmore London Dynamo 4:59:39 @ 0:13:26
34 Tania Hunt Surrey League 4:59:51 @ 0:13:38
35 Louise Mahe Team Mule Bar 5:00:36 @ 0:14:23
36 Anda-Jay Burgess Sandy Wallace Cycles 5:01:57 @ 0:15:44
37 Ella Hopkins VC St Raphael 5:02:05 @ 0:15:52
38 Claire Leonard Surrey League 5:02:43 @ 0:16:30
39 Eve Dixon MaxGear Champion Systems 5:02:44 @ 0:16:31
40 Karen Poole Primal Europe/RUTraining Today/Bike Chain Ricci 5:04:50 @ 0:18:37
41 Rachel Przybylski Surrey League 5:07:03 @ 0:20:50
42 Rachel Turner London Dynamo 5:08:59 @ 0:22:46
43 Ceri Dipple PSUK/Gigawave 5:09:11 @ 0:22:58
44 Dyanne Holland Inverse/Cyclaim RT 5:12:05 @ 0:25:52
45 Molly Weaver West Midlands Women's Road Team 5:12:14 @ 0:26:01
46 Collyn Ahart London Dynamo 5:12:22 @ 0:26:09
47 Ishbel Taromsari Sandy Wallace Cycles 5:15:35 @ 0:29:22
48 Nikola Butler Inverse/Cyclaim RT 5:19:28 @ 0:33:15
49 Jess Anderson MaxGear Champion Systems 5:19:41 @ 0:33:28
50 Nicole Walters Primal Europe/RUTraining Today/Bike Chain Ricci 5:20:07 @ 0:33:54
51 Claire Allen Abergavenny RC-Gateway Cycles-Nick Lane Construction 5:20:08 @ 0:33:55
52 Tina Reid Sandy Wallace Cycles 5:21:11 @ 0:34:58
53 April Lemont West Midlands Women's Road Team 5:22:32 @ 0:36:19
54 Kate Hewett Team Mule Bar 5:23:57 @ 0:37:44
55 Nicci Meadows AW Cycles 5:28:42 @ 0:42:29
56 Lou James PSUK/Gigawave 5:29:02 @ 0:42:49
57 Beth Crumpton West Midlands Women's Road Team 5:31:07 @ 0:44:54
58 Monica Da Polenza AW Cycles 5:34:05 @ 0:47:52
59 Fluer Stoops Primal Europe/RUTraining Today/Bike Chain Ricci 5:36:53 @ 0:50:40
60 Joanna Le Coq Inverse/Cyclaim RT 5:37:09 @ 0:50:56
61 Harriet Whewell VC St Raphael 5:37:26 @ 0:51:13
62 Beckie Woodland Team Mule Bar 5:39:15 @ 0:53:02
63 Katie Mary Noakes Inverse/Cyclaim RT 5:40:28 @ 0:54:15
64 Rachael Withers VC St Raphael 5:41:03 @ 0:54:50
65 Francesca Lee Team Mule Bar 5:42:46 @ 0:56:33
66 Eleanor Jones Abergavenny RC-Gateway Cycles-Nick Lane Construction 5:45:37 @ 0:59:24
67 Kate Balchin Twickenham CC 5:47:02 @ 1:00:49
68 Abi Fletcher Surrey League 5:58:50 @ 1:12:37
69 Sorelle Le Cornu Primal Europe/RUTraining Today/Bike Chain Ricci 6:00:35 @ 1:14:22
70 Cher Owens AW Cycles 6:03:35 @ 1:17:22
71 Jo Foster Twickenham CC 6:06:25 @ 1:20:12
72 Rhiannon Smallworth Primal Europe/RUTraining Today/Bike Chain Ricci 6:06:27 @ 1:20:14
73 Lou Watson PSUK/Gigawave 6:06:56 @ 1:20:43
Hills Competition
1 Sarah Storey Horizon Fitness Racing Team-Prendas Ciclismo 10 pts
2 Lowri Bunn Abergavenny RC-Gateway Cycles-Nick Lane Construction 5 pts
3 Lucy Garner Motorpoint 3 pts
3 Sarah Byrne VC St Raphael 3 pts
3 Claire Galloway Team Zappi 3 pts
3 Emma Grant For Viored 3 pts
7 Lauren Creamer Abergavenny RC-Gateway Cycles-Nick Lane Construction 2 pts
8 Genevieve Whitson Squadra Donne-Shutt VR-Bikefood-CC Originals 1 pt
Sprints Competition
1 Marianne Britten VC St Raphael 11 pts
2 Charlotte Colclough For Viored 6 pts
3 Hannah Walker Motorpoint 3 pts
3 Hannah Rich Horizon Fitness Racing Team-Prendas Ciclismo 3 pts
5 Emma Grant For Viored 2 pts
5 Lowri Bunn Abergavenny RC-Gateway Cycles-Nick Lane Construction 2 pts
7 Penny Rowson Horizon Fitness Racing Team-Prendas Ciclismo 1 pts
7 Lauren Creamer Abergavenny RC-Gateway Cycles-Nick Lane Construction 1 pts
7 Harriet Whewell VC St Raphael 1 pt
Team
1 Horizon Fitness Racing Team 380
2 For Viored 325
3 Motorpoint 251
4 Team Zappi 106
5 VC St Raphael 105
6 Surrey League 90
7 Squadra Donne-Shutt VR-Bikefood-CC Originals 84
8 Abergavenny RC-Gateway Cycles-Nick Lane Construction 78
9 London Dynamo 65
10 MaxGear Champion Systems 62
11 Sandy Wallace Cycles 52
12 PSUK/Gigawave 37
13 AW Cycles 36
14 Twickenham CC 35
15 Team Mule Bar 21
16 Inverse/Cyclaim RT 16
16 Primal Europe/RUTraining Today/Bike Chain Ricci 16
18 West Midlands Women's Road Team 10
Stage One - Team Time Trial
1 Sarah Storey Horizon Fitness Racing Team-Prendas Ciclismo 13:36 @ 0:00
2 Hannah Rich Horizon Fitness Racing Team-Prendas Ciclismo 13:36 @ 0:00
3 Ella Sadler-Andrews Horizon Fitness Racing Team-Prendas Ciclismo 13:36 @ 0:00
4 Ruby Miller Horizon Fitness Racing Team-Prendas Ciclismo 13:36 @ 0:00
5 Penny Rowson Horizon Fitness Racing Team-Prendas Ciclismo 13:36 @ 0:00
6 Emma Grant For Viored 14:01 @ 0:25
7 Rebecca Curley For Viored 14:01 @ 0:25
8 Rohan Battison For Viored 14:01 @ 0:25
9 Angharad Mason For Viored 14:01 @ 0:25
10 Kara Chesworth For Viored 14:01 @ 0:25
11 Charlotte Colclough For Viored 14:11 @ 0:35
12 Harriet Owen Motorpoint 14:12 @ 0:36
13 Lucy Garner Motorpoint 14:12 @ 0:36
14 Hannah Barnes Motorpoint 14:12 @ 0:36
15 Sarah King Motorpoint 14:12 @ 0:36
16 Hannah Walker Motorpoint 14:12 @ 0:36
17 Ella Hopkins VC St Raphael 14:40 @ 1:04
18 Marianne Britten VC St Raphael 14:40 @ 1:04
19 Hannah Layland VC St Raphael 14:40 @ 1:04
20 Sarah Byrne VC St Raphael 14:40 @ 1:04
21 Claire Galloway Team Zappi 15:04 @ 1:28
22 Clare Leaver Team Zappi 15:04 @ 1:28
23 Lynn Hamel Team Zappi 15:04 @ 1:28
24 Iona Sewell Squadra Donne-Shutt VR-Bikefood-CC Originals 15:16 @ 1:40
25 Stephania Magri Squadra Donne-Shutt VR-Bikefood-CC Originals 15:16 @ 1:40
26 Genevieve Whitson Squadra Donne-Shutt VR-Bikefood-CC Originals 15:16 @ 1:40
27 Tamina Oliver Squadra Donne-Shutt VR-Bikefood-CC Originals 15:16 @ 1:40
28 Lauren Creamer Abergavenny RC-Gateway Cycles-Nick Lane Construction 15:19 @ 1:43
29 Eleanor Jones Abergavenny RC-Gateway Cycles-Nick Lane Construction 15:19 @ 1:43
30 Lowri Bunn Abergavenny RC-Gateway Cycles-Nick Lane Construction 15:19 @ 1:43
31 Claire Allen Abergavenny RC-Gateway Cycles-Nick Lane Construction 15:19 @ 1:43
32 Tania Hunt Surrey League 15:25 @ 1:49
33 Rachel Przybylski Surrey League 15:25 @ 1:49
34 Emma Cradock Surrey League 15:25 @ 1:49
35 Claire Leonard Surrey League 15:25 @ 1:49
36 Emily Bagnall Surrey League 15:25 @ 1:49
37 Anda-Jay Burgess Sandy Wallace Cycles 15:26 @ 1:50
38 Tina Reid Sandy Wallace Cycles 15:26 @ 1:50
39 Gemma Neill Sandy Wallace Cycles 15:26 @ 1:50
40 Claire MacAulay Sandy Wallace Cycles 15:26 @ 1:50
41 Hannah Shenton Motorpoint 15:27 @ 1:51
42 Stephanie May Twickenham CC 15:42 @ 2:06
43 Kate Balchin Twickenham CC 15:42 @ 2:06
44 Corrine Hall Twickenham CC 15:42 @ 2:06
45 Jo Foster Twickenham CC 15:42 @ 2:06
46 Jess Anderson MaxGear Champion Systems 15:51 @ 2:15
47 Eve Dixon MaxGear Champion Systems 15:51 @ 2:15
48 Nicola Soden MaxGear Champion Systems 15:51 @ 2:15
49 Hannah Manley MaxGear Champion Systems 15:51 @ 2:15
50 Cher Owens AW Cycles 15:56 @ 2:20
51 Nicci Meadows AW Cycles 15:56 @ 2:20
52 Nicola Juniper AW Cycles 15:56 @ 2:20
53 Monica Da Polenza AW Cycles 15:56 @ 2:20
54 Louise Mahe Team Mule Bar 15:58 @ 2:22
55 Wiesia Kuczaj Team Mule Bar 15:58 @ 2:22
56 Kate Hewett Team Mule Bar 15:58 @ 2:22
57 Beckie Woodland Team Mule Bar 15:58 @ 2:22
58 Rachel Armitage London Dynamo 15:59 @ 2:23
59 Lauren Whitmore London Dynamo 15:59 @ 2:23
60 Rachel Turner London Dynamo 15:59 @ 2:23
61 Collyn Ahart London Dynamo 15:59 @ 2:23
62 Harriet Whewell VC St Raphael 16:04 @ 2:28
63 Rhiannon Smallworth Primal Europe/RUTraining Today/Bike Chain Ricci 16:14 @ 2:38
64 Nicole Walters Primal Europe/RUTraining Today/Bike Chain Ricci 16:14 @ 2:38
65 Karen Poole Primal Europe/RUTraining Today/Bike Chain Ricci 16:14 @ 2:38
66 Fluer Stoops Primal Europe/RUTraining Today/Bike Chain Ricci 16:14 @ 2:38
67 Sorelle Le Cornu Primal Europe/RUTraining Today/Bike Chain Ricci 16:24 @ 2:48
68 Rebecca Milnes PSUK/Gigawave 16:26 @ 2:50
69 Lou Watson PSUK/Gigawave 16:26 @ 2:50
70 Ceri Dipple PSUK/Gigawave 16:26 @ 2:50
71 Lou James PSUK/Gigawave 16:26 @ 2:50
72 Dyanne Holland Inverse/Cyclaim RT 16:27 @ 2:51
73 Louise McCall Inverse/Cyclaim RT 16:27 @ 2:51
74 Katie Mary Noakes Inverse/Cyclaim RT 16:27 @ 2:51
75 Nikola Butler Inverse/Cyclaim RT 16:27 @ 2:51
76 Joanna Le Coq Inverse/Cyclaim RT 16:27 @ 2:51
77 Vicky Ware Squadra Donne-Shutt VR-Bikefood-CC Originals 16:33 @ 2:57
78 Francesca Lee Team Mule Bar 16:42 @ 3:06
79 Molly Weaver West Midlands Women's Road Team 16:47 @ 3:11
80 Beth Crumpton West Midlands Women's Road Team 16:47 @ 3:11
81 April Lemont West Midlands Women's Road Team 16:47 @ 3:11
82 Becky Keogh West Midlands Women's Road Team 16:47 @ 3:11
83 Louise Clowes Inverse/Cyclaim RT 16:58 @ 3:22
84 Rachael Withers VC St Raphael 17:11 @ 3:35
85 Abi Fletcher Surrey League 17:58 @ 4:22
86 Ishbel Taromsari Sandy Wallace Cycles 18:09 @ 4:33
87 Helen Peach Team Zappi DNS @
88 Kelly Moore West Midlands Women's Road Team DNS @
89 Sharon Underhill West Midlands Women's Road Team DNS @
90 Sarah Maidment Squadra Donne-Shutt VR-Bikefood-CC Originals DNS @
Stage Two - Keysoe Road Stage
1 Lucy Garner Motorpoint 2:11:37
2 Lowri Bunn Abergavenny RC-Gateway Cycles-Nick Lane Construction 2:11:40
3 Hannah Barnes Motorpoint 2:11:40
4 Hannah Walker Motorpoint 2:11:40
5 Emma Grant For Viored 2:11:40
6 Lauren Creamer Abergavenny RC-Gateway Cycles-Nick Lane Construction 2:11:40
7 Hannah Rich Horizon Fitness Racing Team-Prendas Ciclismo 2:11:40
8 Genevieve Whitson Squadra Donne-Shutt VR-Bikefood-CC Originals 2:11:43
9 Claire Galloway Team Zappi 2:11:43
10 Sarah Storey Horizon Fitness Racing Team-Prendas Ciclismo 2:11:43
11 Nicola Juniper AW Cycles 2:11:43
12 Angharad Mason For Viored 2:11:43
13 Kara Chesworth For Viored 2:11:43
14 Harriet Owen Motorpoint 2:11:43
15 Charlotte Colclough For Viored 2:11:43
16 Tamina Oliver Squadra Donne-Shutt VR-Bikefood-CC Originals 2:11:43
17 Sarah Byrne VC St Raphael 2:11:43
18 Iona Sewell Squadra Donne-Shutt VR-Bikefood-CC Originals 2:11:43
19 Penny Rowson Horizon Fitness Racing Team-Prendas Ciclismo 2:11:43
20 Corrine Hall Twickenham CC 2:11:43
21 Marianne Britten VC St Raphael 2:11:43
22 Clare Leaver Team Zappi 2:11:43
23 Rohan Battison For Viored 2:11:43
24 Anda-Jay Burgess Sandy Wallace Cycles 2:11:43
25 Nicola Soden MaxGear Champion Systems 2:11:43
26 Emma Cradock Surrey League 2:11:43
27 Emily Bagnall Surrey League 2:11:43
28 Rachel Armitage London Dynamo 2:11:43
29 Rebecca Milnes PSUK/Gigawave 2:11:43
30 Sarah King Motorpoint 2:11:43
31 Claire Leonard Surrey League 2:11:43
32 Ella Sadler-Andrews Horizon Fitness Racing Team-Prendas Ciclismo 2:11:43
33 Gemma Neill Sandy Wallace Cycles 2:11:43
34 Rebecca Curley For Viored 2:11:43
35 Hannah Manley MaxGear Champion Systems 2:11:52
36 Stephania Magri Squadra Donne-Shutt VR-Bikefood-CC Originals 2:11:54
37 Ruby Miller Horizon Fitness Racing Team-Prendas Ciclismo 2:11:56
38 Ella Hopkins VC St Raphael 2:12:01
39 Ceri Dipple PSUK/Gigawave 2:18:22
40 Claire MacAulay Sandy Wallace Cycles 2:18:25
41 Lauren Whitmore London Dynamo 2:18:28
42 Ishbel Taromsari Sandy Wallace Cycles 2:18:33
43 Tania Hunt Surrey League 2:18:33
44 Lynn Hamel Team Zappi 2:18:35
45 Rachel Przybylski Surrey League 2:18:35
46 Louise Mahe Team Mule Bar 2:18:40
47 Karen Poole Primal Europe/RUTraining Today/Bike Chain Ricci 2:21:04
48 Dyanne Holland Inverse/Cyclaim RT 2:21:06
49 Hannah Layland VC St Raphael 2:21:08
50 Nikola Butler Inverse/Cyclaim RT 2:21:11
51 Molly Weaver West Midlands Women's Road Team 2:21:13
52 Stephanie May Twickenham CC 2:21:13
53 Rachel Turner London Dynamo 2:21:13
54 Joanna Le Coq Inverse/Cyclaim RT 2:21:33
55 Jess Anderson MaxGear Champion Systems 2:21:39
56 Collyn Ahart London Dynamo 2:21:44
57 Rachael Withers VC St Raphael 2:21:52
58 Tina Reid Sandy Wallace Cycles 2:22:14
59 Eve Dixon MaxGear Champion Systems 2:22:27
60 April Lemont West Midlands Women's Road Team 2:28:00
61 Nicole Walters Primal Europe/RUTraining Today/Bike Chain Ricci 2:29:10
62 Claire Allen Abergavenny RC-Gateway Cycles-Nick Lane Construction 2:29:40
63 Lou James PSUK/Gigawave 2:29:40
64 Nicci Meadows AW Cycles 2:29:40
65 Eleanor Jones Abergavenny RC-Gateway Cycles-Nick Lane Construction 2:32:30
66 Vicky Ware Squadra Donne-Shutt VR-Bikefood-CC Originals 2:32:32
67 Kate Balchin Twickenham CC 2:32:40
68 Fluer Stoops Primal Europe/RUTraining Today/Bike Chain Ricci 2:32:40
69 Monica Da Polenza AW Cycles 2:32:50
70 Beth Crumpton West Midlands Women's Road Team 2:33:00
71 Kate Hewett Team Mule Bar 2:41:25
72 Francesca Lee Team Mule Bar 2:41:25
72 Beckie Woodland Team Mule Bar 2:41:25
74 Katie Mary Noakes Inverse/Cyclaim RT 2:41:45
75 Abi Fletcher Surrey League 2:42:10
76 Harriet Whewell VC St Raphael 2:46:22
77 Sorelle Le Cornu Primal Europe/RUTraining Today/Bike Chain Ricci 2:46:37
78 Jo Foster Twickenham CC 2:46:37
79 Rhiannon Smallworth Primal Europe/RUTraining Today/Bike Chain Ricci 2:47:35
80 Cher Owens AW Cycles 2:47:35
81 Wiesia Kuczaj Team Mule Bar 2:47:35
82 Lou Watson PSUK/Gigawave 2:50:00
DNF Becky Keogh West Midlands Women's Road Team DNF
DNF Louise McCall Inverse/Cyclaim RT DNF
DNF Louise Clowes Inverse/Cyclaim RT DNF
DNS Hannah Shenton Motorpoint DNS
DNS Helen Peach Team Zappi DNS
DNS Kelly Moore West Midlands Women's Road Team DNS
DNS Sharon Underhill West Midlands Women's Road Team DNS
DNS Sarah Maidment Squadra Donne-Shutt VR-Bikefood-CC Originals DNS
Stage Three - Individual Time Trial
1 Sarah Storey Horizon Fitness Racing Team-Prendas Ciclismo 08:45 @ 0:00
2 Claire Galloway Team Zappi 09:20 @ 0:35
3 Nicola Juniper AW Cycles 09:36 @ 0:51
4 Rachel Armitage London Dynamo 09:37 @ 0:52
5 Hannah Barnes Motorpoint 09:41 @ 0:56
6 Lowri Bunn Abergavenny RC-Gateway Cycles-Nick Lane Construction 09:44 @ 0:59
7 Emma Grant For Viored 09:46 @ 1:01
7 Rebecca Curley For Viored 09:46 @ 1:01
9 Corrine Hall Twickenham CC 09:50 @ 1:05
10 Kara Chesworth For Viored 09:51 @ 1:06
10 Lauren Creamer Abergavenny RC-Gateway Cycles-Nick Lane Construction 09:51 @ 1:06
12 Sarah Byrne VC St Raphael 09:52 @ 1:07
12 Iona Sewell Squadra Donne-Shutt VR-Bikefood-CC Originals 09:52 @ 1:07
14 Lucy Garner Motorpoint 09:54 @ 1:09
15 Ella Sadler-Andrews Horizon Fitness Racing Team-Prendas Ciclismo 09:55 @ 1:10
15 Gemma Neill Sandy Wallace Cycles 09:55 @ 1:10
17 Rachel Turner London Dynamo 09:57 @ 1:12
18 Lynn Hamel Team Zappi 10:00 @ 1:15
19 Lauren Whitmore London Dynamo 10:02 @ 1:17
20 Hannah Rich Horizon Fitness Racing Team-Prendas Ciclismo 10:03 @ 1:18
20 Rohan Battison For Viored 10:03 @ 1:18
20 Hannah Walker Motorpoint 10:03 @ 1:18
20 Anda-Jay Burgess Sandy Wallace Cycles 10:03 @ 1:18
24 Penny Rowson Horizon Fitness Racing Team-Prendas Ciclismo 10:10 @ 1:25
24 Tania Hunt Surrey League 10:10 @ 1:25
26 Angharad Mason For Viored 10:11 @ 1:26
26 Nicci Meadows AW Cycles 10:11 @ 1:26
28 Marianne Britten VC St Raphael 10:13 @ 1:28
29 Sorelle Le Cornu Primal Europe/RUTraining Today/Bike Chain Ricci 10:14 @ 1:29
29 Tamina Oliver Squadra Donne-Shutt VR-Bikefood-CC Originals 10:14 @ 1:29
31 Louise Mahe Team Mule Bar 10:15 @ 1:30
32 Sarah King Motorpoint 10:16 @ 1:31
32 Emma Cradock Surrey League 10:16 @ 1:31
34 Charlotte Colclough For Viored 10:23 @ 1:38
35 Harriet Owen Motorpoint 10:24 @ 1:39
35 Clare Leaver Team Zappi 10:24 @ 1:39
35 Molly Weaver West Midlands Women's Road Team 10:24 @ 1:39
35 Rebecca Milnes PSUK/Gigawave 10:24 @ 1:39
39 Hannah Layland VC St Raphael 10:25 @ 1:40
40 Eleanor Jones Abergavenny RC-Gateway Cycles-Nick Lane Construction 10:28 @ 1:43
40 Eve Dixon MaxGear Champion Systems 10:28 @ 1:43
42 Hannah Manley MaxGear Champion Systems 10:31 @ 1:46
43 Genevieve Whitson Squadra Donne-Shutt VR-Bikefood-CC Originals 10:34 @ 1:49
44 Tina Reid Sandy Wallace Cycles 10:36 @ 1:51
45 Vicky Ware Squadra Donne-Shutt VR-Bikefood-CC Originals 10:38 @ 1:53
46 Ella Hopkins VC St Raphael 10:39 @ 1:54
46 Monica Da Polenza AW Cycles 10:39 @ 1:54
46 Nicola Soden MaxGear Champion Systems 10:39 @ 1:54
49 Stephanie May Twickenham CC 10:43 @ 1:58
50 Emily Bagnall Surrey League 10:47 @ 2:02
51 Rhiannon Smallworth Primal Europe/RUTraining Today/Bike Chain Ricci 10:48 @ 2:03
51 Wiesia Kuczaj Team Mule Bar 10:48 @ 2:03
53 Cher Owens AW Cycles 10:49 @ 2:04
53 Stephania Magri Squadra Donne-Shutt VR-Bikefood-CC Originals 10:49 @ 2:04
55 Claire Leonard Surrey League 10:50 @ 2:05
56 Nicole Walters Primal Europe/RUTraining Today/Bike Chain Ricci 10:53 @ 2:08
56 Kate Hewett Team Mule Bar 10:53 @ 2:08
56 Ceri Dipple PSUK/Gigawave 10:53 @ 2:08
59 Fluer Stoops Primal Europe/RUTraining Today/Bike Chain Ricci 10:54 @ 2:09
59 Francesca Lee Team Mule Bar 10:54 @ 2:09
59 Beckie Woodland Team Mule Bar 10:54 @ 2:09
62 Rachael Withers VC St Raphael 10:55 @ 2:10
62 Nikola Butler Inverse/Cyclaim RT 10:55 @ 2:10
64 Beth Crumpton West Midlands Women's Road Team 11:00 @ 2:15
65 Dyanne Holland Inverse/Cyclaim RT 11:02 @ 2:17
66 Karen Poole Primal Europe/RUTraining Today/Bike Chain Ricci 11:07 @ 2:22
67 Collyn Ahart London Dynamo 11:09 @ 2:24
68 Rachel Przybylski Surrey League 11:13 @ 2:28
69 April Lemont West Midlands Women's Road Team 11:15 @ 2:30
69 Lou Watson PSUK/Gigawave 11:15 @ 2:30
71 Jess Anderson MaxGear Champion Systems 11:16 @ 2:31
72 Claire Allen Abergavenny RC-Gateway Cycles-Nick Lane Construction 11:19 @ 2:34
73 Kate Balchin Twickenham CC 11:20 @ 2:35
74 Katie Mary Noakes Inverse/Cyclaim RT 11:21 @ 2:36
74 Lou James PSUK/Gigawave 11:21 @ 2:36
76 Abi Fletcher Surrey League 11:22 @ 2:37
77 Harriet Whewell VC St Raphael 11:31 @ 2:46
78 Joanna Le Coq Inverse/Cyclaim RT 11:49 @ 3:04
79 Jo Foster Twickenham CC 12:16 @ 3:31
80 Ishbel Taromsari Sandy Wallace Cycles 14:08 @ 5:23
81 Claire MacAulay Sandy Wallace Cycles 15:10 @ 6:25
- Ruby Miller Horizon Fitness Racing Team-Prendas Ciclismo DNS
- Hannah Shenton Motorpoint DNS
- Helen Peach Team Zappi DNS
- Kelly Moore West Midlands Women's Road Team DNS
- Becky Keogh West Midlands Women's Road Team DNS
- Sharon Underhill West Midlands Women's Road Team DNS
- Sarah Maidment Squadra Donne-Shutt VR-Bikefood-CC Originals DNS
- Louise McCall Inverse/Cyclaim RT DNS
- Louise Clowes Inverse/Cyclaim RT DNS
Stage Four - Millbrook Road Stage
1 Lucy Garner Motorpoint 2:12:25
2 Sarah Storey Horizon Fitness Racing Team-Prendas Ciclismo 2:12:25
3 Hannah Rich Horizon Fitness Racing Team-Prendas Ciclismo 2:12:25
4 Hannah Walker Motorpoint 2:12:25
5 Sarah Byrne VC St Raphael 2:12:25
6 Harriet Owen Motorpoint 2:12:25
7 Lowri Bunn Abergavenny RC-Gateway Cycles-Nick Lane Construction 2:12:25
8 Marianne Britten VC St Raphael 2:12:25
9 Lauren Creamer Abergavenny RC-Gateway Cycles-Nick Lane Construction 2:12:25
10 Emma Grant For Viored 2:12:25
11 Claire Galloway Team Zappi 2:12:25
12 Penny Rowson Horizon Fitness Racing Team-Prendas Ciclismo 2:12:25
13 Genevieve Whitson Squadra Donne-Shutt VR-Bikefood-CC Originals 2:12:25
14 Rebecca Curley For Viored 2:12:25
15 Nicola Juniper AW Cycles 2:12:25
16 Clare Leaver Team Zappi 2:12:25
17 Hannah Barnes Motorpoint 2:12:25
18 Emily Bagnall Surrey League 2:12:25
19 Charlotte Colclough For Viored 2:12:25
20 Rohan Battison For Viored 2:12:25
21 Angharad Mason For Viored 2:12:25
22 Corrine Hall Twickenham CC 2:12:25
23 Kara Chesworth For Viored 2:12:40
24 Eve Dixon MaxGear Champion Systems 2:13:58
25 Iona Sewell Squadra Donne-Shutt VR-Bikefood-CC Originals 2:14:10
26 Lauren Whitmore London Dynamo 2:15:10
27 Gemma Neill Sandy Wallace Cycles 2:15:10
28 Rebecca Milnes PSUK/Gigawave 2:15:41
29 Emma Cradock Surrey League 2:15:41
30 Kate Hewett Team Mule Bar 2:15:41
31 Tania Hunt Surrey League 2:15:43
32 Louise Mahe Team Mule Bar 2:15:43
33 Lynn Hamel Team Zappi 2:15:43
34 Rachel Armitage London Dynamo 2:15:45
35 Karen Poole Primal Europe/RUTraining Today/Bike Chain Ricci 2:16:25
36 Stephania Magri Squadra Donne-Shutt VR-Bikefood-CC Originals 2:18:50
37 Nicola Soden MaxGear Champion Systems 2:18:50
38 Hannah Manley MaxGear Champion Systems 2:21:10
39 Rachel Turner London Dynamo 2:21:50
40 Rachel Przybylski Surrey League 2:21:50
41 Ceri Dipple PSUK/Gigawave 2:23:30
42 Dyanne Holland Inverse/Cyclaim RT 2:23:30
43 Harriet Whewell VC St Raphael 2:23:30
44 Collyn Ahart London Dynamo 2:23:30
45 Molly Weaver West Midlands Women's Road Team 2:23:50
46 Nicole Walters Primal Europe/RUTraining Today/Bike Chain Ricci 2:23:50
47 Claire Allen Abergavenny RC-Gateway Cycles-Nick Lane Construction 2:23:50
48 Anda-Jay Burgess Sandy Wallace Cycles 2:24:45
49 Ishbel Taromsari Sandy Wallace Cycles 2:24:45
50 Ella Hopkins VC St Raphael 2:24:45
51 Claire Leonard Surrey League 2:24:45
52 April Lemont West Midlands Women's Road Team 2:26:30
53 Beth Crumpton West Midlands Women's Road Team 2:30:20
54 Jess Anderson MaxGear Champion Systems 2:30:55
55 Katie Mary Noakes Inverse/Cyclaim RT 2:30:55
56 Nikola Butler Inverse/Cyclaim RT 2:30:55
57 Beckie Woodland Team Mule Bar 2:30:58
58 Lou James PSUK/Gigawave 2:31:35
59 Nicci Meadows AW Cycles 2:32:55
60 Tina Reid Sandy Wallace Cycles 2:32:55
61 Francesca Lee Team Mule Bar 2:33:45
62 Monica Da Polenza AW Cycles 2:34:40
63 Fluer Stoops Primal Europe/RUTraining Today/Bike Chain Ricci 2:37:05
64 Joanna Le Coq Inverse/Cyclaim RT 2:47:20
65 Kate Balchin Twickenham CC 2:47:20
66 Sorelle Le Cornu Primal Europe/RUTraining Today/Bike Chain Ricci 2:47:20
67 Abi Fletcher Surrey League 2:47:20
68 Eleanor Jones Abergavenny RC-Gateway Cycles-Nick Lane Construction 2:47:20
69 Lou Watson PSUK/Gigawave 2:49:15
70 Cher Owens AW Cycles 2:49:15
71 Rachael Withers VC St Raphael 2:51:05
72 Jo Foster Twickenham CC 2:51:50
73 Rhiannon Smallworth Primal Europe/RUTraining Today/Bike Chain Ricci 2:51:50
DNF Ella Sadler-Andrews Horizon Fitness Racing Team-Prendas Ciclismo DNF
DNF Sarah King Motorpoint DNF
DNF Hannah Layland VC St Raphael DNF
DNF Tamina Oliver Squadra Donne-Shutt VR-Bikefood-CC Originals DNF
DNF Vicky Ware Squadra Donne-Shutt VR-Bikefood-CC Originals DNF
DNF Wiesia Kuczaj Team Mule Bar DNF
DNF Claire MacAulay Sandy Wallace Cycles DNF
DNF Stephanie May Twickenham CC DNF
DNS Ruby Miller Horizon Fitness Racing Team-Prendas Ciclismo DNS
DNS Hannah Shenton Motorpoint DNS
DNS Helen Peach Team Zappi DNS
DNS Kelly Moore West Midlands Women's Road Team DNS
DNS Becky Keogh West Midlands Women's Road Team DNS
DNS Sharon Underhill West Midlands Women's Road Team DNS
DNS Sarah Maidment Squadra Donne-Shutt VR-Bikefood-CC Originals DNS
DNS Louise McCall Inverse/Cyclaim RT DNS
DNS Louise Clowes Inverse/Cyclaim RT DNS