Follow britishcycling.org.uk on
2010 Newport Nocturne Circuit Race
Story posted September 4, 2010 | by Larry Hickmott

In front of the biggest crowd of the year at a circuit race, Elite Circuit Series champion, Ian Wilkinson of Endura Racing, has won the 2010 Newport Nocturne in Shropshire. The Lancashire rider won the race in a tight finish with Dean Windsor (Rapha Condor Sharp) and Jonny McEvoy (Motorpoint Marshals Pasta).

The Event
First held in 1989, the Newport Nocturne returned after three years and is such a great race with fantastic support, that it's an event the sport would like to have every week of the year. It may lack a little of the polish of a Tour Series or one of the Face Partnership's Nocturnes, but one thing it has is its unique atmosphere and that is all down to the people who flock to the race in their thousands. On a circuit well over a mile long, the barriers were packed with people for pretty much three quarters of that.


Newport, a small market town in the middle of the country with its share of historic buildings and cobbles, is the host to an evening of bike racing which the town's businesses really get behind. A walk down the high street and in the shop windows are the posters advertising the race along with bikes and accessories and in one business's shop window, a huge poster of a rider looking like Paul Sherwen, arms aloft, winning in Newport many years ago.
With the 25 sets of floodlights starting to light up, the evening's racing began with the race for the stars of yesteryear who were introduced one-by-one by another star from yesteryear on a bike, Hugh Porter. With the crowd still growing in size and making good use of the many public houses and chip shops to keep their energy levels up, the race for the former pros was hotly contested and when three riders got away, Les West, Phil Thomas and Reg Smith, the question being asked was, will this break have the firepower to stay clear.

While a chase got going, the three leaders worked well together and while the money was on Thomas for the victory, it was the rider who has been a star on a bike for 40 years and more, Les West, who had the quickest sprint and won the race ahead of Thomas.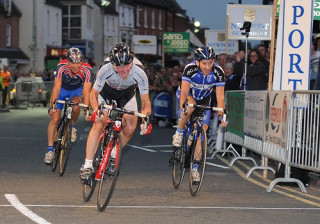 Elliott versus Newton
Then came the match race between two riders who have been such stars in the Newport Nocturne and beyond, Malcolm Elliott and Chris Newton. Newton lined up first with young Jack Escritt and they set a hot time which Elliott and another youngster, James Ireson, were unable to match and so it was Newton and Escritt who were able to step onto the podium and celebrate with the champagne.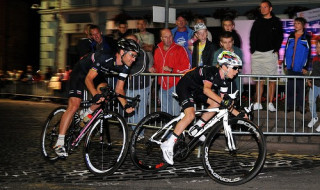 Superman flying high again
The final race of the night was the Pinarello Newport Nocturne and with a light rain shower just as the race started, the cobbles became very slippery and on the second lap, there was a major crash with a lot of riders going down on the cobbles. One was Chris Newton who had some cuts and abrasions and had to retire from the race.

There was a restart but the field was a little smaller than before but still packed with quality. The rain had stopped but the wet cobbles remained which needed some caution but with a lot of the course to play with, there were many places to attack and attack the riders did. The field was strung out from the word go on the restart and soon three riders went clear, Jonny McEvoy, Ian Wilkinson and Dean Windsor.

With the three major teams represented, there was a lot of marking going on in the peloton while the leaders established a good gap on the chasers. Attacks came and went from Raleigh and at one point, with the original 'Engine' Phil Bayton watching, Grant Bayton (Wilier/Big Maggies/Prendas) was seen dragging the bunch along in pursuit of the leaders in the style of his dad from all those years ago.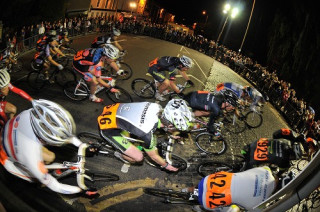 The break though continued to increase their lead until such time the attacking started in earnest in the chasing group with the big teams knowing their rider was safe out front. Ed Clancy, the British Circuit Racing Champion, was in fine form and he was soon dragging some riders clear including Jack Bauer (Endura) and Dean Downing (Rapha Condor). They managed to get a good chase group going but they still weren't able to close the leaders down, finishing 49 seconds behind at the finish.

With the victory certain to go to one of the leading three riders, fireworks was expected over the closing laps and sure enough, with only a few laps left, Dean 'The Duke' Windsor did have a dig through the finish area but Wilkinson was back to his best and wasn't letting the Aussie go anywhere.
So it came down to a sprint between the three of them and what a sprint it was too. McEvoy had a go but found Wilkinson was too strong and Windsor too, gave the Endura rider some room to take a run at him but just like Abergavenny, Wilkinson was too strong and he got his front wheel, just, to the finish line before his rivals to notch up a memorable victory.

Afterwards, he was of course in good voice, especially with the amount of beer he had won piling up around him.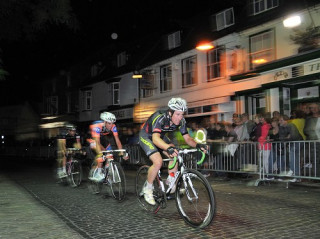 Ian Wilkinson leads the break.
Ian Wilkinson: "I felt really good out there tonight. It was a bit damp when we set off and I put the hammer down straight away. Then there was a crash and the race was neutralised but C'est la vie. I got back to the front though and got stuck in and Motorpoint were attacking and I went over the top and that was it, three of us were away representing the three best teams."

"We were all committed and gave it equal turns and then I bloomin broke a spoke down the back there and I thought, here we go. But a big thanks to Sigma in the pits for lending me a back wheel and Keith for holding me up. I got back in and did make up for lost time on the front and went as hard as I could and that was it, we were away."

"Come six to go, I thought thank god as I was getting a bit tired. There was only one attack from Dean and I jumped straight on that. It was a close sprint. It was quite a long old finishing straight and I wanted to leave it until the speed ramp which I thought was about 200 to go but I think I went a bit sooner than that."

"After Preston (when Ian felt really empty), I had a week off and then got a cold. I had probably had two or three weeks easy and I feel good now, back on it. I have been doing some good training and I did a road race last week and got stuck in to make it nice and hard. I feel like I am back on the ball."

"I hope to do the Tour of Britain now. I have the fishing rod out for a place at the minute. The form on the road has been suspect but I feel a bit better so maybe this will swing things in my favour."

Dean Windsor: Making his final appearance in Britain before returning home to Bathurst in Australia, second place was disappointing when he was so close to winning again. "That was an interesting race. There was chaos at the start with the cobbles and they had to neutralise it so it was a bit of a mystery when the last five laps were going to come out."

"I felt good the whole time. I tried to attack Wilko but he was always going to be on to me. I risked giving him a bit of room and McEvoy come round and got Wilko going a bit early. I clawed the gap back though and there wasn't much in it at the finish. I am happy with the form though. It was my last race in England and I had wanted to go out with a bang."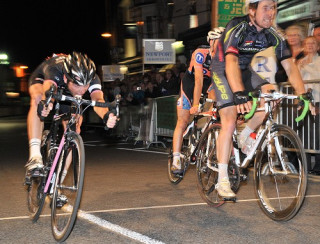 "It was good this Nocturne and the crowd was great and the circuit was good. It had long straights and so I'm surprised a group of three got away. Everyone puts it on the line in these races though and that's what I like about them. It's been another great night."

Jonny McEvoy: The Motorpoint rider has got himself into a lot of breaks this season and he's had a lot of third places but says the win will come. "I don't have a bad sprint but it doesn't really suit me from a slow speed. The race was good though. Early on, I thought it was going to come back but we stayed away."

"Wilko rode the last lap tempo on the front, and I started to come past him in the sprint and then didn't get any further really as Dean come past as well. Third is very disappointing as we had some really good lads in there. Ed was coming across but it was just too late". Jonny is now training hard for the Tour of Britain and the Under 23 Road Worlds.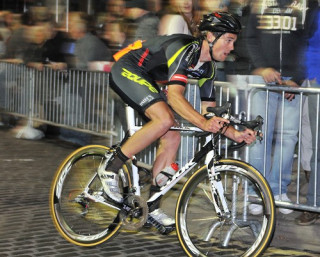 Jack Bauer (above): "This was a bit of a hit out before the Tour of Britain. That crash early on, I thought I had it made because I'd made the front split but then it was restarted and Wilko snuck away and it was game over. The Tour of Britain is the big goal. It is a great end to the year and a chance to show what I can do in a stage race. To get to ride against some real tough opposition and see what I can do. I've been set up in Wales with Julian Winn just doing one on one stuff with him like being dragged along behind the car and pounding out some big miles. I haven't raced a lot but the legs are coming round."

Provisional Results

Pinarello Newport Nocturne
1. Ian Wilkinson, Endura Racing
2. Dean Windsor, Rapha Condor Sharp
3. Jonny McEvoy, Motorpoint Marshals Pasta
4. Ed Clancy, Motorpoint Marshals Pasta
5. Jack Bauer, Endura Racing
6. Dean Downing, Rapha Condor Sharp
7. Graham Briggs, Rapha Condor Sharp
8. Tom Last, Sigma Sport Specialized
9. Matthew Gee, Raleigh
10. James Moss, Endura Racing
11. James Sampson, Motorpoint Marshals Pasta
12. Richard Hepworth, www.cyclepremier/metaltek
13. Ian Bibby, Motorpoint Marshals Pasta
14. Jereon Jansenn, Kuota Roads CC
15. Grant Bayton, Wilier Big Maggies Prendas
16. Jamie Newall, Corely Cycles
17. Andrew Magnier, www.cyclepremier/metaltek
18. James Stewart, Raleigh
19. Jody Crawforth, Hargroves Cycles Trant
20. Tom Barras, Raleigh

New Generation/Regeneration 2 Lap Challenge
1. Chris Newton ( Rapha, Condor, Sharp) and Jack Escritt
2. Malcom Elliott ( Motorpoint, Marshalls Pasta) and James Ireson

Saturday Night Fever Race (Former Professionals)
1. Les West,
2. Phil Thomas
3. Reg Smith
4. Phil Wilkins
5. Sid Barras
6. Dave Miller
7. Keith Lambert
8. 33
9. Bill Nickson
10. John Hughes
11. Steve Douce
12. Jack Kershaw
13. Bob Jones
14. 16
15. Ged Dennis
16. Gordon Smith
17. Trevor Horton
18. Andy Palmer
19. ALan Mellor
20. Roy Causer
21. Ernie Lightfoot
22. Kelvin Jones
23. Jon Pain
24. Simon Barnes
25. Barry Davies
26. John Perks


Related links
Preview and Photos from Previous Years