Follow britishcycling.org.uk on
2010 National Youth Championships

Story posted July 19, 2010 | Redbridge Cycling Centre, London Borough of Redbridge, Saturday 24 July.

National Youth Championships take place right across Europe on the weekend of 24 July
British riders in Under 12, Under 14 and Under 16 age categories will be battling it out around the very demanding circuit at Hog Hill (Redbridge Cycling Centre), London. Race distances are set near the British maximum so the championship jerseys will be on riders who have won a real test of bunch riding, technical ability and pure power climbing. Recent race meetings at the venue have welcomed many visitors getting a taste of what's to come but nothing comes close to these numbers, distances and awards.
Race organiser Michael Humphreys is drawing on many years' experience of youth racing across Europe to start such large fields. With marshals from host club Lee Valley Youth CC, the riders will be penned and then selected at random from a deck of cards to roll down the hill to a start assembly. Only when all the riders have got there, will a neutral start be called for racing to begin on first passage through the line at the top of the hill.

Michael says; "I don't suppose the neutralised section will be much of a truce. Every rider wants to get over the hill at the front, but this way we have a full race distance and a chance for riders to sort themselves out. There's no need to panic when rolling down the hill for the first time and riders need to remember, it's a long race with no prizes for starting first."

The Course
All championship races are run on the full 2km circuit, but only the Under 16 men will take on the Hoggenberg going anti-clockwise. All other categories will race clockwise to use the longer gentler gradient that also gives a faster approach to the final heave up to the line. "We know the circuit is safe for any rider who can climb, descend and corner. It is a lot of fun to ride properly at speed, even going up the hill. The turns are all superbly graded to help you round. The toughest turn is actually down on the flat. 'Hog Hill' regulars do not touch the brakes at all but that takes a bit of experience and some nerve. If you can use your gears, sustain an effort and corner safely in the bunch, this is the course for you."

Rider Instructions
All riders must submit to gear checks before they can sign on because there are rules to protect growing bodies and it's important to see fair racing where longer gears can be powered on the descents. "It definitely helps to have a full range of gears here – especially the lower ones!" says Michael. "Power-climbers can usually sustain it on the big ring, but they are not always the ones who win. Sometimes it's better to spin up the hill and keep a single full-on effort for the sprint which always kicks off at the foot of the hill. Leave a gap there and you won't be in contention, but go too soon and you'll get overtaken."

Opportunities to learn the circuit on the day are obviously limited by the number of races. "We can only allow riders to practice or warm up on the circuit just before their own race. The centre opens an hour before our races begin and then we have a tight programme, so please help us stick to it. Sorry, but you can't ride the circuit at any other time on the day."

With 2km of circuit and some fast technical sections, it is especially important for tail-enders not to impede the head of the race. "Riders tailed off by around three minutes can expect to be broomed but we will be awarding places. If there's a breakaway, we will take a view, but lapped riders should not be there to interfere or to profit from those who've made the running."

Mechanical failures and punctures are always unfortunate but riders are allowed a single lap out. It can be an awfully long way to get service during the single lap allowed, but there are two pit areas where riders can take service so it could be worth providing enough spares to make use of this.

Podium and Awards
Prizes for the top 10 riders are assured with envelopes of cash. The top three riders will be called to a professionally produced podium kindly put up by Service Graphics where they will receive their championship medals and that very special jersey for the champion. Youth A and B podiums will also receive significant voucher prizes from event sponsors Mosquito Bikes and Bike & Run. Club support by Lee Valley Regional Park Authority is gratefully acknowledged, with this donation going towards a programme of further club development.

All riders in every race will receive a commemorative medal to be given out at the podium for their race. Michael explains why the trouble of organising a race is worth it in the end. "Each race is all about sorting out who makes it to the top step of that podium. The winner only gets there with the participation of everyone else and we want to see every rider at the podium to acknowledge they gave their best and are there to support the result."

Race On!
Racing ought to be good because virtually every top-ranked rider has entered to make this the country's biggest youth only race meeting. Circuit capacity is 100 riders in the Under 14 and Under 16s but eleven riders still had to be turned away from the men's Under 16 race. Special permission has been granted for under 12s to race the full circuit for this championship.

In the Under 16 men's race, a very tasty contest between regulars and visitors is assured as Alex Paters and Tao Geoghan-Hart go head-to-head with defending champion Sam Lowe and Jonathan Dibben. Top-ranked Kieran Laurie, Tanveer Mann, Jack Oliver-Blaney and many others will measure up against a mystery rider who has travelled from Spain for this race. The Under 16 women's race will play out a hilly variation of the continuing battles between Jess Anderson, Emily Barnes, Melissa Bury, Lucy Garner, Natalie Hill, Rebecca Hunt, Amy Jacobs, Emily Kay, Amy Roberts and many more.

Riders really are coming from all over the country to race for the title and the pleasure of taking part.

With past winners of these championships including Mark Cavendish, Geraint Thomas, Ross Edgar, Dan McLay, Laura Trott and many more who now ride at world-class level, this year's championship will be hotly contested on a worthy course. Full event details and the rider's Tour de France competition on the website http://www.londonchamps2010.moonfruit.com

Timings for the day show how tightly the event has to run: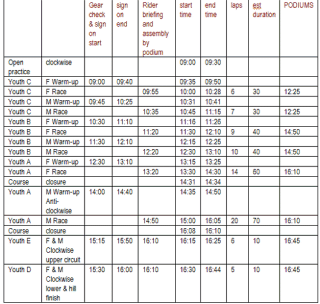 A warm up circuit is provided on the cycling centre access road which is to be kept completely clear of parked cars outside of regular parking bays that are all reserved. Laps out for mechanical reasons are allowed only by consent given at the time. There are two pit-service areas at separate locations on the upper and lower parts of the circuit where competitors may deposit materiel at their own risk.

THE RIDERS
Youth A Female
Jess Anderson Sport City Velo
Elinor Barker Cardiff Ajax
Alice Barnes Palmer Park Velo
Emily Barnes Palmer Park Velo
Louise Borthwick Edinburgh R C
Melissa Bury Sport City Velo
Sarah Crowley Cardiff Ajax
Bethany Crumpton Halesowen A & C C
Imogen Farlie V C Jubilee
Hannah Ferguson Glentress Riders
Lucy Garner Leicestershire R C
Sara Gent One Life Dev Squad
Ellie Gilham Bournemouth Arrow C C
Stephanie Higgs Chippenham & Dist Whlrs
Amy Hill Newport Velo Youth C C
Natalie Hill Hillingdon Slipstreamers
Rebecca Hunt Newport Velo
Amy Jacobs V C Jubilee
Emily Kay Halesowen A & C C
Hannah Layland V C St Raphael
Zoe Lewis V C Londres
Adele Martin Chippenham & Dist Whlrs
Alex McKibben E S T / City College Norwich
Keira McVitty Kings Cliffe Flyers
Jessica O'Brien Wakefield Junior Tri Club
Amy Roberts Cardiff Ajax
Lauren Savage Hillingdon Slipstreamers
Jessie Walker Dinnington R C
Molly Weaver Halesowen A & C C
29 RIDERS ENTERED

Youth A Male
Sam Lowe Raleigh-avanti racing team
Joseph Anstice Cwmcarn Paragon
Tom Arnstein Velo Ecosse
Felix Barker Cambridge C C
Jordan Bason Team Nemesis GB
Edward Bate Halesowen A & C C
George Bateman Team Welwyn
Sebastian Baylis 1st Chard Whlrs
James Berryman Sport City Velo
Edward Bird Glendene
Charley Bradley Veilands Bristol Cycling Dev Squad
Kieran Brady Ely & Dist C C
Callum Bramley Langdale Lightweights RT
Sam Broughton Leicestershire R C
Germain Burton Team DeVer
Dante Carpenter One Life Dev Squad
Frazier Carr Palmer Park Velo
Euan Cattermole V C Londres
Luke Cowley Swindon R C
Mathew Cross Newport Velo
Luke Davies Chippenham & Dist Whlrs
Ashley Dennis V C Jubilee
Jonathan Dibben Hargroves Cycles
Daniel Dickinson Dinnington R C
Adam Edwards East London Velo
George Farrell Welwyn Whlrs
Jack Finch V C Deal
Joe Fox Solihull C C
Harry Franklin V C Londres
Tao Geoghegan Hart C C Hackney
Calum Gillespie V C Londres
Angus Gillies Peebles C C
Joshua Green Lee Valley Youth C C
Ross Green Stewartry Whlrs
Alexander Haddock Team Royal London 360 IoM
Luc Hall Kuota
Joshua Hannan E S T / City College Norwich
Luke Hattersley St Ives C C
Alastair Hepworth Batley C C
George Hunter AD Cycles
Owen James Towy Riders
Jake Kelly Team Royal London 360 IoM
Ross King Veloschils Interbike R T
Joe Kirkham V C Longeaton
Chris Latham Sport City Velo
Kieran Laurie V C Londres
Christopher Lawless Sport City Velo
Adam Lewis Wolverhampton Whlrs
James Locker Halesowen A & C C
William Macke Palmer Park Velo
Robert Mackenzie Solihull C C
Geraint Manley Cardiff Jif
Tanveer Mann Rapha condor cc
Adam Martin BlackHawkBikes.com
Ashley Martin Chippenham & Dist Whlrs
Daniel Maslin Hillingdon Slipstreamers
Zachery May Cardiff Jif
Joshua Maynard Welwyn Whlrs
Stuart McCluskey V C Glasgow South
Christopher McGovern Sutton Cycling Club
Daniel McKimm Bristol Cycling Dev Squad
Edward McParland Team JD Cycles Ilkley
Alex Minting Planet X
Joseph Moses Bronte Whlrs
Daniel Murphy Team Milton Keynes
James Newey Lichfield City C C
Jack Oliver-Blaney Team Terminator
Josh Penrice Sport City Velo
Alex Peters C C Hackney
Elliot Phillips V C Londres
Jack Plummer Somerset R C
George Pym Exeter Wheelers
Jacob Ragan Sport City Velo
Jack Reed Chippenham & Dist Whlrs
Jack Sadler Wheelbase/Gore
Jacob Scott Holme Valley Whlrs
Andy Shackel I-Team C C
Richard Shaw Bristol Cycling Dev Squad
Gavin Shuttleworth City of Stirling Whlrs
Luke Simpson Leeds St Christopher's C C
Will Stephenson Bournemouth Arrow C C
George Stevens Rapha Condor cc
Harry Strudley Palmer Park Velo
David Swan Cycles Dauphin R T
Cam Swarbrick Team Terminator
Harry Tanfield Velo 29
Rory Townsend Hillingdon Slipstreamers
Alan Trolove West Suffolk Whlrs
Fraser Turgoose CC JAVEA
Richard Walkerdine Wolverhampton Wheelers
Alex Welburn Maxgear R T
Daniel West Team Phian Carbon
Rob Westwood Cwmcarn Paragon
Charlie Wilson Discovery junior cc
George Withers Palmer Park Velo
Jake Womersley Sowerby Brothers R T
James Wood Team Darenth
Ollie Wood Aire Valley Racing Team
Kristian Woolf Kings Cliffe Flyers
Daniel Young Glendene C C
100 RIDERS ENTERED


Youth B Female
Megan Barker Maindy Flyers
Amy Barnes V C Jubilee
Sophie Black Team Royal London 360 IoM
Breeshey Cain Team Royal London 360 IoM
Emily Capewell Lichfield City C C
Laura Cheesman Preston Park Y C C
Isabelle Clarke Lichfield City C C
Rosie Cox Lichfield City C C
Abigail Dentus Palmer Park Velo
Angela Eggleton Halesowen A & C C
Kimberley English Welwyn Whlrs
Chloe Evans Welwyn Whlrs
Grace Garner Leicestershire R C
Flora Gillies Peebles C C
Clare Gore Sport City Velo
Emily Hall Andover Whlrs
Lucy Harper Maldon & District C C
Emily Haycox Maindy Flyers
Bethany Hayward Welwyn Whlrs
Eleanor Holden V C Londres
Ffion James Abergavenny RC
Megan Lewis V C Jubilee
Melissa Lowther Wakefield Junior Tri Club
Katie Metalli Bristol Cycling Dev Squad
Paige Milward Lyme Racing Club
Francesca Morgans-Slader Lee Valley Youth C C
Lauren O'Brien Wakefield Junior Tri Club
Abby-Mae Parkinson Aire Valley R T
India Penrice Sport City Velo
Emma Rata Rutland Velo Club
Kirsten Savage Hillingdon Slipstreamers
Abigail van Twisk V C Londres
32 RIDERS ENTERED


Youth B Male
Stuart Balfour Peebles C C
Matthew Bostock Team Royal London 360 IoM
Alexander Braybrooke Sport City Velo
Christian Braybrooke Sport City Velo
Christopher Brettell Team Tor 2000
Ben Chapman Team Milton Keynes
Fabio Close Sub7bikes Co Uk R T
Thomas Colvin Essex Roads C C
David Conceicao V C Londres
Matthew Davies Team Royal London 360 IoM
Henry Dawson Hillingdon Slipstreamers
Callum Donnell Team Royal London 360 IoM
Jamie Dudley Team Royal London 360 IoM
Jack Escritt Wolverhampton Whlrs
Joe Evans Newcastle Racing Club 2001
Danny Fox Solihull C C
Tom Franklin Herne Hill Youth C C
Joseph Fry Welwyn Whlrs
Jamil Gaida Palmer Park Velo
Billy Harding Paul Milnes/Bradford Olympic
Duncan Heywood oneandallcycling co uk
Matthew Hill V C Jubilee
Jack Hogg Taw Velo
Jack Hoyle Preston Park Y C C
Jacob Kelly Lichfield City C C
Joel Kelly Mid Devon C C
William Kelly Mid Devon C C
Dylan Kerfoot-Robson Rhos On Sea C C
James Kidd East London Velo
Jack King Sleaford Whlrs C C
Harry Lock Maindy Flyers
Harvey Lowe Hargroves Cycles
James Madgwick Lee Valley Youth CC
Matthew Madgwick Lee Valley Youth CC
Louis Magnani Hillingdon Slipstreamers
Leon Mazzone Team Royal London 360 IoM
Jez McCann Team Darenth
Alexander Mitchell Solihull C C
George Moore I-Team C C
Max Nethell Cardiff Ajax
Sean Noon Edinburgh R C
Noah Phillips V C Londres
Oliver Plumley Welwyn Whlrs
Jake Poole VC Lincoln
Robert Richardson Bolton Hot Wheels C C
Tristan Robbins Newport Velo Youth C C
Cormac Scully-King V C Meudon
James Shaw Heanor Clarion
Maximilian Stedman Palmer Park Velo
Charlie Tanfield Velo 29
Joseph Truman I-Team C C
Sam Turton Liverpool Mercury Dolan C C
Joey Walker Dinnington R C
Hugo Walters New Forest C C
Archie Wishart Welwyn Whlrs
55 RIDERS ENTERED

Youth C Female
Lulu Bartlett Edinburgh R C
Emma Borthwick Edinburgh R C
Emma Brady Hetton Hawks
Charlotte Broughton Leicestershire R C
Sophie Capewell Lichfield City C C
Charlotte Cole-Hossain V C Londres
Eleanor Dickinson Border City Whlrs C C
Georgie Hopkins Go_Ride Bexley
Bethan Manley Newport Velo
Lauren Murphy Team Milton Keynes
Jessica Roberts Towy Riders
Amy Smith V C Jubilee
Emily Tillett Newport Velo
13 RIDERS ENTERED


Youth C Male
James Ambrose-Parish Lee Valley Youth C C
Anthony Anderson Kingston Whlrs
David Barnes Palmer Park Velo
Jake Beach Aire Valley R T
Max Bergin V C Londres
Cameron Biddle Halesowen A & C C
Mathew Braybrooke Eastlands Velo
Marcus Burnett Icknield R C
Thomas Burnett Preston Park Y C C
Zak Coleman Great Yarmouth C C
Charlie Cox Lichfield City C C
Matthew Draper Team Royal London 360 IoM
Owen Dudley Team Royal London 360 IoM
Thomas Finch V C Londres
Alexander Ford Taw Velo
Etienne Georgi Mid Devon C C
Cameron Gutteridge Lee Valley Youth C C
Adam Hartley Eastlands Velo
Jonah Hawkes Thanet RC
Robert Higgs Chippenham & Dist Whlrs
Cameron Houston AD Cycles R T
Thomas Humphrey Wakefield Junior Tri Club
Ben Jakulis Hillingdon Slipstreamers
Georg Jensen Lee Valley Youth C C
Carl Jolly Hillingdon Slipstreamers
Joseph Linehan Palmer Park Velo
Callum Mackie Lee Valley Youth C C
Thomas Mein Hetton Hawks
William Mitchell Solihull C C
Michael Moss Team Royal London 360 IoM
Brett Nethell Maindy Flyers
Tomos Owens Mid Shropshire Whlrs
Charles Page Hillingdon Slipstreamers
Michael Parry Welwyn Whlrs
Jack Plumley Welwyn Whlrs
Mitchell Powell Chelmer C C
Oliver Robinson Thanet RC
Leighton Sharman Eastlands Velo
Benjamin Smith Hillingdon Slipstreamers
Will Street Welwyn Whlrs
James Tillett Newport Velo
Samuel Tillett Newport Velo
Daniel Tulett Palmer Park Velo
Matthew Walls Eastlands Velo
William Warre Lee Valley Youth C C
Harry White Dinnington RC
Reece Wood Aire Valley Racing Team
Fred Wright V C Londres
Isaac Wright Preston Park Y C C
Harry Yates Lichfield City C C
50 RIDERS ENTERED


Youth D Male & Female
Thomas Barrowcliffe Hillingdon Slipstreamers
Thomas Bostock Team Royal London 360 IoM
Hayden Cassidy Herne Hill Youth C C
Thomas Deveney Lee Valley Youth C C
Thomas Durkin Welwyn Whlrs
Pfeiffer Georgi Mid Devon C C
Alex Hall Andover Whlrs
Lewis Hartley Eastlands Velo
Mason Hollyman Sowerby Brothers R T
Megan James Abergavenny RC
Scarlett Jensen Lee Valley Youth Cycling Club
Solomon Kerfoot-Robson Rhos On Sea C C
Jack Lawrence Lee Valley Youth C C
Bethany Lewis V C Jubilee
Matthew Lewis Wolverhampton Whlrs
Anna Linehan Palmer Park Velo
Felix Mackie Lee Valley Youth C C
Luke Mitchie Team Darenth
Kieran Morris Mid Shropshire Whlrs
Noah Ridgway-Brown Preston Park Y C C
George Sales Redhill CC
Tom Street Welwyn Whlrs
Harry Tadman Hillingdon Slipstreamers
Toby Tanfield Cleveland Whlrs
Ben Tulett Palmer Park Velo
Lexie White Lee Valley Youth C C
26 RIDERS ENTERED


Youth E Male & Female
Olivia Braybrooke Eastlands Velo
Joseph Deveney Lee Valley Youth C C
Matthew Farrow Eagle R C
Aaron Freeman Chelmer C C
Harry Gibb Bedfordshire R C
Stanley Heath-Stephens Lee Valley Youth C C
Henry Hollyman Sowerby Brothers R T
Kye Lewis Hillingdon Slipstreamers
Joe Nethell Maindy Flyers
Harrison Powell Essex Roads C C
Flynn Robinson Thanet RC
Jack Rootkin-Gray Solihull C C
George Southby East Bradford
Murdo White Lee Valley Youth C C
Emily Yates Lichfield City
15 RIDERS ENTERED