Follow britishcycling.org.uk on
Team Sky`s Unpolished Diamond: Chris Froome

Story posted January 12, 2010; by Larry Hickmott | Team Website |

Related Features: Russell Downing | Team Launch | Ben Swift | Peter Kennaugh |

Chris Froome -- the face of Team Sky? He is at the moment, the first rider you see on the Team's website.

This young rider who burst onto the scene as an amateur and was quickly signed up by Barloworld, is, according to the Team Sky website 'a rough, unpolished diamond with loads of potential'. My abiding memory of Chris will be the fantastic ride of his last year in the British Road Race Championships. I'd seen Chris on TV, notably during the Giro and a break he made on a stage in that Grand Tour, but in Abergavenny 2009, there he was with Bradley Wiggins in a long two up break and the Kenyan turned Brit never gave in right up until the final kilometre.

Chris, now alone out front, had been caught well before that point by what was left of a chase group but he kept on attacking them and only in the sprint for the line did he have to give best to the others. It was quite a sensational ride by the plucky rider whose aggression and determination on the bike is a stark contrast to his easy going and almost shy attitude off it.

His racing season with Team Sky starts on January 19 when he lines up in the Tour Down Under and when we spoke at the Team Launch, he admitted that it was fantastic that things were now rolling and the racing was just around the corner. "There has been so much anticipation, it's good to be rolling now and I can't wait to start racing" he explained.

Part of the build-up to the racing has included a change of position on his new Pinarello Dogma, just one example of the extra little things that come with joining Team Sky. With the help of Rod Ellingworth and Matt Parker, who he has worked with when on GB duty, Chris said that getting the bike position right was crucial.

"Not only have I changed bikes but I've completely redone the position on the bike and it's feeling much better. It's a joke when I look at my old position! We started to look at this at the Manchester get together camp and I then went back to training on it."
Busy season ahead
Chris and his Pinarello bike will have a busy start to the season with a number of races to follow in succession after the Tour Down Under. Once finished in Australia, it will be back to this side of the world and a training camp in Spain. Chris then has the Tour du Haut Var (20-21 February), GP dell'Insubria-Lugano (27 February) and then the GP di Lugano (28 February).

Since moving to Europe from the African continent, Chris has lived in Italy and will be relocating within that country to be closer to the Little Britain set up in Tuscany. Talking to Chris at the launch in the media room which was abuzz with interviews and people typing out copy, he explained that he will be doing a lot of stage races in 2010 and that is where he'd like his career to be; in stage races.

For some one with so little experience, two years as a professional and one as an amateur in Europe, it is surprising to learn that within that space of time he has already ridden a Tour de France and Tour of Italy (Tour of Italy) and Grand Tour racing agrees with him.

"That is where real bike racing is at" he explains. "The emphasis is on recovery when you're racing day in, day out. Stage racing is taxing physically and mentally and the whole thing is just as much about what you do off the bike as well as on it. It takes cycling to a whole new level compared to one day racing which is extremely hard in its own way but stage racing is a different ball game."

"Stage racing is one area I'd like to focus on in my career and to develop into a rider who can race consistently in the stage races and hopefully be up there in the GC one day. I'm not expecting to get to the Tour de France this year because this team is packed with quality riders."

"I'm a junior rider compared to a lot of these guys so I'm here to develop and learn. I think the Giro (Tour of Italy) though may be on my programme this year so it will good to go there and be part of that team."

In last year's Tour of Italy, stage 14 (cyclingnews report), Froome attacked his breakaway companions on a long climb and rode away with eventual stage winner and now Team Sky teammate Simon Gerrans. He did not succeed in winning the stage but the experience of racing through a wall of sound as he made his move on the climb certainly excited him. Will he be trying again for a stage victory if he rides the 2010 Giro?

"My role will depend a lot on what the team decide to go for" he replied. "If we have some one up there for GC, my role will be different to last year and it will be everything for the guy on GC. Personally, it would be good to have another go in a break again and see if I can come closer to winning a stage but I think the key this year is to make small gains in my racing and if I can improve slowly each part of my riding, then I'd be happy."

"I don't want to set any sort of goals like winning this or that. The emphasis is on improving."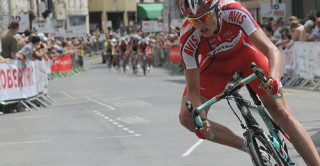 Chris not smiling as he likes to do, but all serious in attack during the 2009 British Road Race championships.

Not even the British road race championship I said, remembering his great ride in the 2009 version?

"I don't feel it's a race I have to win but I would always be up for it" he says of the championship before I revealed that it was going to be hilly and not a Mark Cavendish benefit as he thought it might be. "Any one wearing that national jersey would have a huge sense of pride and it is a shame we don't have the jersey in the team now as this is the only ProTour British team out there so it would be good to win it this year."

His reply is perhaps an example of how different Chris Froome is off the bike to how he is on it because at Abergavenny, he was the epitome of an aggressive, never say die racer. One thing is for sure, he will have earnt the respect of many a British elite rider and none will give him too much room in next year's championship.

Asked for his own highlights from 2009, Chris replied "I think doing the Giro was the biggest highlight of last year. The rest of the season was a little bit and up and down for me and I didn't really feel like I had very strong sense of direction because the race programme was changing quite a lot and I was finding it hard to plan for."

With Team Sky being a ProTour team, and with a fairly concrete race plan, Chris knows 2010 will be very different to 2009. So how did he approach putting together his race programme for 2010 in Team Sky?

"We were all asked before being given a race schedule what races we'd like to do and which ones we wanted to stay away from because the last thing a rider wants is to be sent to a race you absolutely hate. I like that Sky approach and they are taking the positive initiative of asking a rider what they want to do and you all work together from there on."

The first race for Chris is in Australia on the other side of the World which is where Chris has spent the off season in South Africa. While riders in Europe have struggled with snow and ice, Chris has been training at altitude for a few months. "The training in Johannesburg is perfect" he explained. "You're almost at 2,000 metres and you have sunshine the majority of the time".

Asked if he returns to Kenya for training, he replied, "I have family in Kenya and would love to have gone back but because training is challenging and the majority of it has to be on a mountain bike, I have been based in South Africa." It is there he has seen what the young riders there do and don't have and says in his Sky interview, he'd like to give something back to them one day.

For now though, he wants to enjoy racing and develop into a GC rider in stage races. He admits he is happy working for others just as much as he is going for the victory and in the Tour Down Under, it will be interesting to see where his form is after a few months in South Africa. He may well spring a surprise just as he did in the British Road Race championships and here at British Cycling, we wish Chris lots of luck in 2010.

Team Sky Biography: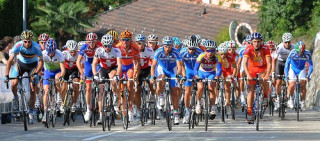 Chris (left) in GB colours near the front of the peloton at the 2009 World Road Championships.
Related Features: Russell Downing | Team Launch | Ben Swift | Peter Kennaugh |