Stage 8 Tour of Britain
Saturday 19 September, TfL London Stage 92.6kms/57.5miles


The 2009 Tour of Britain came to a spectacular climax on the streets of London as thousands of spectators flooded into the city to see the final stage, a 10 lap race round a 9.2km circuit.
Results in brief (Full results including overall and jersey competitions)
Stage Results
1 Merlo,Michele Barloworld 1h56'55"
2 Fernandez,Koldo Euskatel Euskadi same time
3 Sutton,Chris Garmin-Slipstream same time
4 De Negri,Pierpaolo ISD-Neri same time
5 Hayles,Robert Team Halfords same time
6 Downing,Russell Candi-TV-Marshalls Pasta same time
7 Honig,Reinier Vacansoleil Pro Cycling Team same time
8 Williams,Peter Candi-TV-Marshalls Pasta same time
9 Elliott,Malcolm Candi-TV-Marshalls Pasta same time
10 Napolitano,Danilo Team Katusha same time
General Classification
1 Boasson Hagen,Edvald Team Columbia-HTC 28h06'24"
2 Sutton,Chris Garmin-Slipstream @23"
3 Reimer,Martin Cervelo Test Team @25"
4 Reus,Kai Rabobank @26"
5 Downing,Russell Candi-TV-Marshalls Pasta @39"
6 Thomas,Geraint Barloworld @43"
7 Lequatre,Geoffroy Agritubel same time
8 Clarke,Simon ISD-Neri @47"
9 Honig,Reinier Vacansoleil Pro Cycling Team @49"
10 House,Kristian Rapha Condor same time
Michele Merlo of Barloworld made up for two near misses earlier in the week with a fine maiden pro win in the final stage of the 2009 Tour of Britain, underlining this race's reputation as a great stage on which to make your name. He'll need the publicity as he looks for a new team as Barloworld is being wrapped up ay the end of this season. Fernadez Koldo of Euskatel Euskadi was second, with Chris Sutton of Garmin-Slipsteam third.
Fast, flat circuit races don't offer many opportunities to build significant breakaways. This is especially true when they are part of stage races, with most riders and teams keep to hang on to the gains they have spent the past few days accruing. Add to that, in this case, the relatively tight GC situation, with half the field within a minute of the leader and you have a scenario where there is virtually no chance of making any progress before the final sprint.
But, of course, someone always tries to break the mould: in this case there was a popular early attack by Tom Southam and Geraint Thomas, and an amusing cameo by Thomas de Gendt, who apparently later claimed he was simply looking to get the 6km he needed to make it 600km off the front during the race. However, Columbia-HTC held things together pretty well to preserve their man's lead and in the end they were content to sit back and let the other teams contest the sprint.
And so, the overall win went to, Edvald Boasson Hagen of Columbia-HTC. Chris Sutton's strong final day finish took him up to second overall, reward for a consistent tour in which he won a stage and was only prevented from shining more by Boasson Hagen, who also just pipped him to the Points jersey, both riders finishing on the same number of points.
Top British finisher was Russ Downing, who was sixth on the stage and fifth overall, a consistent performance from a rider who faces an exciting future with the new Sky team next season.He was also third in the points competition.
Thomas De Gendt was rewarded for his amazing run of breakaways in the first half of the tour, with convincing wins in both the Sprints and Mountains competitions. He looked for a time like becoming the face of the 2009 event, before Boasson Hagen roared to those four straight wins and, for the second year running, became the stand-out rider.
Post race interviews
The 2009 Tour of Britain winner Boasson Hagen. Two stage race wins this year and a new team to support him in 2010, Team Sky.

Edvald Boasson Hagen: "It is really good to have won the race after all the hard work the team have put in this week. It is very special to win the yellow jersey in front of all these people around the course today. Fantastic. It has been really nice to race in this country with all the people."

Asked about a highlight from the week, he replied "when I won my fourth stage, I didn't expect that. It has been amazing the whole week. We had a really strong team and I am happy we could win the jersey for them."

Edvald aims to do his best in the Time Trial and the Road Race at the World Championships in Switzerland riding for his native Norway.

Thomas De Gendt: "I didn't expect to win both jerseys but I wanted to keep at least one, and when I did that, I tried also to keep the second one. It has all fallen into place the last two days and it was great. I had no stress yesterday or today so I could sleep well and recover well for the next races."

Asked why he broke away on the final stage, he replied, "We had calculated how many kilometres I was in front of the race and I had 594 kilometres so I needed more six more kilometres which I did and then I went back to the group because being alone in front was too hard today!"
All week Thomas De Gendt would climb onto the podium and seeing a smile like this was a rarity! Not sure what Lauren is doing as she zips up the Sprints jersey but seeing the brave Belgian smile was certainly good as he deserved his awards for a hard week out front of the race

"This is something new for me but it feels great to have done it. I won this year two races also after an attack. I don't have a sprint in my legs in a big bunch, only in a small group so I have to be away and a few times it has worked. Winning these jerseys has been good publicity for the team and the sponsors are happy and want to continue next year."

Asked did he see the Flanders flag on the course today he replied "Yesterday and the day before, I see that and all the small Flemish flags and I see fans of me by the road who didn't know I existed a week ago but now they are fans and that feels great. I think the people like to see a rider attack. I don't think they like a rider who just sits in the peloton and waits for a sprint. I don't win much but I do show myself."

"Winning the jersey has given me confidence that I can race hard for eight days." Thomas has a contract for another year with his team.
His first ever pro win, and still without a contract for next season, Merlo celebrates the moment with Becky on the podium after his stage win.
Michele Merlo
"It is my first year as a pro and my first win and after two seconds places I finally got one. It is an emotional victory in London with all the people and at the end of the race. It is the first time I have been to London so it is has been a good stage to win, perfect."

"Unfortunately Barloworld is stopping next year and I am trying to find another team. Hopefully I will find one and this win should help. "For the sprint, I had a lot of trust in Geraint Thomas and Chris Froome, and today they did a great job and they took me to the front with two kilometres to go and I went with 200 to go and was in the lead and knew I had a good chance and kept going and going."

"This win is for all the team and for Geraint who has helped me a lot the last few days. He has been attacking himself but worked for me in the sprints as well."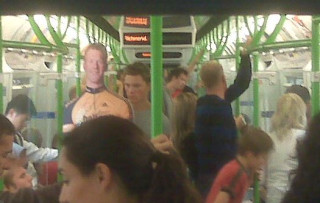 Photo of the day: Simon Lillistone sent us this snap of Halfords' star Ed Clancy was spotted being manhandled onto the tube by a fan after the final stage - any further signtings of Ed, drop us an email

EXCLUSIVE PHOTOS (Click for High Res Slideshow)
British Cycling is the only media with a photographer on a motorbike covering the whole race. Here are the exclusive photos of the seventh stage. Our thanks to NEG (Wales) pilot Graham Harper for his help in getting these photos. Here is the story of the stage.
Geraint Thomas and Tom Southam make a break for freedom early in the race.
Thomas De Gendt on his mission to be in a break for 600 kilometres over the whole of the eight days -- he acheived it on stage 8.
Picture says it all about the crowd in London for the final stage.
Simon Clarke leading a break which included Darren Lapthorne.
Steve Cummings stringing them out in pursuit of the break.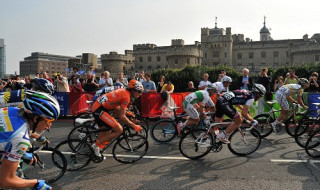 Riders turn for the return run to Westminster in front of the Tower of London.
A Rabobank rider attacks form the break to try and win the mid-race sprint.
The sprint however came down to a battled between the top riders in the overall including the Yellow jersey Boasson Hagen
Ed Clancy leads Dan Craven and Nicholas Roche. Namibian rider Craven will be now travelling to the Worlds to represent his country.
The peloton close in on the break
Boasson Hagen gets the kisses from Lauren and Becky after winning the Points competition
With both riders winning two jerseys each, there were only two riders for the Jersey presentation...
The peleton races through the tunnel on the race route
London Eye was on of many landmarks that could be seen from the race route.