WXCRL Bournemouth Arrow Road Race
Saturday 12 September 2009
Photos and Report: Graham Robins ()
Additional Photos: David Scholes

The main field enjoying the sun early in the race

With the end of the road race season drawing to a close and autumn just around the corner riders were out trying to gain the points they require to move up a category. The Woodlands circuit always lends itself to fast racing and with the good weather, we were in for a fast one. Although there was a headwind that seemed to hinder the chasers the group of four that got away early stayed away. The race was eight laps of the circuit and then the dogleg uphill to the finish line. The weather was kind being very warm and sunny.
The run out from the HQ leads on the circuit where racing commenced, with the 4th cats being given a slight gap before the rest of the bunch started to hound them down. As the race completed its second lap the whole race was together for the first time. Although a couple tried to jump of the front they were quickly pulled back, then the important move of the race when Ross Adams (Red Kite) attacked the bunch and got away with Jamie Howard (Exeter Wheelers).
The bunch didn't or couldn't respond and Richard Eastham (Bournemouth Jubilee Wheelers) and Roland Tilley (Ride Team) got across to the leaders and set about opening up a gap. With the gap at about 1 min the main group tried to organise themselves into a chase, but to no avail. Then the leaders soon opened the gap to over 2mins, and it stayed that way for a couple of laps to go when suddenly it went up to 4 ½ Mins and the chasers were then racing for the lower positions.
As the leaders turned up the finish straight it was that clear that we had lost one. As the three opened up the sprint Jamie didn't seemed to able to respond to Ross, and it was Ross who took the honours with Jamie second and Roland third. In the background a very tired looking Richard arrived at the line 58secs down.
Provisional Results
1st Ross Adams (Red Kite)
2nd Jamie Howard Exeter Wheelers)
3rd Roland Tilley (Ride Team)
4th Richard Eastham (Bournemouth Jubilee wheelers) @57secs
5th James Jones (Didcot Phoenix CC)
6th Barry Clewett (Bournemouth Arrow CC/Hotel Collingwood)
Graham Robins' race photos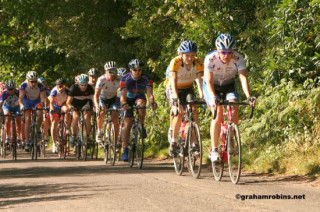 4th cats run out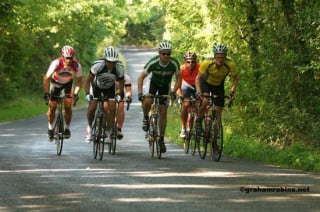 4th cats before being caught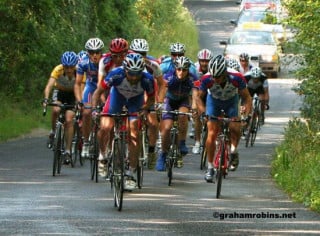 leaders on early laps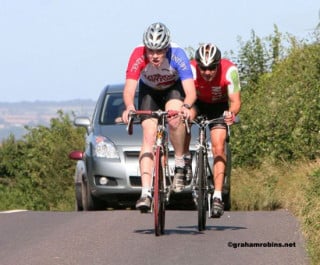 two breakaway on lap 2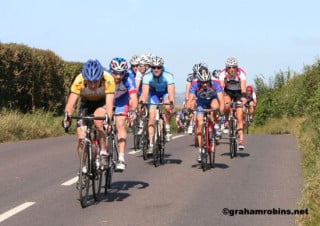 Bunch chasing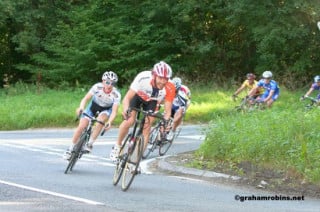 leaders on lap 5

Chasers on lap 5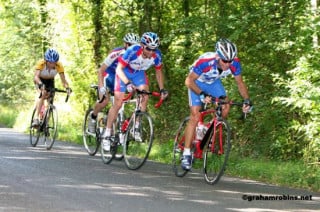 leaders on lap 7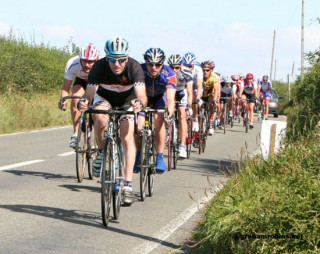 The chase is on with two to go.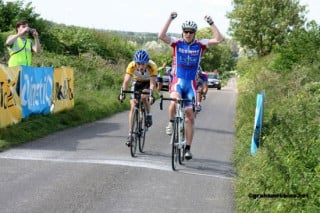 Ross Adams winning shot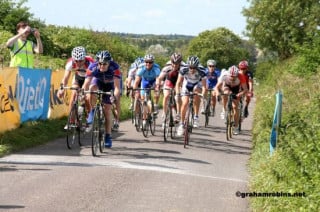 Sprint for 5th
More Images
Photographer David Scholes was also at the Bournemouth Arrow Club's Woodlands Road Race and has kindly sent in a big selection of images from a particularly sun-kissed event. There are lots more in the gallery above and on David's website: www.ds-eventphoto.com/