British Circuit Race Championship
Friday 24th July | Beverley Town Centre (East Riding) | Report & Photos from Larry Hickmott
TV Coverage: The Circuit race championships will be televised on British Eurosport Saturday (August 8) at 14.00 cet on British Eurosport 1.
Russell Downing is all smiles as he wins the right to wear the Champion's jersey for circuir racing for the next 12 months. Click here for the High-res photo album

On a wet and slippery circuit in Beverley (East Yorkshire), in front of a huge crowd, Russell Downing showed who's the daddy in the sprint department when he defeated well known sprinters Jeremy Hunt, Rob Hayles, his defending champion brother Dean and Malcolm Elliott to win the 2009 British Circuit Race Championship.

The night out in Beverley
After a fine afternoon weather wise, the championship evening was kicked off with a running race around the very pretty town followed by the Swanland Mortgages Time Trial where many of the team's in the Championship race were asked to nominate a rider to do one lap of the course as quick as they could. With the circuit still dry at this point, the fastest was the final rider off, Matt Cronshaw of Rapha Condor who is having a great season.

Next on the evening's agenda was the 30 minute Keith Jordan Memorial support race and it was during this that the heavens opened with the water on the cobbles making them lethal to ride on. Crashes in the race followed but three riders, Mark Davies, Andrew Donaldson and last year's winner Paul Noton managed to stay upright and put some daylight between themselves and the rest of the riders still in the race.
Mark Davies wins the support race in a three up sprint.
With the prize of a 'Paris-Roubaix' cobble stone on offer, the three leaders continued to dominate the race and in the sprint to the line, Mark Davies was too quick for the rest and after a lap to warm down, was ushered up on the podium to receive his prize in front of a growing crowd. The rain had thankfully gone by now and when the Elite riders lined up for their race, the circuit was starting to dry out although at that time of the evening, it was never going to be completely dry.

The race began at full speed with one of the favourites Graham Briggs (CandiTV/ Marshalls Pasta) making his move on lap one and was soon joined by Matt Cronshaw (Rapha Condor). With lots of fresh legs in the peloton, the move soon came back. There were however plenty of riders willing to have a dig and very early on the pace was such that the large bunch was starting to split all around the circuit which may have been more to do with the slipperiness of the roads than anything. The field though did come back together only for more riders to go clear for some short lived time out front of the race.
The race is flagged away by one of the VIP's at the race
Former champion James McCallum (Endura), sporting a trendy beard, had a dig and then the Jeremy Hunt show started. First the former double winner of the British Road Race champion got away in a break and was noticeable in his efforts to try and help it go clear and stay that way.

The move was certainly a strong one with the likes of James Stewart (Kinesis), Andy Tennant (Halfords Bikehut), Malcolm Elliott (CandiTV Marshalls Pasta), Douglas Dewey (Pendragon Kalas), Matt Cronshaw (Rapha Condor), Simon Holt ((CandiTV Marshalls Pasta)), James McCallum (Endura) and Ed Clancy (Halfords Bikehut) in it.

Riders such as champion to be Russell Downing tried to get across but initially were unable to close it down. More pressure though followed at the front of the chase group and many efforts later, one by one, three by three, the lead group started to gain riders until the whole field apart from a few stragglers were back together again. Not for long though as Jeremy Hunt went clear and was joined by Dale Appleby and the two opened up a good gap on the rest.
Bell lap and Mark McNally leads the Halfords train through the finish line for the last time.
Hunt though was really turning up the heat as darkness descended on Beverley and the style too, and had soon burned Appleby off his wheel and for a half a dozen laps he remained clear until the Halfords team said enough is enough and they brought him back.

Into the closing laps now and there was a split with the likes of Russell Downing going clear but that didn't last a lap and a few laps out, the Halfords Bikehut train got going with first Rob Partridge leading them around at high speed and then Mark McNally was driving the field along for the final lap of the circuit.

At the bell, and the Halfords team had two riders giving Rob Hayles the lead out but ominously on Rob's wheel was Jeremy Hunt and on his was Russell Downing and then came Dean Downing. It was going to be the bunch kick of bunch kicks when they came into view next time for the sprint on the still wet cobblestones of Beverley.
First into view round the wide radius bend leading to the finish line was Russell Downing, head down and clear of Jeremy Hunt and before they'd even crossed the line, the Rotherham rider had time to raise his arms in victory as he celebrated winning another British title, one of many for the CandiTV rider.
Podium time for the three medallists, Rob Hayles, Russell Downing and Jeremy Hunt along with the race's VIP's.
Russell Downing: "It was slippery but the corners were not too bad. You got a bit of back wheel drift on some of them but I was able to cope with it so it was good. Then it dried out but not all over so you were never sure when you'd get some grip and then lose it again. It was a good race."

"I think I ended up getting in front of Jez round the back when Dean was battling for it and then I then ended up on Jez's wheel in the finale. Jez jumped into the final corner like a kamikaze which he's known for and he got a run. I got his wheel and wanted to go round him but there was no where to go. He held me against the barriers until they opened up and it was perfect timing."

"I was really up for tonight. I woke up in a grumpy mood this morning and didn't want to talk anyone or answer my phone and I think that was something telling me about tonight. I didn't want to throw anything on the road in Blackburn and there was nowhere at Blackburn to get the power down so I was just cruising."
Russell Downing attacks to try and get across to the break.
"Malcolm and I had a few conversations in Italy and he said to me, you can win the champs, you know how you need to win it so that is what I did. I saved myself and didn't leave too much on the road and the sprint was perfect."

Rus agreed that with the Tour Series crits on TV now, the jersey has taken on a new importance for the riders. "Dean has had the coverage wearing it for them and now it is over to me." Finally, will he have a special bike – he replied "we'll see!".
... And Jeremy Hunt was eager for the break or for himself to stay away and opens up the gaps when he turnes on the gas.
Jeremy Hunt: "Here was a flowing circuit so you could ride hard without having to press hard on the pedals out of every corner. I knew at the end what I had to do – go into the last corner really fast but it was a long way into a headwind. I actually thought I had it for a while but he nipped out and came past me."

"This was like Belgian classic. In those you have to be able to corner in the wet and hold the bike up and once you got the flow of things, this was very similar. I now have Denmark (leaves for it next Tuesday), Ireland and Tour of Britain. Then, if I get selected, Franco Belge, Paris-Tours and maybe the Worlds I hope."

On his Cervelo teammate, Thor Hushovd's Green jersey in the Tour de France, Jeremy said "it's fantastic and hopefully he'll carry on and keep it to Paris!".

Rob Hayles: A winner of this title ten years ago, the three time Olympic medallist is showing no signs of slowing down with another podium position. Three rides and one on each step of the podium in the last three years at Beverley. Another championship win however has eluded him but in light of his form, he was happy enough. He admits with age comes experience and he's a bit cleverer now!

"The lads in Halfords rode really well tonight and I hate letting them down. I rode the way I had to tonight and got on the podium so can't be too dejected. The conditions (slippery) were hard for me at the start, very hard, but for the last few laps, there was a dry line so fortunately so I was able to hold my speed."

"The headwind up the home straight meant I couldn't jump as early as I wanted because I didn't want to lead out, but then that was also a gamble because then Jez jumped first and Rus got up the inside of me round the kink down there which put me into third which was not where I wanted to be."

"It would have been nice to win with the Tour Series next year which is a big thing now."

Finally, Rob explained, as he has a few times this year that he isn't feeling great on the bike in 2009 despite some good results. "I don't feel good at the moment and haven't all year. I felt good at Colne but that was an easier circuit where there was a lot more opportunity to rest."

"I need to get in the gym. I have had a completely different year to last year. Racing once a week and doing work in the gym last year was perfect for me. The odd little hit in Belgium too. This year though has been full on with the crits and little time to do anything in between." Rob then explained with a good base to work with, he'll now have now have time to do what he needs to before the next big goal – the Tour of Britain.
James McCallum tries to get away early on
James Stewart leads Jeremy Hunt and one of the best break sof the race but like all the others, it failed to stayed away.
Front wheel puncture for Mark McNally.
Finale of the race and Jeremy Hunt tries to go it alone with Dale Appleby on his wheel but not for long.
Rob Partridge driving the Halfords train along to bring back Hunt.
A few laps out and there is a split in the peloton and Russell Downing and Ian Wilkinson are in the right half of the split.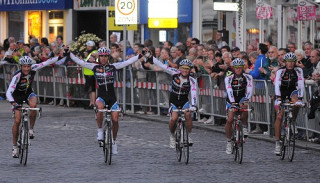 CandiTV celebrate a victory for Russell Downing
One lap time trial winner, Matt Cronshaw.

Elite Circuit Race
1. Russell Downing, CandiTV/Marshalls Pasta
2. Jeremy Hunt, Cervelo Test Team
3. Rob Hayles, Halfords Bikehut
4. Dean Downing, Rapha Condor
5. Malcolm Elliott, CandiTV/Marshalls Pasta
6. Jon Mozley, Madison.co.uk
7. Ian Wilkinson, Halfords Bikehut
8. Graham Briggs, CandiTV/Marshalls Pasta
9. Tom Barras, unattached
10. Simon Gaywood, Corley Cycles
11. Simon Holt, CandiTV/Marshalls Pasta
12. Matt Cronshaw, Rapha Condor
13. Chris Newton, Rapha Condor
14. James Stewart, Kinesis
15. Dave Collins, Science in Sport
16. James Sampson, CandiTV/Marshalls Pasta
17. Evan Oliphant, Endura
18. Stuart Reid, Herbalife/Wheelbase.co.uk
19. Mark McNally, Halfords Bikehut
20. David Clarke, Pendragon Kala

Time Trial
1. Matt Cronshaw 1.34
2. Jereon Janssen 1.36
2. Andy Tennant, 1.36
2. Gary Adams, 1.36

Support Race
1. Mark Davies, South Yorkshire
2. Andrew Donaldson, Kingsnorth Wheelers
3. Paul Noton, City RC (Hull)
4. Karl Downes, Star Bikes
5. Craig Gath, York Cycleworks
6. Andrew Marsh, Dinnington RC
7. Paul Allen, Wakefield CC
8. David Brealey, Cottingham Coureurs
9. 51
10. Jack Cutsforth, Star Bikes RT
RELATED INFORMATION
Click here for the High-res photo album

Circuit Race Championship Winners (Professional, Open & Amateur)