Cronshaw's Blackpool Breakthrough
Podium at Blackpool, left to right Yanto Barker 3rd, Matt Cronshaw 1st and Rob Partridge 2nd.
20 year old Lancashire rider Matt Cronshaw (Rapha Condor) had the biggest home win of his short career at the Tour of Blackpool on Sunday. With a superb lead out from team mate Liam Holohan, Cronshaw outsprinted Rob Partridge (Halfords) and Yanto Barker (LeCol-Colnago) on the South Shore Promenade at Blackpool.

How the race unfolded:

It's 9am Sunday morning on Blackpool Promenade and a few bleary eyed residents popping out for the papers and a pint of milk are wondering why 100 elite cyclists are lined up outside the Solaris Centre on the South Shore. The answer is the Premier Calendar Road Series has come to town town. The 93 mile road race for the best home based riders in the country is the final event of a full weekend of bike races organised by Cycling Development North West in partnership with Blackpool Borough Council.

With Lancashire Constabulary's motor-cyclists and British Cycling's National Escort Group in attendance it promised to be a very safe passage for the riders across the pan flat Blackpool and Lytham countryside.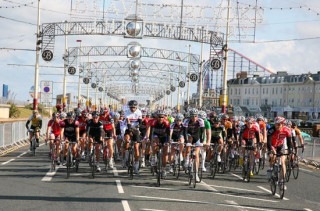 The peloton rolls out of Blackpool to begin a long and fast morning in the saddle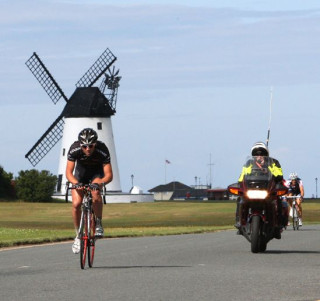 Yanto Barker (LeCol-Colnago) was the first rider to attack as the peloton passed Lowther Gardens in Lytham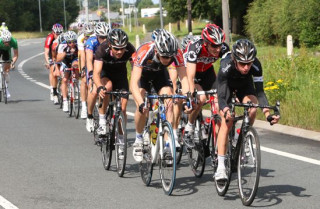 With the second circuit of Lytham, Freckleton, Clifton, Kirkham and Westby completed a break group containing Liam Holohan, Chris Newton, and Matt Cronshaw (RaphaCondor), Yanto Barker (LeCol-Colnago), James Sampson and Simon Holt (CandiTV-Marshalls Pasta), Richard Hepworth (Arctic Premier Racing), David McCann and Paul Healion (Ireland), James Williamson (SigmaSport), Rob Partridge (Halfords), and Steve Lampier (KUK Kinesis) formed at the front. The Rapha Condor riders appeared to be encouraging the others to lift the pace and pretty soon this group had a good lead.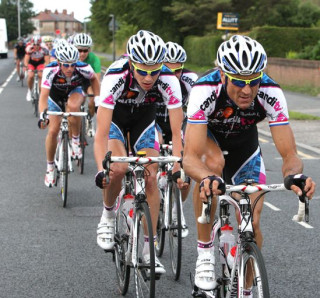 Malcolm Elliott and his CandiTV-Marshalls Pasta squad sensed the danger of having Newton and his riders in a break and went to the front of the main field to bring them back. This worked and within a few miles the whole field was back together.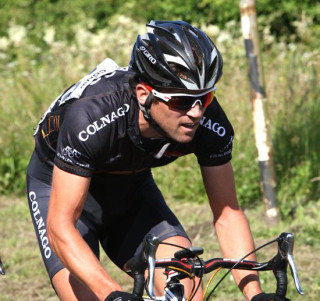 What a comeback for Yanto Barker, he had a great day at Blackpool. The South West rider is enjoying his racing, which he does to publicise his clothing brand, LeCol.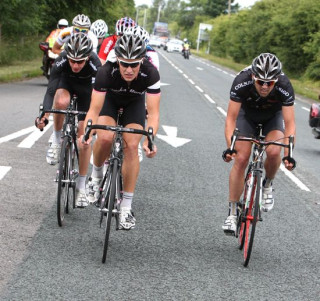 The selection is complete for the lead group with 75 miles completed. Yanto Barker caused a break at the front, quickly joined by Matt Cronshaw, Liam Holohan, James Williamson, Rob Partridge, James Sampson and Paul Healion.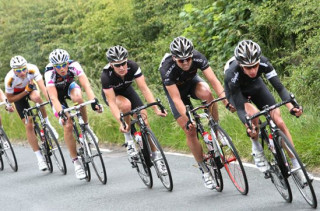 Rapha Condor rider Liam Holohan worked tirelessly at Blackpool, in all the moves of the day working for Newton and Cronshaw.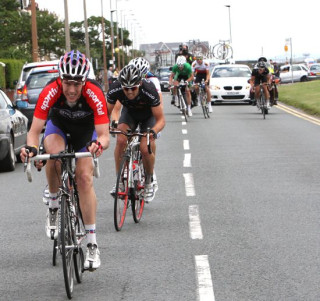 The last 5 miles on the run in to Blackpool: cat and mouse tactics, James Williamson kept the pace high on the front with Barker and Sampson preparing to launch their own attack. Cronshaw at the back is watching Healion and Partridge.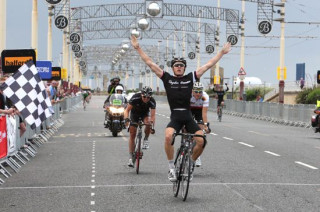 The final sprint and victory for Matthew Cronshaw, with Rob Partridge 2nd and Yanto Barker 3rd.
Matt Cronshaw enjoys the moment
After the biggest home win of his short career, 20 year old Lancashire rider Matt Cronshaw was delighted with his victory. Rapha Condor team boss John Herety told British Cycling, "Cronshaw got a bollocking on Friday night after he messed up in the circuit race, he needed to do something pretty good today to make amends, he's learning and I'm delighted with his and Liam Holohans performance today, they are both young guys and developing fast, watch out for both of them"
Matt Cronshaw (winner) 20 year old rider from Carnforth, Lancashire: "Well I got a telling off from the team for not winning the crit on Friday, so I was really up for this today. I got in the break today with Chris Newton and Liam Holohan, with a couple of laps to go it split again. Me and Liam got in that break. Towards the end I just sat in and bided my time, I was confident that I was the best sprinter. It was cat and mouse all the way from Lytham St Annes. I knew Yanto Barker and Rob Partridge were the ones to watch. Liam did a fantastic job on the front with 5km to go, keeping it fast. He gave me a perfect lead out. I had a good win at the Tour de Beauce in Canada a few weeks ago, and I'm still carrying that form"

Rob Partridge (2nd place): "I'm not happy at the moment, I lost that race through tactical errors. Yanto Barker was very strong today and constantly attacking, I thought he was probably the sprinter to watch. The two Raphas worked it well, Liam was riding hard on the front and Cronshaw was a threat, but I was more concerned with Yanto, my mistake. Cronshaw got the jump on us, we were coming back at him but not fast enough. I quite enjoyed the fast flat circuit, it made for a hard race, just shows you don't need hills to make it hard"

Yanto Barker (3rd place): "Third place, yes I'm happy with that. Good result when you are up against big teams with lots of riders and I'm on my own. I've been doing this for a few years so I know pretty much when to put the effort in and who to follow. The final few km was into a headwind, it was hard to get a gap and maintain it. Myself and James Williamson did try to get away in the finale, but both got brought back. Matt got the jump and caught us all out. There were no 3km or 1km signs which is a bit unusual, I wasn't sure we'd reached the finish area. But Matt is a good sprinter and he deserved that win"
John Herety (Team manager Rapha Condor): "We identified Matt Cronshaw as an emerging talent last year when he was riding for Kinesis. Chris Truett the Kinesis manager did get annoyed when we took him this season. At the Tour de Beauce in Canada a couple of weeks ago he won a stage, however on Friday night at the Crit here in Blackpool he got a bit over ambitious. He's a local lad to Blackpool area and had quite a bit of support with family and friends and was showing off. He got well and truly shafted by riding too hard on the front when Chris Newton was trying to get across, only 12 seconds behind. Then he lost out in the sprint. He got a bollocking from me and Newton left him in no doubt about what he should have done. He won't do it again. But Cronshaw is only 20 and learning fast. It's good for the sport that a young rider can win a big race like this today"
Results provided by BC Technical Services
1. Matt Cronshaw Rapha Condor
2. Rob Partridge Team Halfords Bikehut
3. Yanto Barker Le Col Colnago
4. Liam Holohan (Rapha Condor)
5. Paul Helion Team Ireland
6. James Williamson Sigmasport/Specialized/Sportful
7. James Sampson Candi TV - Marshals Pasta
8. Steve Lampier KUK Kinesis
9. David McCann Team Ireland
10. Ed Clancy Team Halfords Bikehut
11. Russ Downing Candi TV - Marshals Pasta
12. Marcin Biloblocki Sports Beans Wilier
13. Matt Kipling KUK Kinesis
14. Simon Wilson Arctic Premier RT
15. Kit Gilham Sigmasport/Specialized/Sportful
16. Simon Holt Candi TV - Marshals Pasta
17. Russell Hampton Unattached
18. Graham Briggs Candi TV - Marshals Pasta
19. Jack Pullar KUK Kinesis
20. James McCallum Endura Racing
21. Kristian House Rapha Condor
22. Rob Hayles Team Halfords Bikehut
23. Adam Norris BMC UK Racing Team
24. James Moss KUK Kinesis
25. Scott MacRae Endura Racing
26. Richard Hepworth Arctic Premier RT