The National Road Series reaches its climax this weekend with the historic Curlew Cup and Beaumont Trophy races in Northumberland. With individual National Road Series honours still up for grabs, the scene is set for some thrilling racing. Here's what to expect.
About the races
The Curlew Cup and Beaumont Trophy are part of the Cyclone Festival of Cycling - a weekend cycling festival that also features a sportive and family leisure rides. The Beaumont Trophy is one of the longest-running road races on the domestic calendar. First held in 1952, the race has been won by many famous riders including Sir Bradley Wiggins, Chris Newton, Russell and Dean Downing, and Malcolm Elliott. Jacob Scott (WiV SunGod) won the race last year on his way to taking the National Road Series crown.
The Curlew Cup was launched in 2012, the year after the women's national road championships was held on the same course and won by Lizzie Deignan. The inaugural race was won by Dame Sarah Storey. Other notable winners have included Hannah Barnes, Katie Archibald, Nicki Juniper, Jess Roberts, and Lizzy Bennett. Abi Smith won last year's finish from a reduced bunch sprint. Like Scott, she sealed the National Road Series title with the win.
Both races were postponed from their original date of 18 September this year as a result of the Queen's funeral.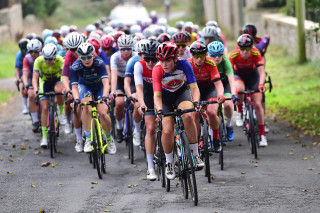 The route
Starting and finishing by the village green in Stamfordham, the main course for both races is a large 40 kilometre circuit through the Northumberland countryside. It's a proper 'racers' route that features a fast narrow descent leading into a stiff climb – the iconic Ryals – and some challenging Northumberland B-roads.
The Curlew Cup entails three laps of this large circuit, with a total race distance of 122.4 kilometres and 1,593 metres of elevation is tackled in the process. The Beaumont Trophy meanwhile takes in four laps of the large circuit, followed by one lap of a shorter 22 kilometre finishing circuit, making for a 182.3 kilometre race with 2,312 metres of climbing in all.
About 30 kilometres into the large circuit, the Ryals climb provides the trickiest obstacle of the day. It is preceded by a fast descent and then a drag of over two kilometres, featuring three steep ramps in succession. It's often the decisive point in the race and is where Team Sky launched their attack in the 2011 National Road Championships that led to Sir Bradley Wiggins' nationals win.
The small finishing circuit includes nothing as testing at the Ryals but nonetheless features two short sharp rises – one at the beginning of the lap with gradients of up to 7% and another with about 14 kilometres to go that could provide launchpads for potentially decisive attacks. It's pretty much all downhill from about nine kilometres to go, bar a small rise to the finish line.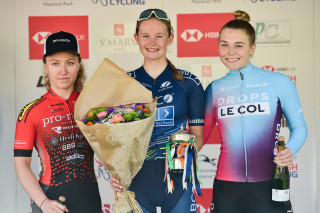 Riders to watch - Curlew Cup
The Curlew Cup features a compact but quality field. Crucially, all of the main protagonists in the National Road Series will take to the start. Series leader Sammie Stuart (CAMS-Basso) has been a revelation this year – two Tour Series round wins perhaps the best of many highlights – and will be a contender in her own right for the win.
Stuart's nearest rivals are Lucy Lee (Team LDN – Brother UK) and Alice McWilliam (Bianchi Hunt Morvelo), who are 17 and 18 points behind respectively. With Series rankings points available for the first top 20 places, from 30 for the winner down to 1 for 20th place, the race should involve a fascinating tussle for Series honours. Like Stuart, both have had breakthrough seasons and will be keen to round off the year with a flourish.
There are plenty of potential winners elsewhere on the start list too. Connie Hayes (AWOL O'Shea) has been knocking on the door of a big win for a while and is a good climber, so expect moves from her on the Ryals. Rapha Lincoln Grand Prix winner Becky Storrie (CAMS-Basso) is ideally suited for this course but might be on team duties for Stuart. Lancaster Grand Prix victor Mary Wilkinson (Team Boompods) is another contender, while junior sensation Emma Jeffers (JRC-INTERFLON Race Team) will be one to watch if it comes down to a sprint finish. On her way back from maternity leave, Elinor Barker (Uno-X Pro Cycling Team) is another rider we'll be keeping a close eye on.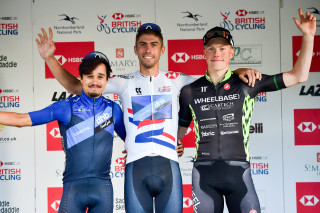 Riders to watch - Beaumont Trophy
The men's individual series competition is very nearly decided. It will almost certainly go to a WiV SunGod rider. The main question is, which Scott will it go to? Rob Scott is the current leader, holding an 11-point lead over teammate – and last season's series winner – Jake Scott. The pairing has been a formidable duo on the domestic scene this year and both are capable of a win here. It will be interesting to see if they will be allowed to race each other or if team orders will take precedence.
Matt Bostock (WiV SunGod) is back racing after time out with concussion and will be a marked rider if it comes down to a sprint. Zeb Kyffin – who impressed at the Tour of Britain – is our pick of the Ribble Weldtite Pro Cycling riders.
Saint Piran will likely provide WiV SunGod with the most competition for the race win. Jack Rootkin-Gray has been in searing form since he joined the team mid-season, and with Alex Richardson also racing, a repeat of their Ryedale Grand Prix 1-2 is not an impossibility.
Ollie Rees and Max Walker (TRINITY Racing) are both in excellent form having just finished the Ronde de l'Isard (2.2U) in fourth and fifth respectively.
Others to watch include Zappi Racing Team pairing of Matthew Kingston and Ben Granger, George Wood (Cycling Sheffield), James Jenkins and Conor McGoldrick (Richardsons Trek DAS).
The Curlew Cup starts at 8.45 with the finish at approximately 11.45. The Beaumont Trophy begins at 13.45 and will finish around 17.45.
You can follow the action on the British Cycling social media channels.
For more a more in-depth preview of the race, as well as the latest start lists, head to The British Continental.