Jacob Scott (SwiftCarbon Pro Cycling) and Joscelin Lowden (Drops) both took to magnificent wins from lone attacks at the first ever South Coast Classic.
Lowden struck in the final kilometres of the race, using the main climb of the day, Beachy Head, to launch her attack.
The Drops rider was part of an initial quintet including Claire Steels, Jennifer Hudson (Brother UK – Fusion RT), Leah Dixon and Jessica Finney (Brother UK – Tifosi p/b OnForm) who climbed away to an advantage on the third lap of the circuit.
Finney and Hudson were the first riders to feel the effects of the brutal climb, being dropped on lap seven.
It looked like Lowden was going to be dropped on the same ascent of Beachy Head before clawing back to Dixon and Steels.
However it would be one lap from the finish that Lowden broke free of her fellow riders in the lead group, fighting all the way to finish and winning by over a minute to Steels in second and Dixon third.
Jacob Scott had obviously done his homework for the men's race, as his winning attack was a mirror image of fellow victor Lowden.
It wasn't made simple for the Yorkshire-man, the race was split to pieces early on with a relentless pace being set from kilometre zero after leaving the town of Eastbourne.
The race pace calming down four laps into the 13 laps the men would take in on the Beachy Head circuit.
After establishing a main peloton of 30 plus riders at the front of the race, lap seven was the catalyst for Scott's emphatic win.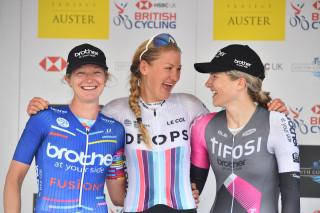 Two riders, Jordan Peacock (Spirit Tifosi Racing Team) and Sam Culverwell (Team Estera) made the move, using the Beachy Head climb to break clear of the peloton and establish a reputable time gap.
It would be on the next lap that a group of ten including the likes of Ryan Christensen (Canyon dhb p/b Bloor Homes), Isaac Mundy (Richardsons-Trek RT), Rob Scott (WIGGINS Le Col), Steve Lampier (Saint Piran) and winner Scott would bridge to the two riders.
Another group of 12 chasers tried their upmost to bring back the leaders, however that lead group must have caused immense frustration managing to hold a time gap of around 25 seconds for the remaining few laps.
It was on the final climb SwiftCarbon Pro Cycling rider Scott launched his attack, showing incredible strength, before utilising the steep descent from the circuit into Eastbourne to finish off his lone attack and get his hands in the air for the win.
Of the remaining riders, Rob Scott and Ryan Christensen would be the next to finish 12 seconds behind Jacob Scott. The pair sprinted it out for the podium spots, Christensen taking third and Rob Scott second.
Men's South Coast Classic Results
Women's South Coast Classic Results