Fin Graham and Will Bjergfelt were among the new national champions crowned on the opening day at the National Para-cycling Road Championships.
On the first of two days of competition at Pembrey Country Park, all of the road race titles were decided, with Alex Brooke-Turner, Luke Jones, Amelia Cass, Matthew Robertson, Krispin Gardner and Chris McDonald (piloted by Neil Poulton) all winning national jerseys.
SwiftCarbon Pro Cycling's Bjergfelt caught David Murphy, who had attacked solo off the front, before powering home to win the MC5 category. Afterwards, he said:
"I'm really happy to win the title on what was a testing course. SwiftCarbon Pro Cycling have given me a great race programme that's lifted me massively in comparison to previous years, and I'm very excited for the rest of the season, for upcoming races with the Great Britain Cycling Team and SwiftCarbon Pro Cycling, as we work towards qualifying for the OVO Energy Tour of Britain."
Graham won a tussle with Ben Watson (Glossop Kinder Velo Cycling Club) to take the MC3 title, while Gardner triumphed in a thrilling sprint finish in the MC4 race.
Brooke-Turner (Dulwich Paragon CC) took the MH4-5 title for the second successive year, while there was an intriguing battle for the MH2-3 jersey between Jones and Dan Hopwood, which Jones won by a margin of five seconds.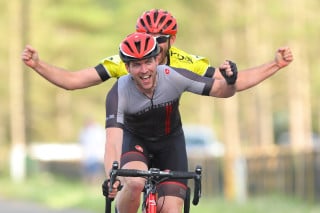 Cass comfortably won a two-way battle with Polly Hill for the WC1-3 title, while Robertson was victorious in the mixed MC2-WC5 race.
In the final event of the day, the mixed tandem race, Chris McDonald and Neil Poulton won a tactical battle against Simon Thomas and Matt Blue (silver) and Paralympic champions Lora Fachie and Corrine Hall, who claimed bronze.
The championships continue with the time trial events on Sunday.
Podiums
MH2-3:
1. Luke Jones
2. Dan Hopwood
3. Chris Madden
MH4-5:
1. Alex Brooke-Turner (Dulwich Paragon CC)
2. Matthew Faucher (Caerphilly Cycling Club)
3. Steven Arnold
WC1-3
1. Amelia Cass (Loughborough Students CC)
2. Polly Hill
Mixed MC2-WC5
1. Matthew Robertson (Woolwich CC)
2. Ryan Taylor
3. Morgan Newberry (Sheffield Hallam Cycling Club)
MC3
1. Fin Graham
2. Ben Watson (Glossop Kinder Velo Cycling Club)
3. Colin Wallace (Deeside Thistle CC)
MC4
1. Krispin Gardner (PDQ Cycling Coaching)
2. Wayne Harrod (Flatlandria CC)
3. Nicholas Fairfield (City RC Hull)
MC5
1. Will Bjergfelt (SwiftCarbon Pro Cycling)
2. David Murphy (Liverpool Mercury Dolan CC)
3. Karl Allen-Dobson (WyndyMilla)
B1-2
1. Chris McDonald - piloted by Neil Poulton (PDQ Cycling Coaching)
2. Simon Thomas – piloted by Matt Blue (Towy Riders)
3. Lora Fachie – piloted by Corrine Hall (Black Line)