It was a Welsh double on Australia's Gold Coast as Jon Mould and Dani Rowe both claimed medals in the Commonwealth Games road races.
Australia took gold in both the races with Mould claiming silver in the men's after Rowe had sprinted to bronze in the women's.
Both ended up in bunch sprints as depleted pelotons came to the finish line on Currumbin beachfront to settle the final cycling medals of the Gold Coast Games.
Mould sprints to silver
Jon Mould unleashed a superb sprint finish to take silver in the men's road race and even looked like taking gold at one point.
The Welshman tried to get in a number of early breaks but failed to make the ones that stuck.
Luke Rowe was also active in the early stages as the Welsh team rode an aggressive race and got their reward in the end.
The major break of the day featured England's Tom Stewart, who was in a break of three for several laps before being caught by a chasing pack of six that also included teammate Harry Tanfield.
Those nine became seven as Stewart once again launched an attack and was followed by Guernsey's James McLaughlin.
But once the peloton swelled up the remaining seven, they soon came for the lone two.
The final lap produced attack and counter-attack, with both Stewart and Ian Bibby going clear at one point.
But Australia and New Zealand were determined to line it up for a sprint and that is what eventually happened, with home favourite Steele von Hoff sprinting past Mould in the final 100m, leaving the Welshman to take silver with South Africa's Clint Hendricks pipping Northern Ireland's Mark Downey by the width of a tyre to take bronze.
"I'm really chuffed. Proper chuffed. You always race to the line but Steele is proper fast and just to get through the race was great," said Mould.
"I got gapped over the first climb on the last lap but got back on. I didn't really think I had a massive chance but put a finish line there and it changes it all.
"I got it all out. Mega.
"This definitely makes up for the track, 100 per cent The track didn't go perfectly but it's really hard, really hard on the track.
"I knew I was going well, which maybe made that more frustrating, but it paid off here."
Stewart eventually crossed the line in eighth with Bibby 12th and Rowe 14th.
Rowe takes brilliant bronze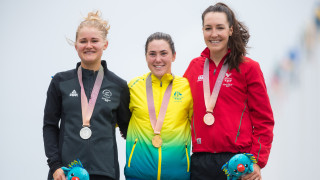 Dani Rowe sprinted to a bronze medal in the Commonwealth Games road race as five British riders made the top ten of the women's road race.
Four years ago Rowe, then King, competed in the road race, scratch race, individual pursuit and points race - with a worst finish of 11th on the road and a best of fourth in the scratch - for Team England.
But now married to a Welshman, Rowe donned the Welsh jersey and was led out for her sprint by teammate Elinor Barker - who won the points race last week with the help of Rowe.
Australia's Chloe Hosking won the race ahead of New Zealand's Georgia Williams, while Barker came in seventh ahead of Scotland's Neah Evans and then Melissa Lowther and Hayley Simmonds of England.
Rowe had helped Barker to points race glory on the track last week and was grateful her teammate returned the favour on the road.
"It feels amazing. It was my aim for a long, long time, the Commonwealth Games. So I'm really happy that the hard work has paid off," she said.
"I really enjoy the track and did a bit over the winter, knowing that the Games were coming up and that I was going to be travelling out early.
"So it was nice for me to be able to play a small part in Elinor's victory in the points race.
"The girls did an absolutely amazing job. Every single one go them. Making sure myself and Elinor were always at the front coming into the climbs so that we could make sure we didn't miss any moves.
"But Australia controlled the whole race, from start to finish. So it was then about setting it up for the finish."
Results