Great Britain Cycling Team's Ollie Wood finished fourth in the under-23 men's road race at the UCI Road World Championships - missing out on bronze in a sprint finish.
The British rider was well placed in the battle for third place but was pipped on the line by Denmark's Michael Svengaard as France's Benoit Cosnefroy took the win.
In the junior women's race, Pfeiffer Georgi finished sixth as Elena Pirrone of Italy completed a time trial/road race double.
Under-23 men
The under-23 men's race saw an early breakaway, with six riders, including Australia's Jai Hindley attacking and building a lead of over a minute.
Hindley was dropped on the second lap, with Fernandes of Portugal, Habtom Tekle of Eritrea, Strokau of Belarus, Atsushi of Japan and Hoog of Sweden staying clear of a chasing group by over a minute.
They were joined by seven other riders who bridged across on the third lap and pulled out a lead of two and a half minutes.
The British riders remained safe in the peloton behind, as they slowly reeled in the leaders, reducing the gap to 1:36 after five laps and then then making the catch on lap six.
No sooner had they all come together, then a new attack formed, led by Brandon McNulty of the USA and supported by Hindley and four other riders, with Great Britain Cycling Team's Scott Davies in hot pursuit to join the break.
They went over a minute clear at one point, but on lap eight, splits in the peloton were reformed and the leaders were caught once more.
A number of brief further attacks were attempted, with Davies constantly trying to make something happen, working hard at the front.
Into the final lap and France's Benjamin Thomas made the first move, only for Germany's Lennard Kamna to usurp him and pull out a significant lead on Salmon Hill.
Benoit Cosnefroy of France joined Kamna but with just over a kilometre to go, it looked like they'd be swallowed up, but no move came.
Kamna went first but Cosnefroy had more strength in the closing stages and held off the German rider to claim the world title.
The bunch behind dashed for the line for bronze, with Wood well placed but just pipped on the line by Denmark's Michael Svengaard for third place.
Despite missing a medal, Wood said he was pleased with the result.
"Mixed emotions really. Obviously, no one likes to come fourth, just one step off the podium but if someone had said to me you're going to come fourth at the world championships this morning, I'd have taken that.
"So, I'm pretty happy, it was a real tough race."
James Shaw finished in that main group, taking 38th, with Mark Stewart two places and 17 seconds back.
James Knox finished 89th, 6:28 off Cosnefroy's time, with Scott Davies finishing 95th, 9:16 back after his efforts on the front.
Junior women

In much colder conditions in Norway than during the time trials, Denmark's Emma Jorgensen broke away on the opening lap, building up a lead of over 30 seconds at one point, looking comfortable.
The pace of Jorgensen's attack caused problems for the peloton, with Georgi working hard and taking her turn at the front of the bunch to try to close the gap.
Rhona Callendar dropped off the peloton in the early stages and struggled to rejoin the main group given their efforts to chase Jorgensen - and they reeled her in on the climb on the second lap.
The peloton drove on after the catch, and in the closing stages of the second lap, just Georgi and Sophie Wright remained in the lead group, with Lauren Murphy and Jessica Roberts working hard to get back on.
With 31km to go, Wright, working with Italy's Letizia Paternoster, charged ahead on the climb up Salmon Hill - only for Australia's Madeleine Fasnacht to move past both of them and ride clear.
That move didn't stick though, with Italy's Pirrone then taking up the charge and going clear on her own, putting significant distance between her and the field with a lead of around 13 seconds.
The constant attacks split the peloton with Wright and Georgi remaining in the leading chase group.
Pirrone proved too strong for the rest of the field though and crossed the line to take gold and secure her second world title of the week after success in the time trial.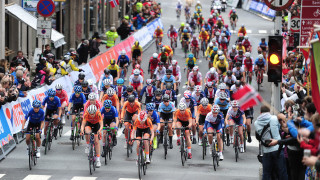 Jorgensen's early bravery was rewarded as the Danish rider crossed the line in second place with Pirrone's teammate Paternoster taking bronze as Georgi took sixth place, with Wright finishing 12th.
Despite securing her second top ten finish of the week, Georgi admitted she was slightly disappointed.
"We came for more, it was such a hard race and we tried our hardest so in some respects I'm happy but we came to win.
"It was a really hard day."
Further back, Roberts took 42nd, almost seven minutes back on Pirrone with Murphy in 64th, ten minutes down with Callendar abandoning the race.