Great Britain Cycling Team's Chris Froome won bronze in the UCI Road World Championships time trial in Bergen.
The winner of Le Tour de France and La Vuelta a Espana overcame a brutal course in Norway and wet conditions to reach the world championships podium.
Gold went to Tom Dumoulin of the Netherlands, with Slovenia's Primoz Roglic taking silver.
Froome's teammate Tao Geoghegan Hart finished 43rd after suffering a crash.
Brilliant bronze
Froome had a long wait to begin his time trial, setting off four hours after the first rider descended the start ramp.
The course was wet for some of the early riders, who also had difficulty navigating a bike change - offered ahead of the brutal 13% climb to the finish line.
As Froome set off, in glorious Norwegian sunshine, he made a steady start to the opening phases as Dumoulin began at an incredible speed.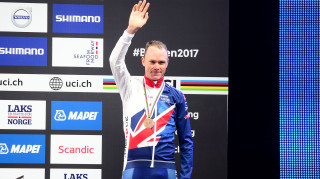 Froome closed in on his rival's times as heavy rain began in Bergen - and the British rider was only seventh fastest as he approached the climb.
Staying on his time trial bike, Froome showed his ascending skills eating into the times of his opponents to secure third place.
But neither Froome, nor silver medallist Roglic could get close to Dumoulin, who charged up Mount Floyen to stop the clock in 44:41.00 - almost a minute faster than the Slovenian and 1:21 faster than Froome.
"There's no excuses, the conditions were the same for Tom Dumoulin who won behind me, so massive congratulations to Tom, he was the stronger man out there today.
"I've got no regrets. I gave it everything I had and I'd much rather have been here and got a bronze medal, than be at home wondering what, if so, questions answered and time to put my feet up now."
It was a tough afternoon for Tao Geoghegan Hart, making his first senior appearance at the UCI Road World Championships.
The British rider crashed on an early corner and was unable to make up the time on the 31km course.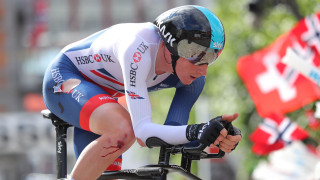 Geoghegan Hart, who chose not to swap from his time trial bike to his road bike for the final climb, crossed the line in 48:31.67 - 3:50.67 behind the race winner.
He admitted it hadn't gone his way on the streets of Bergen.
"Probably one of my least well-executed time trials of the year. I just didn't really get on top of it. I've never had it before but I didn't get my breathing right. I woke up with a tight chest and hoped I'd get over it in the warm up but I couldn't really breathe. It was pretty poor to be honest.
"(I crashed) pretty early on, there's a couple of corners with really bumpy lines, the tarmac is quite ridged and I just overcooked it and lost the front wheel. I'm fine though.
"I quite liked the course, but it's probably my least well-ridden time trial of the year."
Attention now turns to the road races, with the junior women and under-23 men getting things underway on Friday.