Chris Froome has won his fourth Tour de France after a thrilling three weeks of racing.
The 104th edition of Le Tour saw 198 riders from 22 teams tackle 3,450km of cycling, visiting four countries and, for the first time since 1992, all five of France's mountainous regions.
Great Britain's Chris Froome won his third consecutive title to become only the fifth man in history to win the Tour four times, with fellow British rider Simon Yates following in his brother Adam's footsteps from twelve months earlier to win the white jersey.
Stage 1: Dusseldorf
Geraint Thomas wins stage one time trial in shock victory for Team Sky
Stage summary
Team Sky were hoping for yellow when they arrived in Dusseldorf for the 2017 Tour de France, but no one was expecting that they would be sporting the iconic jersey this early in the race - or who would be wearing it.
Geraint Thomas flew round the 14km course in the pouring rain to set a time that could not be surpassed by his team mate Chris Froome nor world time trial champion Tony Martin.
Thomas, who had to withdraw from the Giro following a shoulder injury, will start tomorrow wearing yellow; a historic moment for the Welshman - this will not only be his first yellow jersey but his first stage win on a Grand Tour.
Not a bad start for the Team Sky outfit, who had two other riders finish in the top ten, including three-time Tour winner, Froome and time trial specialist Vasili Kiryienka.
What they said

Geraint Thomas: "It's unreal - this is my eighth Tour and my first stage win. I didn't even dream about it last night! It's been a rough time on the bike this year; it certainly makes up for the Giro. It's nice to get this win, it's unbelievable, an amazing feeling. Today couldn't have gone any better!"
Stage 2: Dusseldorf to Liege
Kittel wins frantic sprint, after large crash in peloton shakes GC contenders
Stage summary
After 170 fairly unremarkable kilometres through the German and Belgian countryside, a crash at the front of the peloton saw many race favourites get down, including yellow jersey Geraint Thomas, Chris Froome and Frenchman Romain Bardet.
A breakaway of four riders was reduced to two, but the peloton only managed to reel it in with just over a kilometre to go, ensuring the promised sprint finish between the big names.
Marcel Kittel came off the better, just outpacing Arnaud Demare, Andre Greipal, and Dimension Data's Mark Cavendish.
Froome crossed the line along with the rest of the peloton, looking shaken but unhurt after connecting with the wet Belgian roads in the mass crash earlier in the day.
Geraint Thomas finished safely and will retain the yellow jersey for stage three.
What they said

Marcel Kittel: "I don't know what to say. I'm super happy that I got this victory today. It was an incredible start in Germany, so many people. It would be wrong to say I had no pressure or expectation. It was a big goal for me to start in Germany and win this stage."
Stage 3: Verviers to Longwy
Thomas keeps yellow as Sagan wins remarkable sprint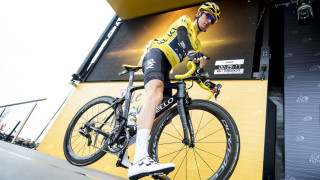 Stage summary
World champion Peter Sagan sprinted to the stage win in remarkable circumstances, having unclipped in the final 500m on the Cote des Religieuses before clipping back in to power home ahead of Michael Matthews.
Britain's Geraint Thomas kept the race lead and with it the yellow jersey with an eighth-place finish as Team Sky colleague Chris Froome was ninth.
Earlier a six-rider break has formed on the 212.5km stage but by the final 10km the race was back together before the final category three climb of the day. Thomas positioned himself well as Sagan waited patiently before making his successful move.
What they said
Geraint Thomas: "It was a hectic day. When those three guys got across, the peloton had to speed up a lot. It was not relaxing, so I am happy to get through it with Froomey. One day down, and it's certainly good to get through days like that unscathed."
Stage 4: Mondorf-les-Bains to Vittel
Cavendish in huge crash on sprint finish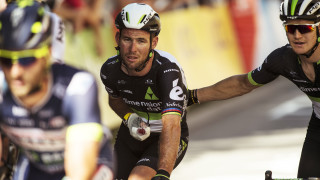 Stage summary
Mark Cavendish saw his Tour de France end as he suffered a broken shoulder after an awful crash in the sprint finish.
Dimension Data's Cavendish, who has 30 stage wins in the Tour to his name, came together with world champion Peter Sagan and went down heavily as Arnaud Demare took the stage win after 207.5km from Mondorf-les-Bains to Vittel.
Team Sky's Geraint Thomas was also involved in crash moments earlier, fortunately the Welshman suffered no serious injuries and was able to cross the line to retain the leader's yellow jersey.
What they said
Mark Cavendiish: "I get on with Peter well but I don't get it... if he came across it's one thing, but the elbow... I'm not a fan of him putting his elbow in like that. I get on with Peter, a crash is a crash, but I'd just like to know about the elbow."
Stage 5: Vittel to La Planche des Belles Filles
Froome moves into yellow jersey with third on Planche des Belles Filles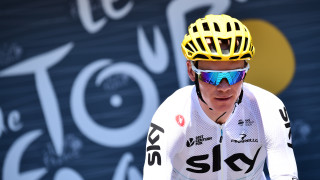 Stage summary
Chris Froome moved into the race lead and yellow jersey with third on an enthralling mountain finish on the Planche des Belles Filles.
The three-time champion finished behind winner Fabio Aru, who stayed away after a superb attack in the closing kilometres, and Irishman Dan Martin, who sprinted away from Team Sky's Froome in the final 100m.
Geraint Thomas was unable to stay in touch on the final 5.9km climb, but stayed in second overall, 12 seconds behind Team sky colleague Froome.
On a fantastic day for British riders, Simon Yates moved up to sixth overall and into the white jersey - awarded to the higest-placed young rider (under 26 years of age).
What they said
Chris Froome: "I remember the first time I was in yellow in 2013. It was a bit of an overwhelming experience to be honest, but I think I've spent enough days in yellow now to get used to that.
"I know what I'm up against. This is going to be the hardest-fought battle in terms of the general classification and I know my rivals are right up there."
Stage 6: Vesoul to Troyes
Froome and Yates keep jerseys as Kittel sprints to win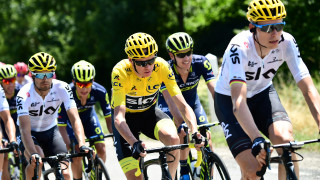 Stage summary
Chris Froome remained in the yellow jersey as German Marcel Kittel took his second stage win of the 2017 Tour on stage six.
Froome crossed the line safely in the peloton to maintain his 12 second lead over fellow Briton and Team Sky colleague Geraint Thomas.
The result also meant Simon Yates stayed top of the young rider classification and with it kept hold of the white jersey.
Perrig Quemeneur, Vegard Stake Laengen and Frederik Backaert workled tirelessly in the day's break for over 200km, but the catch was made with three kilometres left to set up a bunch sprint.
What they said
Chris Froome: "As far as the Tour de France goes, that was as relaxed as it gets for us GC riders. Of course the sprinters had a big battle in the final, but for us it was a pretty uneventful day - just stay out of the wind, stay on the wheels and save as much energy (as possible) for the days coming up."
Stage 7: Troyes to Nuits-Saint-Georges
Froome and Yates stay in jerseys as Kittel wins sprint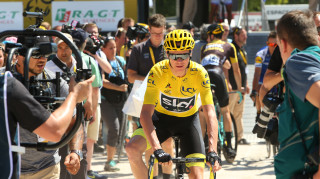 Stage summary
There was no drama for Britain's Chris Froome or Simon Yates as stage seven ended with an expected bunch sprint with Marcel Kittel taking the win in the closest of finishes against Edvald Boasson Hagen.
That result meant Froome and Yates kept hold of the yellow and white jerseys respectively having been tucked safely in the peloton for the 213.5km from Troyes to Nuits-Saint-Georges.
Crosswinds had threatened to rip the bunch into echelons but it did not transpire ahead of a big day in the general classification on stage eight.
What they said
Chris Froome: "There was lots of talk about the wind today but nothing really happened for the GC riders, we're all thinking about the weekend.
"Each kilometre you think about the things that could change the course, and you had to stay in front. But everybody knows that Saturday and Sunday are the days for the overall classification. Even so, these flat stages are not easy, but that's our job."
Stage 8: Dole to Station des Rousses
Froome and Yates unaffected despite fast and frantic stage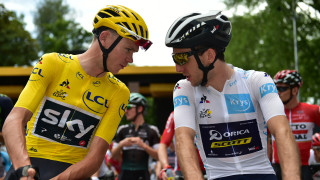 Stage summary
A frenetic stage eight saw Chris Froome keep the race lead as general classification race remained untouched.
Froome and white jersey holder Simon Yates both crossed the line in a reduced peloton, 50 seconds back from French winner Lilian Calmejane.
An early breakaway of over 40 riders on the 187.5km parcours had been a cause for concern for the Briton, but his Team Sky colleagues helped to manage the gap and by the final category one Cote de la Combe de Laisia-Les Molunes it was clear the main general classification contenders were content to get through the day unscathed.
Up ahead, Calmejane launched his attack on the final climb and was able to hold on to take a popular win ahead of Robert Gesink.
What they said
Geraint Thomas on his crash: "I had just gone back for bottles and had just got back to front and I went into the corner a bit too hot. I was looking to my side and the boys were breaking, there was a split second delay then I hit the gravel. It was a choice between going into the trees or the hay bails, so I chose the hay. I front flipped but it was a better option than the woods."
Stage 9: Nantua to Chambery
Froome extends lead as Thomas crashes out on explosive stage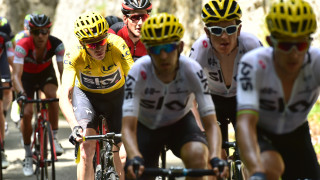 Stage summary
Yellow jersey holder Chris Froome took an excellent third to extend his overall lead to 18 seconds as a number of general classification rivals faltered on an explosive stage which featured three hors categorie climbs.
The Briton was involved in a six-man sprint finish as Rigoberto Uran took victory.
Froome had led his rivals up the final Mont du Chat climb - dropping Nairo Quintana in the process - after suffering a mechanical early on, and descended well to end the stage with a 18-second advantage over Fabio Aru.
An awful crash for Richie Porte crash on the decent of Mont du Chat ended the Australian GC contender's race and also took out Dan Martin to severely damage the Irishman's GC hopes.
Earlier Geraint Thomas was forced to abandon after crashing on the descent of the Col de la Biche - the first of the hors categorie climbs - the Welshman suffering a suspected broken collarbone.
Simon Yates dropped to seventh in the GC, over two minutes back from Froome, but kept hold of the white jersey ahead of the first rest day.
What they said
Chris Froome: "Definitely mixed feelings today. Of course I'm happy to still be in the jersey but at the same time that was crazy stage. I've just seen the images of Richie Porte's crash and that just leaves you with a horrible feeling - I really hope he's ok. Obviously my teammate Geraint Thomas crashed out as well. The rest of my team, the guys did a massive job, to control that today was no easy task, so chapeau to them."
10 July
Rest day
Stage 10
Froome safely home and still in yellow as Kittel pips McLay to stage win
Stage summary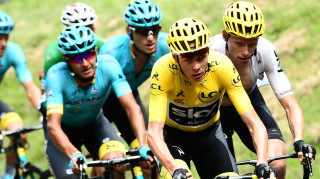 After the drama of stage nine, the relative calm of today's stage in the Dordogne will have been welcomed by the peloton.
Chris Froome and Simon Yates retained their yellow and white jerseys respectively - safely home in the peloton after 178km of rolling countryside riding from Perigueux to Bergerac.
As Froome rode aside to allow the sprinters to contest, Kittel and Griepel stood out as the main challengers, but it was Great Britain's Dan McLay, racing for Fotuneo-Oscaro, who made the early move in the final sprint.
His bravery wasn't rewarded however - his challenge with 350m to go was reeled in by green jersey holder Marcel Kittel who cruised home to win by a couple of bike lengths, with McLay's early efforts resulting in a seventh place finish.
What they said

Dan McLay: "I've been so annoyed with myself for waiting. I went long and died a death! I started with 350m to go but at least I'm not kicking myself for waiting. In hindsight, maybe it was a little stupid to leave a wheel like Kittel, 350m is too long.
"I felt pretty in control in the run in, it was more satisfying than doing the 50m sprints the other days."
Stage 11: Time triallist Bodnar give the sprinters a scare as Kittel takes stage 11
Stage summary
A long, flat stage peppered with aeriel images of chateaus was mercifully shaken awake by lone breakaway rider Maciej Bodnar (Bora-Hansgrohe) who spent over 200km out in front of the peloton - intially in a group of three and later alone.
Bodnar proved himself to be no quitter, putting in a sprint effort with less than 400 metres left to race and giving the sprint trains something to think about.
In the end the race went to form, Macel Kittel won his fifth stage on this edition of the Tour de France, while Dan McLay recorded his best finish of the race so far, in fifth place.
It was another day which saw big names hit the deck, with Alberto Contador going down in the latter stages of the race after both Romain Bardet and Dario Cataldo were taken down earlier in the day.
The race now enters the mountains, where the general classification riders will begin their battle for the yellow jersey in earnest.
What they said:

Marcel Kittel on winning five stages: "It's incredible! When you are on your top level in the sprint, it's like playing Tetris - you have got to find the lines and the gaps. I'm so happy, my team are all champions, I'm so proud of them. I've got the legs, I've got the mind, It's all perfect at the moment."
Stage 12: Pau to Peyragudes
Froome loses yellow jersey to Aru on summit finish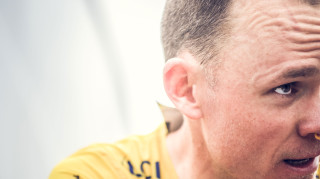 Stage summary
Chris Froome lost the yellow jersey on a hugely challenging day in the Pyranees.
The Team Sky rider finished seventh on a climb in Peyragudes as Romain Bardet broke away to take the stage win.
But it was the Italian national champion Fabio Aru, who started the day 18 seconds behind Froome, who will now claim yellow. Aru's third placed finish also saw him claim four bonus seconds and he now leads the general classification by six seconds.
For much of the day, the man at the front of the race was Dimension Data's Steve Cummings. Known for his solo attacks, Cummings was part of a 12-man breakaway but outlasted them all, dropping Thomas De Gendt and Cyril Gautier in the final major climb up the Port de Bales.
With 7km remaining, Cummings was caught by the yellow jersey group and with Froome supported by Nieve and Landa, it looked set for yet more Team Sky dominance.
But in the final 200m ascent to the finish line, Froome did not have enough to keep pace with Bardet, Uran, Aru and others - and must now come from behind to claim his fourth Tour de France title.
What they said:

Chris Froome: "I had a bad moment there at the end, no excuses, I just didn't have the legs on the final kick.
"I can only say congratulations to Bardet for winning the stage and Aru for taking the jersey, it's certainly going to be a big fight now all the way to Paris."
Steve Cummings: "I thought it was a bit beyond me this morning, but you never know. I wanted to try but I probably needed six minutes at the bottom.
"I gave it my all but it's quite nice being in front to cross the climbs alone, it's a good feeling.
(On Froome) "I'm surprised he has lost yellow, but it's still very close and there's a lot of racing to be done. It's bike racing - anything can happen."
Stage 13: Cat and mouse in the Pyrenees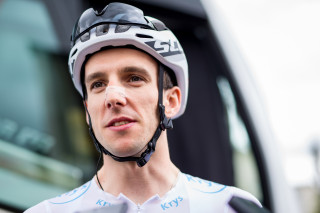 Stage summary
It may have been Bastille Day in France but the thirteenth stage of the 2017 Tour de France was taken by the scruff of the neck by two Spaniards; Team Sky's Mikel Landa and Alberto Contador (Trek - Segafredo).
A remarkably short stage - at only 101km - the peloton was scattered immediately by repeated attacks off the front of the race and the divisive nature of the three brutal categorie one climbs that made up the day's route.
Nairo Quintana and Warren Barguil, in the King of the Mountains jersey, joined up with Contador and Landa towards the summit of the final climb and the quartet managed to stay out front, despite being hunted down by a chasing group made up of GC favourites.
Fittingly, it was a Frenchman that took victory on Bastille Day, as Barguil had the legs to take the sprint at the end of a frenetic day of climbing.
Simon Yates gained time on the general classicfication and retained his young rider, white jersey lead but finished the day in seventh place overall, as Landa overtook him in the standings.
Chris Froome finished alongside Fabio Aru and therefore maintained his position in second in the general classicfication, a mere six seconds behind the yellow jersey.
What they said
Simon Yates: "I enjoy days like that and I felt ok - it was super, super hard on the final climb and then it was all games on the descent. I managed to sneak away and catch Dan (Martin) and we worked well on the final three or four kilometres to the finish and put a little bit of time into some of the guys."

Stage 14: Blagnac to Rodez
Froome regains yellow unexpectedly as Aru falls short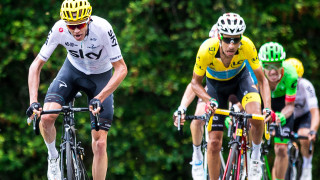 Stage summary
Chris Froome regained the yellow jersey from Fabio Aru as the Italian was distanced in the closing kilometre on stage 14 to hand Froome a 19-second advantage.
Australian Michael Matthews won the sprint on the short, climb to the finish line and a superb effort from Froome for seventh saw him take 25 seconds on Aru on what was thought to be a relatively simple stage to Rodez.
Simon Yates kept his advantage in the young jersey classification at over two minutes as the two category-three climbs on the stage caused the GC contenders little trouble.
But the combination of a lack of teammates up front and winds in the closing kilometres saw Aru poorly positioned at the finish to hand Team Sky an unexpected boost.
What they said
Chris Froome on getting back the yellow jersey: "It's a very nice surprise. I never thought I'd get the jersey back on a stage like today, thanks to my teammates for keeping me in front, Kwiatkowski did a great job. The team always stayed very close front, and taking 20 seconds is enormous, it's the same as Peyragudes. Every seconds counts. It's a fight for every second this year."
Stage 15: Laissac-Severac-l'Eglise to Le Puy-en-Velay
Froome fights back from mechanical to stay in yellow on dramatic stage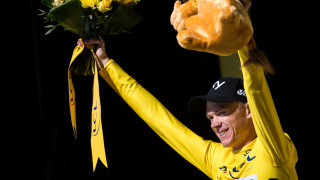 Stage summary
Chris Froome battled back superbly from a mechanical - with help from his Team Sky colleagues - to stay in the yellow jersey on what could be a decisive day for the Briton.
Strong riding from AG2R at the front of the peloton combined with a back wheel change ahead of the penultimate climb of the day - the category one Col de Peyra Taillade - saw Froome distanced by 40 seconds from the peloton that included second and third-placed Fabio Aru and Romain Bardet.
But selfless riding from Sergio Henao, Mikel Nieve and Mikel Landa, combined with great attrition from Froome, saw him bridge back to the group on the final Cote de Saint-Vidal climb and he was able to finish with his rivals, his advantage 18 seconds over Aru.
Bauke Mollema won his first stage of the Tour, escaping from a large breakaway group that contained no threats to the general classification contenders, and finished over six minutes ahead of the Froome group.
What they said
Chris Froome: "It was a stressful moment. I wasn't sure if I'd get back on again."
"AG2R rode their race and rode fast. Just before the climb I had a problem with my back wheel, it was damaged. Kwiatkowski gave me his wheel because the team car was stuck behind. I gave it my maximum to get back up to the leaders.
"I've got to thanks my teammates yet again for helping me. Sergio Henao and Mikel Nieve gave their maximum. Landa too. He helped me a lot on the climb."
17 July
Rest day
Stage 16: Le Puy-en-Velay to Romans-sur-Isere
Froome and Yates retain jerseys amid crosswinds
Stage summary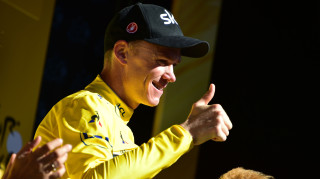 On a day when crosswinds threatened to punish the peloton, British riders Chris Froome and Simon Yates retained their jerseys.
Fresh from Monday's rest day, Froome and Yates kept themselves out of trouble on a day when Marcel Kittel and Dan Martin were the big losers.
The Quick Step Floors pair were both suffering from stomach problems, with green jersey holder Kittel being significantly dropped, ruling him out of the chance of securing a sixth stage win.
Meanwhile Irishman Martin was caught out by a late move by the general classification leaders, and with his teammates trying to get Kittel back in the mix and also suffering from illness, found himself finishing almost a minute behind his rivals.
That meant that he dropped to seventh in the general classification, with Team Sky's Mikel Landa and Orica-Scott's Simon Yates overtaking him, with no other changes among the contenders.
The stage was won by Sunweb's Michael Matthews on a dominant day for the Australian, who also picked up points in the intermediate sprint to close in on Kittel in the race for the green jersey.
What they said:
Dan Martin: "I didn't have great legs today and the team was suffering. We put a brave face on it at the start but we've had a few people sick.
"The climb put everyone in the red and then it was so dangerous on the downhill. I had to slam the brakes on a couple of times and that contributed me to losing a few places."
Stage 17: La Mure to Serre Chevalier
Froome extends lead as Aru falters in Alps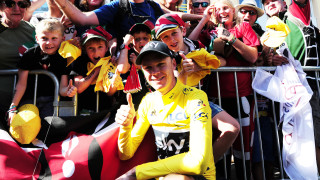 Stage summary
Third place and a four-second time bonus saw Chris Froome extend his lead in the yellow jersey to 27 seconds as Rigoberto Uran became the Briton's main threat for a fourth Tour de France win.
The second hors-categorie climb of the stage - the Col du Galibier - saw second-placed Fabio Aru dropped from the general classification group while Uran and Romain Bardet were able to keep with the pace on the 17.km, 6.9% gradient.
Uran sprinted to second ahead of Froome for a six-second bonus that puts him second, ahead of Bardet by fractions of a second.
Up ahead, Primoz Roglic took his first Tour de France stage win, attacking on the Galibier having been in the day's breakaway.
Simon Yates was able to keep hold of the best young rider jersey, but the rider from Bury saw his lead cut down to two minutes and 28 seconds as Louis Meintjes took ninth place on the stage, over a minute clear of Yates.
What they said
Chris Froome: "I expected it was going to be a shadow chasing match between the main GC guys and that was my mentality going to the final climb. Just following the guys and not doing too much with tomorrow in mind. It's interesting to see this late in the game some of the guys struggling out there.
"Fabio Aru was the most noticeable GC contender who lost a bit of time today. Tomorrow is the last hard, hard stage with a mountain top finish on the Izoard and I expect it to be a very tough day."
Stage 18: Briancon to Col d'Izoard
Froome retains yellow jersey on final summit finish with fourth place - but lead cut to 23 seconds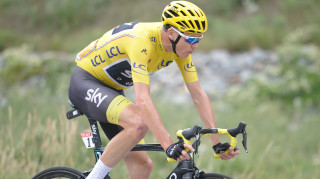 Stage summary
On a brutal final mountain stage of the 2017 Tour de France, Chris Froome crossed the line in fourth place on the Col d'Izoard to retain his yellow jersey.
It's the first time the Tour has finished on the formidable Izoard - and the legendary mountain lived up to its billing.
Froome, heavily marked by general classification rivals Romain Bardet and Rigoberto Uran, was well supported by his Team Sky colleagues throughout, before encouraging Mikel Landa to attack with around 5km remaining.
That move was designed to force others to chase, but when they didn't take up the initiative, Froome burst away from Bardet and Uran ahead of a mini-descent on the approach to the finish.
Finally, Bardet and Uran responded, closing the gap and forcing a brutal sprint finish for third place, and the valuable four bonus seconds.
Bardet pipped the British rider on the line, but both finished two seconds ahead of Uran which saw the Frenchman overtake the Colombian and move into second in the standings.
Those bonus seconds cut Froome's lead to just 23 seconds, but with an expected bunch finish on Friday ahead of Froome's speciality of the time trial on Saturday, the Team Sky rider is on the verge of an incredible fourth Tour de France victory.
The stage win on the day went to Warren Barguil of Team Sunweb, a popular home victory for the Frenchman on the day he wrapped up the King of the Mountains title, subject to him crossing the line in Paris.
Simon Yates finished ninth to retain his white jersey, 22 seconds behind his nearest rival for best young rider Louis Meintjes, but the Bury rider still maintains a lead of over two minutes over the South African.
What they said

Chris Froome: It was a very, very hard stage with the climb to the finish. I have to congratulate Barguil on his win. I'm happy with today. My teammates did a very good job in the finale to control the break.
I tried to drop Uran and Bardet but it was virtually impossible today. I'm happy to have got through the Alps this year without a problem. They've always been more difficult for me. Now we'll see what happens in the time trial in Marseille. We'll see what happens.
Stage 19: Boasson Hagen takes breakaway victory as Froome and Yates protect their positions in the General Classification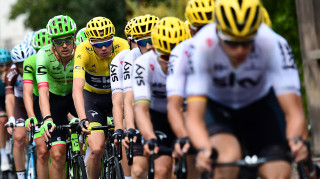 Stage summary
If the riders were relieved to see the back of the Alps, the prospect of taking the longest stage of Le Tour this late in proceedings would hardly have filled them with joy, as the peloton rolled out on stage 19.
A group of 20 riders detached themselves early on in the 222km stage and managed to stay away from the peloton for the remainer of the stage, as the major jersey contenders spent the day sheltering in the bunch with the remains of their teams.
Riders began to drop off the breakaway group with around 20km to go, and nine riders developed a lead. With just 2.8km left to ride, Edvald Boasson Hagen (Dimension Data) and Nikias Arndt (Sunweb) took a roundabout on the right side while the seven other riders went left.
Boasson Hagen profited from the little gap to create a bigger one and go solo to grab his third stage win at the Tour de France. Chris Froome and the rest of the GC contenders rolled home 10 minutes behind the winner.
Stage 20: Marseille
Froome and Yates on the verge of sensational Tour de France victories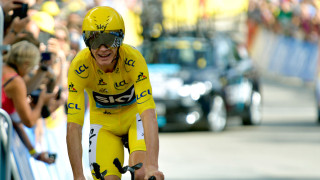 Stage summary
Chris Froome and Simon Yates will ride into Paris in yellow and white respectively tomorrow.
The British pair retained their general classification and young rider jerseys after a time trial in the streets of Marseille.
Froome went into the stage 23 seconds up on his nearest rival, but never looked troubled in the south of France, posting the third fastest time trial time of 28:21, just six seconds behind stage winner Maciej Bodnar.
More importantly, Froome was 25 seconds faster than Rigoberto Uran and almost two minutes quicker than Romain Bardet to give him a 54 second lead and to virtually seal his fourth Tour de France title and his third in a row.
In the battle for the white jersey, Yates finished in the same time as his rival Louis Meintjes to ensure he will be on the podium in Paris, matching his brother's achievement of 12 months ago.
What they said:
Chris Froome: "It was just an amazing feeling to finish in this atmosphere in this stadium. Three weeks of racing are almost at an end - we've still got to get to Paris but this is an amazing feeling.
It was tough - there were a thousand what ifs and things that could go wrong so it was not an easy one coming into today with it being so close. But it feels incredible to finish this one off."

Stage 21: Montgeron to Paris (Champs-Elysees)
Froome rides into Paris to become four-time Tour de France champion
Stage summary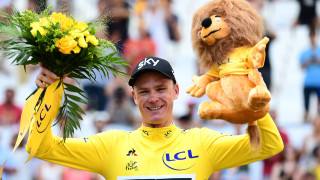 Chris Froome celebrated with his Team Sky teammates as he crossed the line on the Champs-Elysees in Paris to win his fourth Tour de France.
The British rider sipped champagne and was showered in beer by his colleagues as the peloton headed into the French capital with Orica-Scott's Simon Yates also celebrating winning the white jersey.
Dutch rider Dylan Groenewegen pipped Andre Greipel to the stage win - his first ever at the Tour de France.
What they said

Chris Froome: "I'm speechless. It's an amazing feeling. The Champs-Elysees never disappoints. There's something magical about it when you spend three weeks thinking about being here in this moment. It's so rewarding every time.
"Each time I've won the Tour it's been so unique, so different, such a different battle to get to this moment so they're all so special in their own ways. This year will be remembered for being the closest and most hard-fought battle between the GC rivals."
Simon Yates: (On winning the white jersey) "It sounds pretty good. I could get used to that. Really happy, the team did a fantastic job right from the beginning. It's slowly sinking in."
Jersey winners
Yellow jersey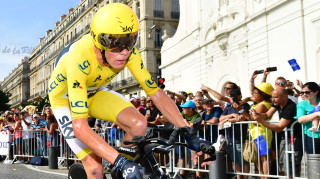 Chris Froome – Team Sky
Polka dot jersey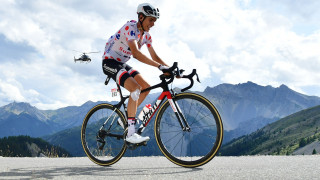 Warren Barguil – Team Sunweb
Green jersey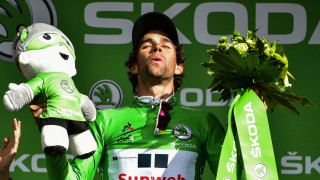 Michael Matthews – Team Sunweb
White jersey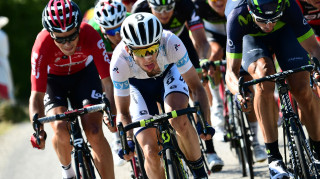 Simon Yates – Orica-Scott