There was a golden start for the Great Britain Cycling Team on the first day of action at the UCI Para-cycling World Cup in Maniago as Steve Bate and Adam Duggleby claimed gold in the time-trial.
In their first race together since the Paralympics they showed they remain the tandem to beat with a dominant performance, finishing well clear of the Dutch and Spanish in second and third place, covering the 24 kilometre route in 28.59.81.
Speaking after the race Bate said: "There's still a lot more to come. Adam and I haven't done that much. We've enjoyed a winter off really so it's nice to come back and stake a claim at the top of podium.
"We thought we'd come here and go well. The course suited us today. It's really encouraging thinking about the training I've got ahead now. There's certainly a lot more to come."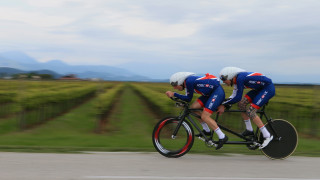 Asked how this sets up the rest of the year as they look ahead to the world championships in South Africa in September, he added: "This category is really strong so it's going to be a challenge. We just need to keep chipping away."
Looking ahead to Sunday's road race Duggleby tipped the Dutch as their main rivals: "I think the Dutch are the ones to watch, so we'll keep an eye on what they're doing and see what happens."
There was also a successful return to road action for Crystal Lane in the day's morning session after she picked up a silver medal.
"It was good. It was nice to be back racing. I've had a good winter's training and it's been nice to see where I am," said Lane.
"I really like racing on the road and I've really enjoyed being with the team this week. It's a nice confidence boost. In the next four years there's going to be a lot of learning involved so this first year is about making sure I can absorb as much as possible and work towards my goals in Tokyo.
First medal of the weekend!

It's silver for @CrystallLane in the Maniago time trial!#Paracycling2017 pic.twitter.com/DZOFqWdba2

— British Cycling (@BritishCycling) May 12, 2017
"It's definitely a four year process and this first year is really important to measure myself against the best."
Also in action today and making his debut for the Great Britain Cycling Team was Will Bjergfelt who finished in sixth place in the men's C5 race, while Liz Saul and Simon Price finished in sixth and seventh place respectively in their classifications.
Craig McCann finished fifth in the T2 time-trial and he'll be the only Great Britain Cycling Team rider in road race action on Saturday with the rest of the team competing on Sunday.