British Cycling today announced that Sheffield will host the 2017 HSBC UK | National Circuit Championships on Wednesday 19 July.
The championships will bring an exciting evening of bike racing to the city, in which men's and women's titles will be decided. One of the highlights of the elite road racing calendar, the event will see some of the country's top professional riders going head-to-head for the prestigious red, white and blue national champions' jerseys.
Course map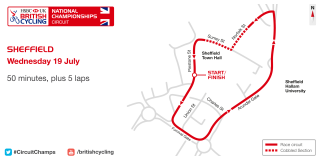 Riders will race for 50 minutes plus five laps on the 1.4-kilometre course that begins on Pinstone Street, before taking a left hander on to Furnival Gate. Another left turn takes riders onto Arundel Gate, passing Sheffield Hallam University before a sharp hairpin left after the Crucible Theatre.
The race then hits the cobbles of Norfolk Street and Surrey Street before the final left-hander that takes the race back to the start/finish.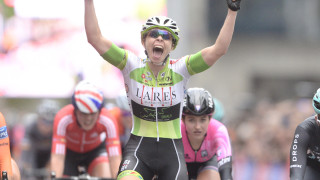 British Cycling's director of cycling, Jonny Clay, commented: "We are delighted to be taking the 2017 National Circuit Championships to Sheffield. The city has hosted elite level circuit races for the past five years and we know there is a huge appetite for cycling there.
"These championships will give the people of Sheffield and the wider region the chance to watch some of the country's finest male and female riders in action, and we look forward to welcoming another passionate crowd to the event."
Event organiser, Marc Etches, commented: "I'm extremely proud to bring the National Circuit Championships to my home city of Sheffield. The support we have from Sheffield Hallam University and Sheffield City Council is amazing and this will help bring a fantastic night of elite level cycle racing to the streets of Sheffield in July."