British Cycling is delighted to confirm that, for the first time, the 2017 Junior Men's and Women's Road Race Championships will be standalone races.
Both races will be held on Sunday 16 July in Wallingford, Oxfordshire, and will have equal prize money.
This represents a first for the championships, as the women's event has previously been incorporated within a senior race.
Jonny Clay, British Cycling's director of cycle sport and membership, said:
"The opportunity to stage a standalone women's race has come about due to the surge in numbers of competitors eligible to race. In recent years, British Cycling has put numerous initiatives in place to address the historic gender gap within the sport, and we are delighted that the inclusive culture within our clubs and events is leading to more and more women taking up cycling for sport or for leisure, as is illustrated by today's announcement.
"To stage the Junior Men's and Women's Road Race Championships on the same day and in the same location will give spectators the opportunity to see some of this country's most promising young male and female riders compete.
"The circuit, on the edge of the picturesque Chiltern Hills, should provide a challenging course worthy of the championships, and we are very much looking forward to the event."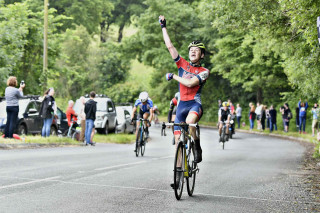 The Junior Men's race will cover a distance of 118 km, with the women competing over 86 km. Both races will take in the Chiltern Hills before heading back into Wallingford to be greeted by the crowds.
Tony Sefton, co-organiser of the Wallingford Festival of Cycling, said:
"This is the biggest, most important sporting event to come to Wallingford and we are all deeply honoured and also mindful of our responsibility to put on a world class sporting event that is a safe and entertaining spectacle for all concerned."
The 2016 Junior Men's Championships saw Jacob Vaughan, of VC Londres, win a sprint to claim the title, while the women's event, held within the Lincoln Grand Prix Women's Race, was won by Ellie Dickinson of Drops Cycling Development Team.
Further information and online entry to the event will be available from early 2017.