Dame Sarah Storey was crowned British road time-trial champion on an excellent weekend of racing at the British Cycling Para-cycling Time Trial and Road Circuit Championships.
The weekend's racing began at Sutton Bonington, Nottinghamshire with Storey (Podium Ambition) completing the 26km course in a time of 37 minutes and 57 seconds, beating fellow Great Britain Cycling Team rider Crystal Lane (Bonito Squara Corse) into second place by just over three minutes. Kristy Howells (Boot Out Breast Cancer CC) completed the podium.
In his first major event since becoming a world champion at the 2016 UCI Track Cycling World Championships in Monitichiari, Louis Rolfe finished in second place in the men's C1-3 race. Rolfe was 40 seconds behind fellow Para-T team-mate Simon Price, with 16-year-old Woolwich CC rider Matthew Robertson finishing in third place.
Jon Gildea's (The Nab Racing) time of 35 minutes and 50 seconds was enough to see him take the national champion's jersey in the men's C4/5 race with George Peasgood (Newdales Cycles RT) in second place and Jaco Van Gass (Para-T) in third.
The pairing of Stephen Bate (Para – T) and pilot Adam Duggleby (The Nab Racing) were comfortable winners in the tandem championship, completing the 33km course in 44 minutes and 26 seconds. Laura Cluxton and Lorna Ferguson finished in second.
In the tricycle championship, Hannah Dines (Boot Out Breast Cancer CC), saw off the challenge of Craig McCann (Para – T), while Karen Darke (Inverness Cycle Club) won the female handcycle championships with Mel Nicholls taking the silver.
In the male handcycle races, Chris Madden took the win in the H3 category, beating Bret Crossley and Alan Cook (HCUK) into second and third place respectively. Joseph Townsend (Help for Heroes Cycling) won the H4 race ahead of Alex Brooke – Turner (Dulwich Paragon CC) and Steve Arnold (Help for Heroes Cycling).
Attention then turned to the National Road Circuit Championships at Darley Moor, Derbyshire on Sunday. In the handcycle races, there were victories for Joe Townsend (Help for Heroes Cycling) in the H4 race, and Chris Madden in the H3 race, before Karen Darke took her second title of the weekend in the female handcycle race.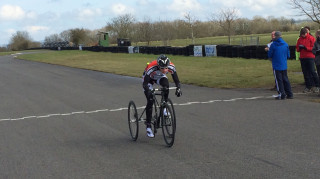 In the trike race, Craig McCann turned the tables on Hannah Dines to reverse the previous day's result and take his first national title.
Stephen Bate and Adam Duggleby repeated their success of the previous day, with Joe Widdowson and Cillian Cook in second and Lydia Hayden (SportCity Velo) and Heather Jones (City Derby CC) taking the bronze medal.
Katie Toft (Mossley CRT) was the winner in C3 race with Crystal Lane taking the win in the C4/5 race.
Simon Price was the comfortable winner in the men's C1-3 race ahead of Matthew Robertson and Rik Waddon (Para-T) after Louis Rolfe's challenge was brought to a premature end following a heavy crash.
There was an exciting conclusion to the day in the men's C4/5 race. With national champions' jerseys available to riders in both classifications, C4 rider Jaco Van Gass went in an early break with C5 riders Jon Gildea and Alex Jones. With three laps to go, Van Gass attacked on an uphill stretch with Gildea following closely behind dropping Jones.
For the next two laps they stayed together and as they came round the final bend Van Gass sprinted early and although Gildea closed the gap he was unable to overhaul Van Gass, but with the consolation that both riders took home national champion's jerseys in their respective categories.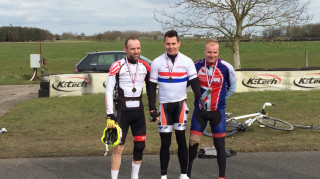 Finishing in second and third place respectively behind Van Gass were Craig Preece (Bolsover & District Wheelers) and Adrian Jones (Jedi Cycle Sport), while Alex Jones (Sigma Sport.co.uk) and David Smith (Liverpool Mercury CC) joined Gildea on the podium.