Great Britain Cycling Team's Steve Cummings and Alex Dowsett missed out on the top ten at the UCI Road World Championships elite men's time trial on Wednesday, as Belarussian Vasil Kiryienka took the world title in Richmond.
Cummings produced a strong ride to finish 14th while Dowsett was 17th, on a relentless 53.5-kilometre course from the King's Dominion amusement park to downtown Richmond that offered little respite in the way of inclines or technical difficulty.
Cummings was the first of the British pair to take to the course and flashed through the initial checkpoint 25 seconds behind early leader Michael Hepburn of Australia, the 34-year-old from Wirral in seventh place as it stood.
At the second check Cummings had pulled back two seconds on the Australian, the MTN-Qhubeka pro getting into his stride, as an exhausted Hepburn crossed the line to set the opening benchmark of 1:04:28.65.
By the third check Cummings had decimated Hepburn's lead, the Briton just two seconds adrift and looking like he'd judged his effort superbly. The Tour de France stage winner went on to stop the clock on 1:04:28.34, taking the lead by three-tenths of a second as 53 kilometres away, Alex Dowsett began his effort.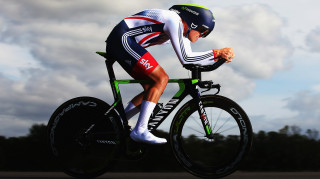 Cummings' time in the hot seat was short-lived, as One Pro Cycling's Marcin Bialoblocki carved 36 seconds off the benchmark, the UK-based Pole producing a superb effort of 1:03:51.87.
Soon after, Dowsett had reached the first check, nine seconds faster than Bialoblocki's opening segment, but at the second check, the 26-year-old four-time British champion had fallen a second behind the leader.
With the big names now all on course, Bialoblocki was enjoying his time in the hot seat while it lasted and soon the Bridgewater-based Pole had to make way for France's Jerome Coppel, who lopped 55 seconds off Bialoblocki's time and pushed Cummings out of the medal positions.
Meanwhile Dowsett had lost more time at the third check and it started to look like it wasn't to be the Essex man's day, Dowsett eventually stopping the clock at 1:04:36.01.
With just the top seeded riders left to complete their rides, Coppel waited anxiously to see if his stunning performance would be good enough for gold.
With 2014 silver medallist Tony Martin of Germany fading, it was down to Adrioni Malori (Italy) and Vasil Kiryienka (Belarus) to try and unseat Coppel. The Italian buried himself to go inside the Frenchman's time by 17 seconds, leaving the Kiryienka a mountain to climb. But the Team Sky man produced, knocking a further nine seconds of the target time and with it claiming the world title, with Malori taking silver and Coppel bronze.
The final flurry of arrivals left Cummings in 14th while Dowsett finished three places back in 17th.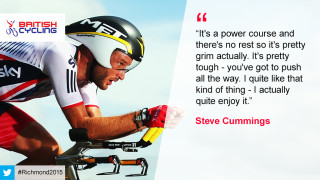 "I think I got it out really quite well," said Cummings of his effort.
"(Top ten) was the target to qualify two places for the Olympics - that's really important for me and for everyone at British Cycling," said the British Cycling Olympic Podium Programme rider.
"It's a power course and there's no rest so it's pretty grim actually," said Cummings of the Richmond parcours. "It's pretty tough - you've got to push all the way. I quite like that kind of thing - I actually quite enjoy it."
Dowsett was pragmatic following his effort, coming at the end of a season which has seen him take the hour record, British time trial title, a maiden stage race win at Bayern Rundfahrt and his first Tour de France participation.
"It was alright all things considered," said Dowsett. "I did what I could, made a good job of it but I wasn't seeing the numbers I'd like to."
"I guess I'm not overly surprised. I've taken on a lot this season and I think it's just caught up with me a bit."
The UCI Road World Championships continue on Friday 25 September with the junior women's and under-23 men's road races.
Results