Great Britain Cycling Team's Tao Geoghegan Hart is 'proud and honoured' to be part of a five-man under-23 squad that he is confident will take the UCI Road World Championships race to the opposition on Friday 25 September.
The talented 20-year-old has made it through two crashes at the recent Tour of Britain to race alongside Owain Doull, Scott Davies, Alex Peters and Gabz Cullaigh in Richmond, Virginia.
"I was a little bit stiff yesterday but it's nice to be in the UK and just hanging out before the world championships," said Geoghegan Hart the day after the Tour of Britain ended in his home town, before flying to the USA to begin preparations for his fourth world championships.
The Axeon Cycling Team rider (and recently-signed Team Sky stagiere) is rightly confident of his stablemates, particularly Owain Doull, who achieved a superb podium at the Tour of Britain and is widely anticipated to be the team leader in Richmond. However Tao is keen to expound the options that the team have to play.
"Each and every guy has super strong qualities," said Geoghegan Hart. "It's a really well-rounded team and there's pretty much no scenario where we can't look to be in the race, animate the race and get a result from the race."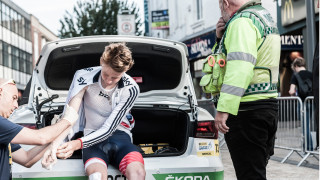 The bandaged elbow and knee of Hart are reminders of the two crashes that robbed him of a top ten general classification finish at the Tour of Britain, which would have added to his white jersey win at the recent USA Pro Challenge.
Earlier in the season, Tao took third at the prestigious under-23 Liege-Bastogne-Liege, riding for his trade team, run by ex-pro Axel Merckx, son of the legendary 'Cannibal' himself.
But far from singing his own praises, Geoghegan Hart is keen to point out the individual and collective strengths of his teammates.
"Scott and I are similar riders - climbers - definitely guys who can hopefully help control the race and bring it to the scenario that the management decides is going to favour the team," he said.
"You've got Alex and Gabz who are super-punchy, super-strong guys who have both got fast finishes on them in their own right.
"Then you've obviously got Owain who has pretty much shown over the last week that there's not really a situation on that type of course that he's not going to be up there."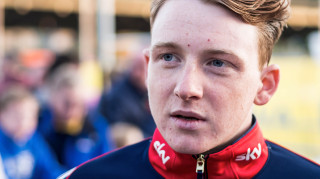 Evident when speaking to the affable Londoner is a confidence and composure that belies his years – none more so than when asked about how he and the team cope with racing on cycling's biggest annual stage.
"It's a big opportunity," he said. "It's a world championships but we can get stuck in and make it our race rather than being taken aback by the occasion.
"It's a little bit bigger event than a lot of other events but at the same time it's just about approaching it the same way as we do week in, week out. Being proud and honoured to be there and getting stuck in to the job in hand."
Having been riding for Axeon (formerly Bissell) since 2014, coming back into the Great Britain Cycling Team fold is something that Tao relishes, benefitting from the vast experience of road manager Keith Lambert.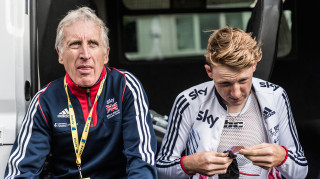 "I think it's a huge honour to work with Keith," said Tao. "He does a lot for our development and he puts a lot in. He really invests a lot of time and energy into his riders and he covers all bases at races.
"There's nothing that Keith isn't thinking about and there's not really any scenario that Keith hasn't seen I don't think."
In choosing Tao as part of his 'Swiss Army Knife' squad, Lambert has picked a rider that has grown up on parcours like the one waiting for Tao and the team in Richmond.
"I've been racing, personally, in Belgium on those kind of roads since I started racing when I was 15," said Tao. "That's where I learned how to race.
"I think it's pretty exciting that the course is definitely the type of course where it's going to be about taking the race on - making the race."
The under-23 men's road race takes place on Friday 25 September. For full details of the Great Britain Cycling Team, the courses, schedule and how to follow the racing, read our full event guide.