Defending champion Nicola Juniper and Charline Joiner are separated by just one point ahead of Sunday's Curlew Cup in the British Cycling Women's Road Series.
Team Giordana-Triton's Juniper has 76 points after three rounds while Team WNT's Joiner has 75 points as the eight-round series reaches the halfway point in Northumberland.
Form guide
Juniper travels to the north-east having secured the overall title in the Matrix Fitness Grand Prix Series, the 33-year-old a paragon of consistency over the five rounds of city-centre racing.
Her ability to continually collect points has been a characteristic in the British Cycling Women's Road Series too; third overall at the Tour of the Reservoir, 11th at the Cheshire Classic and third in the Hillingdon Grand Prix the evidence.
Juniper can also be encouraged by her 2014 performance at the Curlew Cup, where she was second.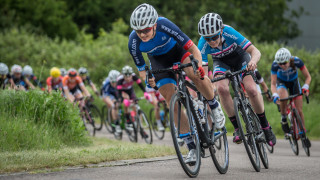 Joiner boasts a record of finishing in the top ten of all three rounds so far, including both stages at the Tour of the Reservoir.
Seventh at Hillingdon in May pushed her above the absent Dani King but also saw Juniper leap to the head of the standings.
A recent win in the Matrix Fitness Grand Prix Series in Croydon underlined the 27-year-old's form.
Elsewhere, Juniper's teammate Grace Garner showed she shares the sprinting qualities of older sister and double junior world champion Lucy when she accelerated to the win at Hillingdon.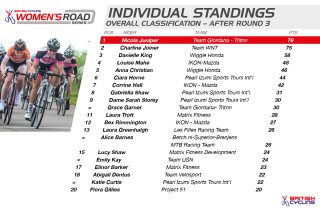 Dani King - third-place overall - is on Women's Tour duty with Wiggle Honda while fourth-place IKON-Mazda's Louise Mahe is not listed to start.
It hands a chance to King's teammate Anna Christian to make up ground. The 19-year-old, part of British Cycling Olympic Senior Academy, is a burgeoning talent and sits fifth overall in her debut season with Wiggle Honda.
The Women's Tour depletes Pearl Izumi Sports Tours International's squad but they can still call on the ability of Anna Turvey, Bethany Hayward and Nikola Butler.
It was Pearl Izumi Sports Tours International who celebrated in 2014 as Katie Archibald won.
The course
The 100-kilometre route takes in three laps of a 22-kilometre circuit before moving on to a final lap of a larger 34-kilometre loop.
The smaller circuit includes a testing drag up through Wallridge and on towards Ingoe with the larger loop including the climb of the Ryals.
The race will pass through the villages of Matfen and Stamfordham four times before finishing in Stamfordham.
How to follow the race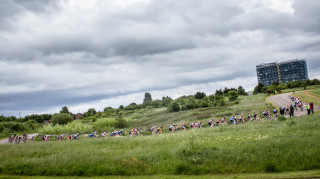 A report, results, images and reaction will appear on the British Cycling website.
Updates will also appear on Twitter @BritishCycling.