Having only started riding together in March 2013, Great Britain Cycling Team's Lora Turnham and Corrine Hall have made a remarkable rise on the tandem.
The two-time world champions start the defence of their UCI Para-cycling Road Cup title this weekend in Italy.
We spoke with able-bodied pilot Corrine and stoker Lora, who has a hereditary sight loss condition, to find out what has made them so successful so far.
What are the key skills needed to be a successful tandem pairing?
Corrinne: Definitely communication. On the bike and off. You have to be able to communicate so both off you know what you're doing. So you're not doing different things, you're both on the same wavelength.
Lora: It's not just about verbal communication. On the bike I've got be able to read Corrine, through her pedals, through her movements.
All that is different levels of communication that are needed to understand and she needs to understand what I'm doing on the back, feeling what I'm doing through pedals. It's not just your basic talking, there are lots of levels.
Another big thing is trust. We both need to be able to trust each other. That we're both going to commit to the same aim and goal. I've got to trust that Corrine is going to get me there safely. Corrine's got to trust me to give her everything I've got.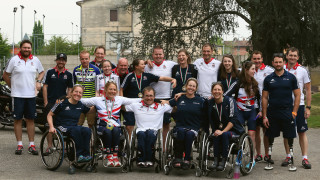 What different skills are needed for the pilot and stoker?
Corrine: The pilot controls what you do on the bike, the cornering and everything so the more riding you can do the easier it becomes. From a racing point of view I'd say that the pilot needs to be racing more, so you get used to racing with other people and so you can understand how to read bike races. It's all about tactics really, you just need to have a good tactical head to get the bike from A to B.
Lora: For a stoker I've got to not interfere with the bike as much as possible, so stay relaxed on the back, don't try and steer, feel what the bike is doing and then respond to it.
Corrine: You've got to make it feel like just one person on the bike.
Lora: It's one machine rather than two people on a bike. You do have to be very adaptable to whoever's on the front. The person on the front is the one dictating the gear choice and everything like that. They ride the bike like they would ride their solo so you have to adapt to them and learn how to work with the person on the front to the best of my ability.
Corrine: The stoker has to stay focused as well. The pilot sees everything so they have to be ready to respond and be aware of when the pilot is going to say something.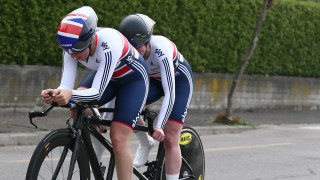 Are you talking to each other quite often during a race?
Corrine: There's a few key words we have. The stoker doesn't need to know everything. I only relay what I think is crucial for Lora to know. It makes Lora's life slightly easier as she is only waiting for certain keywords.
Lora: In a race I'll be alert because I'll listen for things like other bikes changing gears and I've learnt how to read a bike race slightly differently to Corrine so if I hear something coming behind us I'll shout up. It's my job to read it how I can and communicate to her.
Corrine: It just means I can have more of a focus on what is happening in the front and if something is coming from behind, Lora is able to relay that to me and prepare us for anything we need to do.
Do you train together or separately?
Lora: It's a bit of a mixture, it depends what phase we're in. We like to do blocks rather than week in week out on the tandem. We'll do two to three weeks on our solos, I'll spend most of my time on the turbo and then we'll come together and do a week on the tandem solid and that tends to get the best out of us. It's getting that balance right.
Corrine: The more used you get to your pilot stoker the less time you need to spend on the tandem. Because we're so in sync when we do get back on the tandem we're able to sync up straightaway so it's not like we need to spend loads of time on the bike to make the bike go quick.
Lora: We're very fortunate with that, I've ridden with pilots where I've never really synced up with them but we are a very good pairing together, we work well together. We don't have to train together for very long in order to be efficient.
Corrine: We complement each other really well and that's why it works so well on the bike.
What does it take to be a successful pairing? Do you need a good relationship on and off the bike?
Corrine: The relationship you have has got to be one of the most important things because you just seem to click so much better when you get on with someone.
Lora: If you're in a happy environment and you feel happy and relaxed with that person you're going to get the best out of yourself.
Corrine: It's one of those cheesy sayings, a happy bike's a fast bike and I totally agree there have been times when we haven't been happy and haven't performed but you can turn it round a week later and be flying and for us anyway it's a massive thing.
Is there much difference between track and road?
Corrine: The main thing is cadence.
Lora: On the track you need to be much more efficient at a higher cadence and it's something we're working on as a pairing.
Corrine: With the track you don't have anything to think about apart from getting your cadence right and going as hard as you can for 12 laps, whereas on the road you've got different terrain, different weather
Lora: Communication is a lot more key on the road than on the track. And to be able to work together.
On the track you've got to be efficient together in your pedalling, but on the road there's so much more to think about and so much more trust required and a lot more other factors to come into play.
That's where our strengths are and why we are a lot better on the road, than the track because our strengths lie in our communication and our teamwork.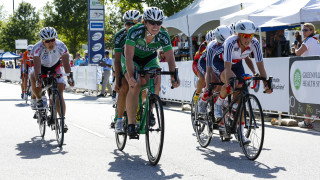 Finally, what would you say to someone who was looking to get into para-cycling?
Corrine: I get asked this question all the time. I just say get stuck in, enjoy what you're doing and find as many races as you can.
Lora: Don't be afraid. You've got to start somewhere. The more competitors we have the better! If we've got people on our backs wanting our place it's only going to make us better athletes and that's all we want.
Corrine: Just ask for advice. There are so many athletes out there, a lot of the Great Britain Cycling Team, riders are very happy to give advice to new riders so don't be afraid to ask for advice because we're very happy to give it.