Motherwell welcomed the Pearl Izumi Tour Series for the first time on Tuesday evening, with Kristian House taking the individual win and Madison Genesis extending their series lead to three points.
Madison Genesis took their third team victory of the 2015 Pearl Izumi Tour Series and now lead One Pro Cycling by three points, with Pedal Heaven third overall, a further eight points in arrears.
In the second round of the women's Matrix Fitness Grand Prix Series, there was plenty for home fans in North Lanarkshire to cheer, with a Scottish one-three as Katie Archibald took a dominant win ahead of new series leader Nikki Juniper and reigning champion Eileen Roe.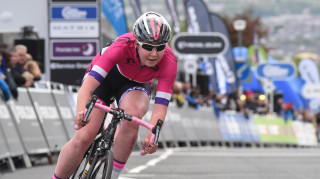 Archibald secured her third win in the series from the past two seasons putting half a minute into chasers Juniper and Roe. Juniper's second podium of the 2015 Series moved her into the Matrix Fitness GP Series leader jersey, while she also holds onto the sprints jersey for her Giordana Triton team.
In the men's Pearl Izumi Tour Series round four, there was a second successive individual win for JLT Condor presented by Mavic thanks to House, but the team competition continued to be about Madison Genesis.
Aberystwyth winner Ed Clancy claimed the evening's Costa Express Fastest Lap, while Chris Opie took the Chain Reaction Cycles Sprints on the night, but Tom Stewart keeps the Chain Reaction Cycles Points jersey with a now slender lead over Team Raleigh – GAC rider Morgan Kneisky.
Thanks to his victory, House now joins Jon Mould and Dean Downing with five individual wins in the history of the Pearl Izumi Tour Series, as the event heads to Durham, a circuit where House has won twice before.
Results
Pearl Izumi Tour Series, round four, Motherwell, Tuesday 26 May 2015
Team result and standings
Individual results
Chain Reaction Cycles Points results and standings
Matrix Fitness Grand Prix Series, round two, Motherwell, Tuesday 26 May 2015
Individual results and standings - coming soon...
Team results and standings - coming soon...
Sprint results and standings