Follow britishcycling.org.uk on
Book Review: London Cycling Guide
Posted: 17th March 2010 | Review: Eddie Allen
The London Cycling Guide, compiled by London Cycling Campaign's Tom Bogdanowicz is a true plug-and-play guide for any Londoner (or indeed visitor to London) to pick-up, pop in the saddlebag, and enjoy a selection of 30 surprisingly leafy, traffic-light options.
Say the word's 'London' and 'cycling' to most people, and they will conjure images of battling black cabs and avoiding bendy buses. However, Tom's book shows you there's another way and the key to each of the routes contained within 224 page guide is the use of green-spaces and waterways.
As in many cities, park trails, canal towpaths and riverside promenades provide great escapes for cyclers and walkers, and the Guide's routes make the best use of the capital's abundant and at times magnificent open spaces.
Highlights include the Hampton Court, Bushy Park and Ham House route, making the most of West London's expansive parkland and fine architecture. To the east the Lee Valley route uses the waterside path adjacent to the River Lee (or Lea) to take pedallers on a whistle stop tour of the 2012 Olympic facilities. In the north, the 10.5 mile Enfield Gentry route uses Trent Park and Forty Hall's 273 acres of landscaped gardens to great effect, while south of the river, the South London Commons route takes in Battersea Park, Wandsworth Common, Tooting Bec Common and Clapham common, to string together a green and largely traffic-free 10-miler.
Above: Detailed route descriptions and great pics really whet the appetite.
If you've children, you'll want some totally traffic-free options, so the book also includes nine exclusively park-based rides that never stray onto the open roads, perfect for a summer cycling picnic with the family.
Each route has a comprehensive route description, with information on distance, time, gradients, surfaces, plus overground and underground rail links, with detailed maps so you won't get lost. The easy-going narrative and full colour pictures sell the routes well (so much so that I'm keen to try out a few of the routes next time I visit the capital).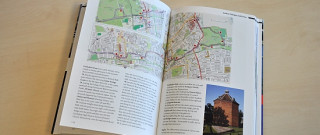 Above: Mapping with clearly marked routes
The routes are backed up with a comprehensive cycling advice section, covering topics such as bike buying, cycle security and cycle training.
Verdict: All in all, a comprehensive, well-informed route guide, which draws on the local knowledge of London's various cycling campaign groups, with urban escape routes in all four corners of the great city. A must for London cyclists.
Author: Tom Bogdanowicz
Publisher: New Holland
ISBN: 978 1 84773 5461
Price: £10.99 (paperback)
Released: 6th April 2010