British Cycling's 2009 National Council
14 November 2009
Dave Brailsford CBE (left) receives an award from Keith Butler for the continued success of British riders
British Cycling's 2009 National Council Meeting at Cranage Hall in Cheshire on 14 November saw the re-election of Brian Cookson OBE as President along with the election of Richard Kennedy and Ian Sinclair to the Board of Directors.
Barry Broadbent announced his decision to stand down from the Board to delegates after ten years of dedicated service to British Cycling. As a result of these changes, the Board of Directors now consists of Brian Cookson OBE, Bob Howden, Vic Hopkins, Tony Barry, Charlie Jackson, Colin Docker, Bill Owen, Ian Sinclair, Richard Kennedy and Ian Drake.
Over 100 British Cycling delegates attended the 2009 National Council meeting for an opportunity to hear about the latest developments at British Cycling, put questions to the CEO and President and vote on current issues and changes to the organisation.
Ian Drake, CEO, opened the meeting with an overview of very successful 12 months, marked by great performances of the British Cycling Members in International Competition, continued membership growth and the launch of the Skyride initiative with British Cycling's principal partner British Sky Broadcasting.
Delegates fully supported the Board's proposal to rename the existing 'Everyday Cycling' membership category to 'Ride' aimed at all recreational and commuter cyclists and linked to the Skyride campaign. The new category is expected to launch early next year.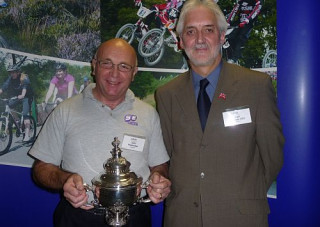 The SE Region's John Hawkridge (left) receives the award for membership growth from Brian Cookson, British Cycling President
The South East region was awarded a trophy for achieving the highest membership growth of all British Cycling regions, with 686 new members recruited over the past 12 months. The Bidlake Trophy, an award given for outstanding contributions to the sport of cycling, was also presented to Dave Brailsford CBE in recognition of the success of the GB Cycling and Para-Cycling Team in the 2008 Beijing Olympic and Paralympic Games.
Brian Cookson OBE, British Cycling President, commented: "2009 has been a transitional year for British Cycling with the appointment of a new CEO, Ian Drake, a number of new commercial and public sector partnerships, further expansion of our operations and the launch of the Skyride initiative.
"I am delighted with the high level of support our organisation and the new CEO have received from our members at this time of unprecedented change and growth. With the ongoing support of our Regions we will be able to press ahead with ambitious plans to turn Britain into a true cycling nation in the run up to London 2012 and beyond."
"I would like to welcome Richard Kennedy to the Board and thank Barry Broadbent for his contribution to the success of British Cycling during his time on the Board".
Nine members were also voted into the Appeals Panel including Don Povall, Martin Bridgwood, John Crawford, Tim Knight, Jock Shaw, Matthew Payne, Kelvin Hoy, Steve Jones and Steve Parsons.
---
Press Release Download (900kb word file)