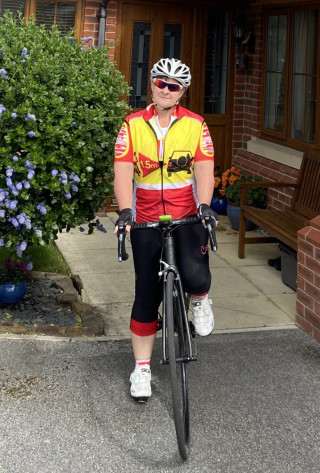 "Cycling is very important as a form of exercise for my mental health, and for my physical health" said Mandy Rowlands.
Mandy has worked in the NHS for an incredible 37 years and is currently based at Glan Clwyd hospital, North Wales. Mandy is a specialist nurse offering psychiatric assessment and support to those who attend the Emergency Department or on the general wards at the hospital. Mandy is also a proud member of V.C Melyd Cycling Club, where she enjoys cycling and socialising with other club members during her spare time.
During these unprecedented times, NHS staff like Mandy are continually, and selflessly, putting their health at risk on a daily basis, as their job results in a potential constant exposure to COVID-19. Working days are long and incredibly tiring as the continual stresses and strains of their work take their toll. Exercising has been identified by numerous individuals as a vital component of helping one to de-stress and momentarily escape from the emotional strain experienced whilst at work.
Mandy, who has cycled for approximately eight years, says that she routinely cycles to work by bike, but more so in the summer months. She said: "The virus impacted my decision initially to stop cycling, this was due to the distress seen in Italy & Spain hospitals struggling with the disease". However, after a short period away from her bike, the Psychiatric Liaison Nurse was back cycling on her commute to and from work.
For Mandy, cycling is an important form of exercise, she says: "Cycling home helps me empty my mind after the working day and it also helps me focus on the beautiful countryside that I am fortunate to live in. Cycling allows me to fit in a daily exercise where I would otherwise struggle due to work commitments".
While for Mandy, she says that cycling does allow for 'thinking' time as I cycle to work. Her working day is often unpredictable due to the nature of the work. Being a keen cyclist, it is 'the freedom of the road, the countryside and often the companionship of other cycling members' that she favours about the sport. Cycling also poses other advantages for Mandy as having "cartilage problems, cycling does not impact her knees so allows her the freedom to ride."
When asked if she had any advice for those who are thinking of commuting to work via bike, Rowlands said "My only advice is to give it a try. When planning to ride to work, do trial run on a day off first, this will reduce the stress of time of journey and knowing where you can safely store your bike. Ensure you have the equipment needed in work and the right clothes as I have often been caught in the rain without the proper gear," Mandy explained.