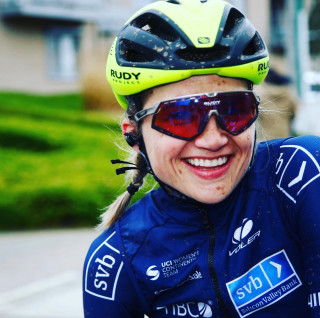 Leah Dixon was due to be starting her first year as a professional cyclist in the Women's World Tour, but the global crisis has meant that's on hold, just for the moment.
With it being mental health awareness week, Leah who rides for Team TIBCO-Silicon Valley Bank, a US based team but is also supported by the Wales Racing Academy, penned how she has been dealing with this totally unique and difficult global situation:
It would be fair to say it's been a roller-coaster of emotions since we pulled up at the race hotel car park for Drense Acht Van Westerveld in the Netherlands to find out the race and subsequent races were cancelled as result of the COVID-19 situation.
At this point, I responded fairly well with the view I would continue to train for what was my bucket list race 'The Women's Tour'. I continued to train at our team house in Belgium as though the season would resume soon and even did my first solo 100 miles (this is somewhat easier on the flat riverbank roads of Belgium than the Peak District). Not long after and on return from one of my best ever training sessions, I was greeted with the news that Women's Tour was also postponed (huge kudos to the organisers of The Women's Tour on making this decision early to give everyone involved a level of certainty).
But, here is where I started to struggle; what was I training for? When would we race again? Or when was my next event as Training Peaks so kindly reminds me? What goals was I working towards? This was the exact opposite of how I imagined my first year as a professional cyclist going.
Now I realise there are far more important things happening in the world right now than cycling. I am fortunate that not only I am healthy but my family and friends are healthy.
After travelling home from Belgium and taking a few days off to refresh and process things, I was able to look at my situation with a new lens. I sat down with my coach to review and with the support of my team TIBCO - Silicon Valley Bank and also the Wales Racing Academy, I have looked at how I can reframe this time into an opportunity:
1) Working on my weaknesses – I reviewed my early season races (they did not go to plan!) with my coach. We looked at what went well and what didn't and how could I use this time to improve ahead of when racing resumes.
2) Spending more time 'being at one' with my bike - before 2020 I had a full time job and arguably have spent more time on a turbo and Zwift than I have on the road. Therefore this time has been spent riding on the road (safely, responsibly and close to home).
3) Remember why I started cycling in the first place – I started cycling because I liked riding fast and enjoyed the beautiful places my bike has and can take me. Having recently moved to Derby, I have enjoyed finding new roads and exploring. I've genuinely noticed things I've never seen before because I've normally got my head down trying to ride to specific numbers but mostly I've appreciated lambing season. You can take the girl out of Wales….
4) Development – Sport Wales and the Wales Racing Academy have been hosting sessions during this time on 'Responsibility and Accountability'. Whilst I know I am master of my own destiny and responsible for my own career, these sessions have prompted me to ask myself some really honest questions; I am really doing all I need to be doing to reach my goals? Am I getting enough sleep and enough recovery? What else should/ could I be doing? There have been times where I've not liked my response to those questions but you have to be honest with yourself to improve. These sessions have made me consider how I manage my time and what else I could do be doing to become a better cyclist. Outside of training and working, what more could I be doing? Binge watching Netflix certainly isn't going to make me a better cyclist.
Ultimately there is a great level of uncertainty right now and these are certainly unprecedented times but I think we can take solace in the fact we are all in this together. You can only control the things you are in charge of, so I am using this time to try to be a better cyclist than I was pre COVID-19.
My long term goals haven't changed so they should still be the focus point. Whenever or wherever the racing season resumes, I will be ready…