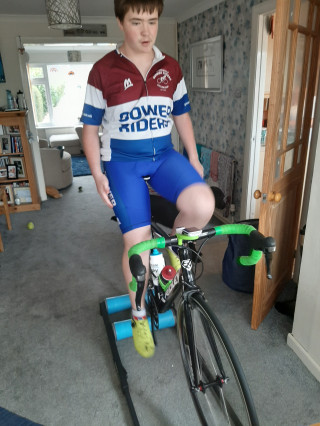 For the past few weeks we have been asking the Welsh cycling community to nominate people who have been doing wonderful things to help people and the NHS during the COVID-19 crisis.
Last Friday we unveiled those nominations on our Twitter channel here but we also wanted to have a roll of honour page where we can show off the amazing work they all have been doing.
This will be a weekly thing on our Twitter channel every Friday, so if you know a fellow club member who is a key worker; an individual who is utilising their bike to make a difference within the community – e.g. helping those that are vulnerable – or those who are raising money for the NHS and other charitable organisations who are set on helping others during these difficult times – Welsh Cycling wants to hear from you!
For more information and how to nominate click here.
Roll of honour
Since lockdown began, Gower Riders member Ben Fox has ridden a virtual session every day, and will continue to do so, in order to raise money for his local ICU in Swansea. So far he has raised an incredible £1,400.
Melissa Rossiter is an A&E Consultant in South Wales and during her time off, she has found a new passion for two wheels. She has been turning the pedals both in work and out of work, saving lives and swapping high stakes for spokes when she can.
After recently losing his grandfather to Covid-19, Geraint Williams a Trizone Fitness member decided to complete 12 half Ironman distances in 12 consecutive days in order to raise money for Royal Glamorgan Hospital ICU.
Using the limited outdoor exercise allocation and an indoor exercise bike, Grant Findlay and family have travelled the equivalent of Lands' End to John O Groats and are now travelling the distance back to their home in Cardiff, so far raising £1,280.
Since the outbreak of COVID-19, Mandy Rowlands of VC Melyd has returned to full-time work after recently retiring from the NHS to help on the hospital frontline. She is extremely committed to her duties as a nurse.
Bulls Cycling member, Freya Evans, used her turbo and Zwift in her home, to raise money for macmillan cancer. Overall, she cycled over 480km in 24-hours and raised over £1700.
Sue Brierly-Hobson works for the NHS as a Dietetic Service Manager, providing vital care to her patients as well looking after her super team! She is also a VC Melyd member who enjoy riding her bike to and from work.
Steven James has been recognised for his selflessness and has stepped up to be a porter in the Royal Glamorgan Hospital during COVID-19. In his own time, he races for Hope Factory Racing & rides locally with Abergavenny RC & is always the first person to offer help.
Bronwen and her brother William Howard-Rees of Abergavenny RC have put in an inspirational effort. They have set themselves the challenge of riding the equivalent distance of the perimeter of Wales (approx.1820km) to raise money for the WWF's campaign to safeguard our oceans.
Towy Rider member, Dr. Rhys Thomas has been instrumental in his efforts. Glangwili Hospital's senior consultant used his military experience, with help from an Ammanford-based engineering company, to create a new type of ventilator that helps to treat COVID-19 patients.
As the son of an NHS matron, Lewis wanted to give something back. He completed a 12hr virtual ride on Zwift to raise money for the charity at Morriston Hospital, and raised over £3,000.