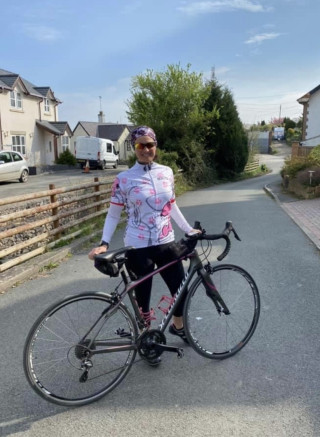 Being someone who has always enjoyed cycling, we caught up with Sue Brierly-Hobson to see how cycling has helped in her crucial role as a NHS Dietetic Service Manager during these difficult times.
Sue distinctly remembers her dad teaching her to ride her first bike as a child, as she said: "I clearly recall him running along behind me when my stabilisers first came off, and the moment I realised he'd let go and I was doing it all by myself."
However, it was in 2014 that Sue really became an avid cyclist. "Up until this time I was staying fit by doing exercise classes and running regularly, but a friend of mine had spotted the 'Scotland Coast to Coast' event which incorporates running, cycling and kayaking. We decided we had to do it!
"I bought a hybrid bike, and started to get bike-fit for the event in September. I really developed a cycling bug from hereon, and realised I particularly enjoy riding longer distances on road. This led me to buying a lovely road bike in 2015, who has been my companion on many, many rides since," she added.
Sue is also a proud member of the North-Wales based cycling club Velo Club Melyd, which she says is an "incredibly friendly and supportive club that does a lot of work to promote cycling for women."
As an NHS Dietetic Service Manager, Sue's role at work can be very stressful as she is "responsible for ensuring the continuation of delivering safe services for patients during this period, as well as ensuring her team feel supported."
She added: "Everyone in the NHS always works very hard, but we are all experiencing particularly difficult challenges at the moment."
The North-Wales based cyclist has used her bike to commute to work for a number of years. However, as her job requires her to travel across North Wales, Sue would usually only manage to cycle to work once a week.
"Since the COVID-19 pandemic, such travelling has been substantially minimised, giving me the opportunity to commute by bike much more often! This is a definite 'silver lining' for me during this rather challenging period," Sue said.
For Sue, she uses cycling to work to both prepare for the day, and to collect thoughts on the way home. The Velo Club Melyd member said: "I use the time travelling to work to plan and prioritise my tasks, so that by the time I arrive, I have a clear strategy for the day ahead. I typically arrive at work in a good mood, having cleared my mind, and having a few happy endorphins coursing through my body."
She continued: "My journey home can be many things: sometimes I use the time to think through work challenges; many solutions to tricky problems have come to me mid-peddle! Sometimes I'll simply ride mindfully: enjoying the surroundings and listening to music through my bone-conductor headphones, which allow me to hear surrounding traffic, keeping me safe."
Staying physically fit is important for Sue, therefore she said: "Knowing I've contributed to my bike fitness, while clearing my mind, and travelling to and from work, puts my mind at rest that I don't have to worry about undertaking other exercise during the working week."
One of the Dietetic Service Manager's favourite aspects of the sport is that her bike takes her on adventures: by the sea and around lakes, up hills and mountains, and across moors and dales.
Sue said: "I've seen so many beautiful places: just me, and my bike. I love the solitude of riding alone, but also the friendly companionship of riding with friends. I love the camaraderie of cycling; whenever you cycle past another cyclist, you share a wave of recognition of a kindred spirit. Finally, I love the inclusivity of cycling: anyone can cycle; you don't have to be especially 'good at it' to enjoy it."