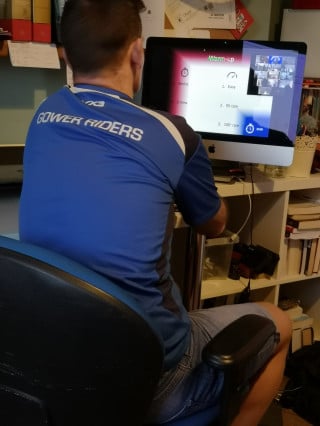 With the UK now in lockdown, a cycling club in Swansea has thrown open its virtual doors to help keep people active.
Riders of all ages are invited to join a coaching session run by Gower Riders on Zoom.
Phil Walton, coach and club secretary at the club explains:
"A number of our members work for the NHS and I am an organ donation nurse so we started talking a while ago about what we could do, if we needed to shut down our usual club activity.
"We didn't want to be reactive and start something when people were really beginning to struggle mentally with isolation. We thought that if we could do something from the beginning, people would benefit.
"Our first session was last Thursday and we're now doing something every day. They tend to take place in the evenings or at lunchtime. So far, coaches Gareth Govier, Marcus Heuberger and I have been running the sessions and others will support as work commitments allow.
"It keeps people in contact with each other and we can have a bit of chit chat while we ride. Our mental health is just as important as our physical health. Our members look forward to their regular club related activities, whether that's a club ride or a coached session and having that suddenly removed from their routine will have a significant detrimental impact on mental health."
The sessions are attracting riders from clubs across Wales and beyond including Maindy Flyers, Rhyl, Whitchurch, West Wales Cycling, Towy and Bolton Hot Wheels.
"There are a lot of cycling platforms out there but you need a subscription and quite a bit of equipment. We wanted to keep it simple – you just need an exercise bike or a turbo trainer to clip onto your back wheel," adds Walton.
Welsh Cycling Chief Executive Anne Adams King explains:
"Amid all the awful headlines we've been reading, it's been so uplifting to see clubs like Gower Riders showing real initiative but also huge consideration and care for the cycling community. Belonging to a club is so important for our mental health and this is a great way for our cycling community to come together safely."
Gower Cycling Club runs a variety of sessions for adults and children, including Go Ride, cyclo-cross, chaingang and circuit race training.
In 2019, the club was a runner up for Go Ride Club of the Year at Welsh Cycling. The gong was awarded to club back in 2016.
The sessions are free to join and open to everyone. See @Gowerriders on Twitter or 'Gower Riders' on Facebook for regular updates and access to the online platform.
For more information, please contact Jane Thomas on 07967 351 827 or hello@janethomaspr.com