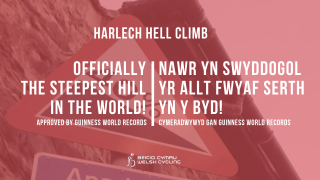 Welsh Cycling will be heading north to Harlech on the weekend of August 11th, where the inaugural hill climb event will take place on the fierce Ffordd Pen Llech.
Today the climb has officially been named as the steepest street in the world by the Guinness World Records, replacing the previous record holder, Baldwin Street in Dunedin, New Zealand, which has a gradient of 35%. The new steepest street, Ffordd Pen Llech stretches across 310 metres with a gradient of 37.45%. It also possesses a 50 metres elevation gain and a 17% average gradient.
Welsh Cycling CEO, Anne Adams-King said: "Having Harlech Hell Climb taking place on what is now officially the world's steepest street is fantastic news for Welsh Cycling.
"We've always wanted to add these type of events to our calendar and having the opportunity to do it in Harlech is really exciting for us. We hope people will come and take on this huge challenge," added Adams-King.
Situated within the historic town of Harlech – an area within Snowdonia National Park, North Wales which is usually associated with its picturesque scenery which stretches across its beaches and the iconic landmark of its castle – the sheer brutality of the minor road of Ffordd Pen Llech is renowned amongst the locals.
Whilst it may be recognised for the notorious challenge that it poses for those that live in close proximity, the savage climb has got the world listening today as Guinness World Records has issued a certificate announcing that Ffordd Pen Llech now holds the record for the steepest street in the world.
Leading up to Harlech Castle, this Hill Climb event, which will kick off at 1pm on August 11th, is an opportunity to test yourself amongst the best climbers in the world, with the likes of Dan Evans (2x British Hill Climb Champion) and Jessica Evans (5x Welsh Hill Climb Champion) also setting their sights on securing the victory.
However, bragging rights are also at stake as it is an opportunity to conquer this beast of a climb: the steepest street in the world.
Craig Glenday, Guinness World Records Editor in Chief said: "We know the anticipation has been building for quite some time now and I'm pleased to see the outcome has brought such joy to the residents.
"I hope Harlech enjoys the celebrations and that the new title brings lots of people to the beautiful town, to experience the world's steepest street for themselves!" continued Glenday.
The event also offers equal prize money for podium places in both the men and women's race.
Make sure you follow us on social media to keep up to date with everything around Harlech Hell Climb.