Welsh Cycling Strategy Roadshow announced
Welsh Cycling would like to invite all cyclists, professional or social riders, club members along with members of local authorities, educational services and any other member of the public who has an interest in cycling to help Welsh Cycling to create our new strategic direction.
Anne Adams-King said "Our current strategy was created in 2013 and now in light of the Vision for Sport in Wales , the imminent Sport Wales Strategy and the New British Cycling strategy, we feel it is the right time to review and position our sport in the best way for the opportunities and challenges ahead".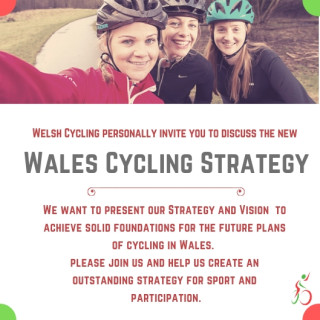 Welsh Cycling are inviting anyone with an interest in cycling in Wales to join the team at any one of six roadshow events being held across 3 regions in February. There will be 2 events at each venue for convenience of time.
"We would like to share our current thinking, but more importantly listen to what direction cycling enthusiasts think we should be taking".
Below are the dates and venues Welsh Cycling Roadshows are planned, we would really appreciate your time in coming to talk to us and members of the Welsh Cycling staff.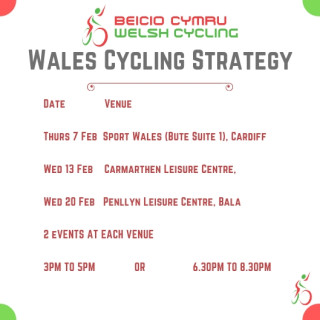 Please send a confirmation of your attendance to Info@Welshcycling.co.uk along with the date and time you will be attending.