Written By: Liz Slater
Images by: Huw Fairclough Photograhy
Stevie James, Hope Factory, and Clare Hoskins, Cardiff JIF take the overall series win in the Senior Men and Women's categories of the 2018 Welsh Cyclo Cross League that culminated in Pembrey Country Park this weekend.
The season finale, promoted by West Wales Cycle Racing and Welsh Cycling, saw the culmination of the Welsh Cyclo-Cross League, that started in September. Over the eleven rounds, riders battled through mud and tackled obstacles in venues across South Wales, promoted by local clubs.
Congratulations to all involved and thanks to all who supported the Welsh Cyclo-Cross League in 2018.
Chief Commissaire Liz Slater presents the final league Standings

Liz Slater, Chief Commissaire comments on the Series;
"The number crunching has at last been completed and the final overall League standings for 2018 are here for your perusal.
Thank you to all the riders who have again/anew supported the League (from now on the Welsh Cycling Cyclo-Cross League); I hope you have enjoyed your racing and have been left looking forward to more again next year.
As always it has been a privilege to witness the sporting competition as the season has progressed; whether commanding or close, at the front, back or in the middle of the field, rivalries have always been conducted in the spirit of Welsh cyclo-cross - friendly, fair, fun and for everyone.
A big thank you goes to all the organisers and their helpers who had to contend with all that the Welsh weather could throw at them (sadly it proved too much for Towy Riders but they will be back next season), to my fellow Commissaires without whom the racing could not go ahead (and for putting up with me as Chief!), to Chief Judge Richard Hopkins for working his magic with the timing system, and to Welsh Cycling who have now fully embraced the League.
I wish all in the Welsh cyclo-cross community a very Merry Christmas and a happy, healthy and successful 2019. I hope to see you all again next season. I now have a lot of wine tasting to do (thank you The Bulls and Simon!)"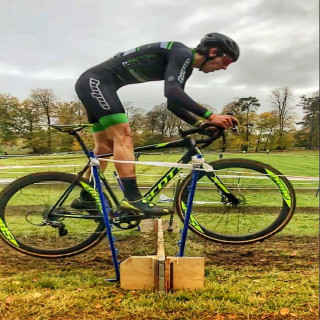 Results from each round can be found online here;
Juvenile, Youth & Novice Woman
Thank you once again to everyone involved in the seasons Welsh Cyclo-cross League 2018, have a great Christmas.

From All at Welsh Cycling