Ffion James has had an active and fruitful season with fantastic results and positioning at the British Cycling Cyclo-cross National Trophy Series and the UCI Cyclo-cross World Cup in Tabor this month.
We were keen to hear how the student is finding the season and what she thought of her trip to Prague. Ffion gave her Club Abergavenny RC an account of her travels to Tabor, Huge Thanks to Ffion and Abergavenny for allowing us to share her story;
Ffion James, UCI Cyclo-cross World Cup, November 2018, Tabor
"This turned out to be a super short and sweet trip!
I flew out early Friday morning from Stansted to Prague, being met at the airport by one of the GB helpers. The rest of the GB team flew out Thursday morning, but I decided to fly out Friday to limit the amount of uni work I was missing. A quick 1.5 hour drive took us straight to the course in a small town called Tabor, just south of Prague.

I was straight out on the course within 20 minutes of arriving, my bike being all set up for me thanks to the great GB mechanics! I knew beforehand that the weather had been dry and was going to stay that way, so I went for typhoons as my tyre choice (intermediates) with about 22psi.
The course was dry and fast as expected, but very technical at the same time. It was mostly grass, with two sections of steps, a set of hurdles, short steep banks and some longer climbs followed by technical descents. My legs felt a bit sluggish to start but after riding a few laps I really came to love the course and knew it suited me! Back to the hotel it was to chill for a few hours, followed by dinner, a team meeting and then an early night.
Breakfast with Telenet-Fidea
The morning was relatively chilled as the women's race wasn't starting until 1:30. Breakfast at the hotel was a little more exciting than usual, as we sat across from a few riders from the Telenet-Fidea team and the new European Champ Anne-Marie Worst. When you're used to watching these riders race on TV it feels a little scary (but mostly exciting) to think that you'll be racing against them in a few hours!
We headed to the course relatively early, getting a practise lap in after the junior boys race. The course was perhaps a little more slippy than yesterday after a frost overnight, but I kept my tyre choice and pressures the same as they felt perfect. I could tell from the practise lap that my legs were on a good day. This just made me even more excited and motivated for the race.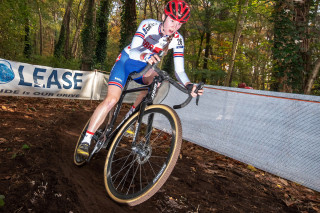 There was no separate U23 race.
After my usual roller warm up, I headed down to the start to line up against the World's best riders. There's no separate under 23 women's race in World Cups, so you're straight into the deep end against the likes of Sanne Cant and Lucinda Brand, riders who one day you aspire to be like.
I was gridded pretty far back, on the 5th row, but after the usual sketchy start, I managed to avoid a crash and move up the field a bit. Annoyingly this good start didn't get me very far, as we got to a massive hold up on one of the short steep banks early on in the lap. If you managed to watch the race you'll know what section I'm talking about! There were riders everywhere trying to get up this seemingly simple part of the course, but the bank was just so slippery that people were falling straight back down again. After a frustrating time stood still not being able to do anything, I was finally back on my bike and into the race.
My legs moved me up the field
I was quite far back at this point, but this just motivated me even more to move up, and when I started to overtake riders I knew my legs were on a very good day. Over the next lap or two I moved up through the field, before settling into a group fighting for 20th place. The rest of the race was a bit of a blur, as I was riding in a group including Nikki Brammier, Eva Lechner and Kaitlin Keough, whilst overtaking riders such as Sophie de Boer and Helen Wyman.
I gave it everything to the finish, and managed to hold on for a solid 23rd place, only 10 seconds off a top 20. I was also 6th U23 and just over 20 seconds off the podium. I was super pleased with my ride, especially after having a few disappointing races the two weekends before. I knew this was the result I was capable of.
Back home to reality

There was no hanging around after the race. It was straight to the airport, arriving just in time for a quick flight home, followed by a train and then a 20 minute cycle back to my university accommodation. Back to reality amongst other students who have no idea that you've just come back from having raced a World Cup in the Czech Republic!
Another busy week balancing training and uni work for me, before the next round of the National Trophy in York on Sunday!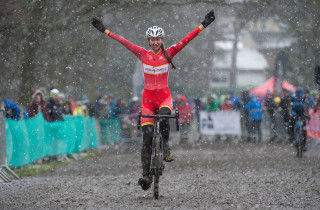 Many Thanks to Ffion James and to Abergavenny RC for allowing us to share this account of the UCI Cyclo-cross World Cup 2018.