The Gunpowder Classic – Gower Riders Cycling Club's annual cycling festival has been declared a great success.
The event, which took place last Sunday, saw over 400 riders and spectators descend on Swansea's Singleton Park for a day of cyclocross racing.
Age is no barrier.
The sport of cyclocross sees competitors race each other over specially designed courses, with riders negotiating a number of obstacles such as hurdles, ditches and short, steep hills. There were races for all ages with the youngest competitor aged just four and the oldest in their sixties.
Rider came from as far as London to take part
Speaking after the event, Gower Riders chairwoman, Kathryn Elias said:
"Several people have commented on how much they enjoyed this year's Gunpowder Classic. This is the third time we've hosted races at Singleton Park and its reputation as a top class cyclo-cross venue is growing. It is such a great venue for the sport as it offers so much variety. Riders come from far and wide to take part – we had one rider come all the way from London specifically to compete here".
Event wouldn't be possible without Volunteers
Elias continued, "Staging this event wouldn't be possible without the hard work and dedication of all the club's volunteers, some of whom have been planning this event for months. I'd also like to thank the club's youngsters, some of whom turned up very early in the morning to help set up, raced themselves, and then with great enthusiasm, stayed around to help with rest of event. It was a real team effort."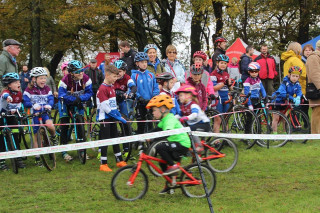 The Gunpowder Classic was supported by Totec Recruitment, Les Prieure Des Dames Cycling Holidays, CLC Estate Management, Guardian Property Services, Astleys Property Professionals and Miles Hire.
The results of the days' races can be found on the Welsh Cycling Cyclocross web page here.
For more information on Gower Riders visit here.