Gower Riders' gunpowder classic provided plenty of fireworks on Sunday with some fine racing at Singleton Park. Despite an evening of heavy rain, the ground held up exceptionally well with all categories able to enjoy great cyclocross racing conditions over a demanding and enjoyable course.
Seniors and Juniors
The Senior and Junior men's race started hard and fast with youngster William Truelove of Abergavenny CC setting the early pace and Steven James of Hope Factory racing sat on his wheel. It was clear that James was playing a patient game and within the first couple of laps started to assert his authority, gradually establishing and extending a lead over the rest of the senior men's field; a lead he was to comfortably build upon for the remainder of the race.
Truelove rode impressively however and took the Junior race comfortably with Sam Ryland of the Bulls and clubmate Clarke James taking 2nd and 3rd respectively. Behind James, the fight for the podium heated up with 3 riders closely fighting for two places, with Chris Roberts of Hafren ultimately edging out Tim Davies for 2nd (giving Davies his second podium place of the day after taking 3rd in the V50s). Ben Knott finished 4th a mere 3 seconds behind.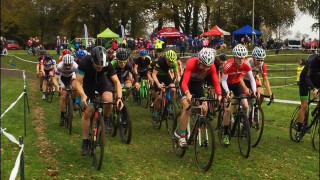 Womens
In the ladies race, a dominant Clare Hoskins (Cardiff JIF) recorded an impressive win after pulling clear early from Abergavenny's Julia Thomas and pushing some of the men from the combined field very hard. Katie Hesden successfully kept clear of a chasing Laura Jeremiah (Cardiff JIF) to take 3rd spot.
Vets
The large Vets field enjoyed some blistering racing, particularly from the front end of the V50 field. Overturning a 1min 15sec gap between the two age groups, Mark James (Jewson) and Ian Jeremiah (Cardiff JIF) worked to the head of the field and enjoyed a true dogfight right up until the business end of the race with James eventually taking a very impressive win from an equally impressive performance from Jeremiah.
Meanwhile Jason Killiner of Pontypool RCC rode very smoothly and efficiently to negate the power riding of Matt Lewis and take the V40 win. Arwel Davies of Towy Racing Cycle Club took 3rd.
Final Words
Despite being a relatively recent addition to the Welsh Cyclocross League calendar, it is clear that this race is being held in equally high regard by competitors and spectators alike. Gower Riders are deserving recipient of plaudits for the effort and thought that has gone into the planning and delivery of the event. Well done Gower Riders.
Results
Next up
Bynea CC host a return to Pembrey, one of our favourite CX venues for Poppy Cross on the 11th of November.