To celebrate four years of the HSBC UK Breeze programme in Wales, VELOTHON teamed up with Welsh Cycling to offer Breeze Champions an opportunity to enter a prize draw for FREE entry on this year's sportive.
The HSBC UK Breeze Programme is aimed at helping women feel confident and comfortable about going on a ride, and has been a great success in Wales thanks to the champions who dedicate their time to organizing local bike rides on a weekly basis.
Winners Emma Davies, Rhian Davies, Sian Jones and Helen Flynn are now undergoing their final preparations for Sunday July 8th.
Sian Jones started road cycling three years ago and after buying a second hand bike off ebay, it soon became her favourite hobby.
"I became a Breeze leader two years ago mainly because I wanted to share my love of cycling and the incredible routes around the Rhymney valley.
"You could say I'm addicted, but what a brilliant addiction to have! This year I have cycled 108 miles from Cardiff to Tenby, 100k through London at night and now I'm doing the Velothon."
Helen also got back into cycling for the first time since her childhood 4-5 years ago after also buying a secondhand bike on ebay.
"I met a local Breeze champion at a Halfords bike maintenance evening and signed up for my first Breeze ride shortly after.
"Riding with Breeze definitely helped me to be more comfortable with riding on the road, so much so that I went and bought a road bike. I've also picked up a mountain bike as well so I think it's safe to say I'm into cycling now!
"At the end of October last year I completed a 100km event which was the achievement for me. Now I'm looking forward to participating in Velothon Wales, setting out from the familiar childhood cycling territory of Usk on closed roads, through my home town of Pontypool where my Mum and some of my school friends still live. Then on through Newbridge, apparently literally passing the front door of my cousin's house and onto the finish in Cardiff, which is where my younger sister lives now"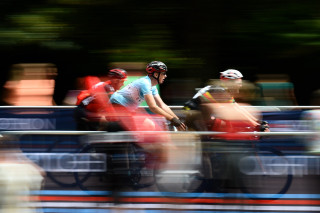 Rhian Davies began her cycling journey with a short cycle path ride. As her fitness has improved, she was able to cycle to more places and explore more of the beautiful countryside in Wales. After lots of encouragement from Breeze leaders in Cardiff, she became a Breeze Champion to organize ladies rides in her own local area.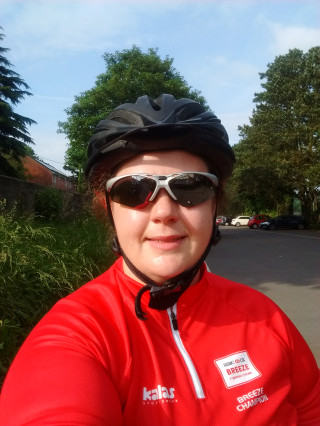 Rhian said: "Cycling in the Velothon this year will be an exciting challenge for me and as the day gets closer I am feeling a little more nervous.
"It is easy to say 'oh I'll do it next year' but when the chance to be part of the HSBC UK Team Breeze this year; I thought why not do it this year?
"It will be an amazing experience to cycle on traffic free roads though the picturesque communities of Wales while enjoying the camaraderie and friendship that exists in cycling at all levels. I feel really lucky to be part of Team Breeze 2018 and I look forward to seeing more women cycling in Wales".
Completing the team is Emma Davies; who feels that now is a good time to re-test her fitness and bike handling skills in the Velothon,
"Over the last few years I've spent loads of time in the gym, particularly in Group Fitness classes such as Group Cycle/Spin. Many people in the classes are proficient road cyclists and so me and a friend decided to put our indoor cycling skills to the test by signing up for the Cardiff to Tenby 100 mile bike ride in May 2016. We bought our brand new bikes a couple of weeks before the event, did some practice rides, and then went on to really enjoy the day"
"I signed up for the Velothon a few weeks later, took it very slowly, and enjoyed that too. Since 2016, I haven't done too many rides as I've been sticking to my training sessions in the gym."
Emma White, Women and Girls Participation Officer at Welsh Cycling said: "We are so lucky to have such fantastic support from our HSBC UK Breeze Champions, who work really hard to break down the barriers to cycling for women and girls. It's an amazing feeling seeing both women and girls confidence flourish on the bike, and it's all down to the champions. We wish everyone taking part in the Velothon, including Breeze Champions and Participant, the very best of luck"
You can follow the Team's progress on Instagram and Twitter @WelshCycling and @SheCyclesWales.
For more information about this year's VELOTHON Wales, please click here