The 2018 Welsh TT and Road Race Championships will take place on Saturday 18th and Sunday 19th August.
The Welsh Cycling Time Trial Championship will open an exciting weekend of racing in Powys on Saturday 18th August. The 16.4 mile sporting course has been chosen to expose the riders all round ability and produce worthy Welsh Cycling Time Trial Champions.
Time Trial Course
The Road Race will follow on Sunday 19th August, where this years event makes a welcome return to the charming and historic spa town of Llandrindod Wells, offering a great sporting course to undoubtedly produce worthy Welsh Champions.
Chief Executive of Welsh Cycling, Anne Adams-King said: "I would also like to thank Cardiff 100 Miles Cycling Club for promoting the event, and the many volunteers and officials giving their time to support the Championships"
Road Race Course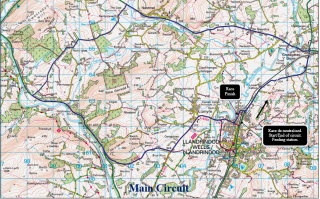 Enter the Time Trial Championships