Sam Watson and Emma Finucane rode off with British titles to their name after both were victorious at the British Cycling Youth National Circuit Race Championships.
Milton Keynes played host to the event with riders racing around a 2.3km circuit as they battled it out to be crowned the best in the country.
And while Watson and Finucane took home the U16 titles, it was Eva Young and Joe Kiely that were successful in the U14 categories.
U16 Boys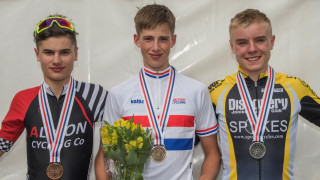 Chevin Cycles TREK rider Watson took a fine solo victory in Milton Keynes to add the national title to his current Youth Circuit Series lead.
Having shown his strength in the early stages he held fire until the closing laps, when he launched a long attack.
Dan Barnes went with him, but Watson rode him off his wheel and it was left for Alfie George to triumph in the bunch sprint for second, 11 seconds back from the winner.
"Getting this win is pretty special to me," said Watson. "I'm leading the National Series at the moment as well so today means a lot to me.
"I knew I couldn't leave it to the sprint so the plan was to hang on and go with a couple of laps remaining which obviously worked."
U16 Girls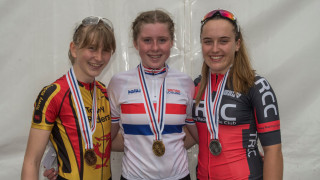 Last year's U14 champion Finucane made the step up to the older age group look simple as she proved the strongest rider in a bunch finish.
With riders failing to make a breakaway stick throughout the race, it all came down to a straight sprint.
Winner of the last round of the Youth Circuit Series Kate Wootton fell foul of a late crash, giving Finucane a shot to cross the line at the head of the group, and she didn't miss.
"It's an amazing feeling to win today," said the champion. "It was pretty tough all race, riders kept trying to attack then it was chased down, then another attack so it was hard all day.
"I really wasn't in the best place for much of the race but I managed to work my way through for the final sprint.
"I did go a bit too early, I got Lucy Naylor's wheel which helped me through and I just kept going."
U14 Boys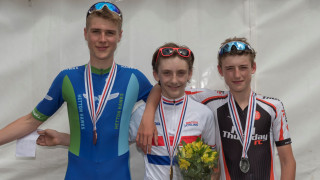 Part of a three-man breakaway with Finlay Pickering and Josh Charlton, winner Kiely timed his attack to perfection to claim the victory by less than a second.
Pickering launched the early attack alongside Josh Giddings and Jack Brough, but it was to no avail as they were brought to heel by a now fragmented peloton.
Kiely then went, taking Pickering and Charlton with him, as the decisive move was made and the trio began to increase their lead.
Max Poole made a valiant effort to bridge the gap to the leading three with just four laps remaining, but he finished alone in fourth as Kiely rallied to beat his fellow escapees in the sprint to the line.
U14 Girls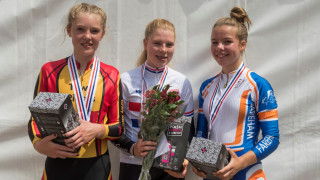 Young's pace in the sprint was just too much for the rest of the field to handle as she won by nearly half a second on the roads of Milton Keynes.
With no-one able to pull away from the bunch in the early stages it was Kinga Ingram that launched an attack with four laps to go, but she was reeled in and counter-attacks followed.
Anoushka Milane tried her luck but again the attack did not last, and when Ingram's late dig on the final lap was neutralised all that was left was for Young to take the sprint in a lunge for the line.
Results
U16 Boys
1. Sam Watson 1:28:26
2. Alfie George 1:28:37
3. Oli Rees @same time
4. Matti Dobbins @st
5. Louis Bilyard @st
U16 Girls
1. Emma Finucane 1:02:57
2. Ella Barnwell 1:02:58
3. Eluned King @st
4. Sophie Lewis @st
5. Ava Oxley-Szilagyi 1:02:59
U14 Boys
1. Joe Kiely 49:12.92
2. Finlay Pickering 49:13.58
3. Josh Charlton 49:14.30
4. Max Poole 50:10.48
5. Fred Newman 50:28.83
U14 Girls
1. Eva Young 45:52.27
2. Izzy Brickell 45:52.71
3. Rosie Finucane 45:52.85
4. Natalie Bloomer 45:53.13
5. Grace Lister 45:53.14
Gallery