Over the summer, Welsh Cycling are hosting female-only cycling sessions, providing more opportunities for women in North Wales.
These sessions are either coaching sessions ranging in abilities, so even if you have not tried them before come along to a beginners session or if you want to progress you skills come along to one of our improver sessions. These are designed to improve your skill level, confidence and more importantly to have FUN.
Fe fydd Beicio Cymru yn cynnal sesiynau beicio dros yr haf i ferched Gogledd Cymru. Bydd sesiynau ar gyfer dechreuwyr yn ogystal a sesiynau i reidwyr profiadol yn cael eu cynnal. Mae'r sesiynau wedi cael eu cynllunio ar gyfer cynyddu lefel sgil, hyder ond yn bywsicach, i gael HWYL!
For those more adventurous, why not have a go at some entry level racing. Don't be afraid, just come and have a go. It's better than standing around watching your children or other half having all the fun.
I'r rhai sydd yn teimlo yn hyderus, bydd cyfle i chi roi cynnig ar rasio ar lefel mynediad – peidiwch a bod ofn, dewch draw i roi cynnig arni!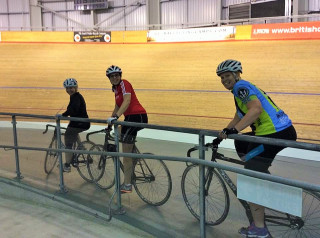 Check out the dates below and click on the links to find out more:
Dyma'r dyddiadau isod, cliciwch arnynt am fwy o wybodaeth ac i logi lle:
Go Race MTB Ladies Race Marsh Tracks, Rhyl Sunday 14th May 2017
Ladies Track Taster Session Knowsley, Liverpool Sunday 4th June 2017
Women's Intro to Racing Coaching Marsh Tracks, Rhyl Saturday 24th June 2017

Women's Intro Race Series Marsh Tracks, Rhyl Saturday 1st July 2017
Women's Intro to Racing Coaching Marsh Tracks, Rhyl Saturday 15th July 2017
Women's Intro Race Series Marsh Tracks, Rhyl Saturday 22nd July 2017
Ladies MTB Coaching Coed y Brenin Friday 4th August 2017
Women's Intro Race Series Marsh Tracks, Rhyl Saturday 5th August 2017
Women's MTB Coaching Nant BH, Trefriw Thursday 31st August 2017
Women's Cyclo Cross & BMX Coaching – to follow
Alternatively to book your space please email – Fel arall, i neilltuo lle ebostiwch…
Tim Matthews tim.matthews@welshcycling.co.uk or Gaynor Davis gaynor.davis@welshcycling.co.uk