Upon joining Hafren CC in 2013, Jackie Harris often found herself to be the only female out on club rides. She took matters in to her own hands by starting women only rides. Although the rides attracted respectable numbers, the vast difference in fitness levels of the group meant that rides were either too fast or too slow for the riders and many did not return.
Jackie Harris led the project and has since gained support from Emma Serjeant who joined the club in 2014. Even though riders were attending the female only rides, their fitness levels were adequate for the club rides but they were still not making the move over. There was the perception that club rides were male dominated lycra clad racers. Jackie and Emma's rides provided a network to break down this barrier, but it required patience and perseverance.
The HSBC UK Breeze Network rolled out in Wales in 2014, with both Emma and Jackie becoming trained Level 2 leaders. The Level 2 award allowed the ladies to run challenging rides which were closer to the fitness level required to join the club rides. The ladies also trained as British Cycling Level 1 coaches as they felt the women's basic bike handling skills lacking in some areas, changing gears and removing one hand from the handlebars.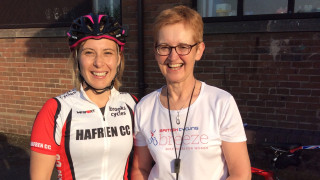 Jackie feels the next step for Breeze riders is to join a cycling club: "'The backbone of cycling in Britain is the cycling clubs and it is crucial that going forward the regular Breeze riders continue to be supported by Welsh Cycling. To me, the obvious and most cost effective way forward is by joining a club affliated to Welsh Cycling."
Hafren CC's female membership count has increased dramatically as a result of Jackie and Emma's work. In the past 3 years the membership has doubled from 20 to 40 members. As more women have joined the club, they have been encouraged to take part in racing as well.
Following on from a successful Community Chest Grant application with Sport Wales, both Emma and Jackie will now be able to attend the British Cycling Level 2 coaching course and also train up another Level 1 coach. There are also more club members training to become Breeze Champions, which will give the club a total of 4 Champions. This will enable Hafren to put on more regular rides of varying levels.
The women have set up a working group to try and get ideas to increase female membership. Emma agreed to sit on the club's committee as Women's Officer to act as a voice for female members and potential members of the club. Emma will now look at putting together a long term plan for increasing female membership.
Jackie's Top Tips for successfully engaging with women:

Run regular Breeze rides to encourage new riders to join the local group
Use social media to promote rides
Run coaching sessions to build riders' confidence
Have female coaches that understand the barriers that women experience
Use the local press to advertise what you are doing
Have the support of the club committee, especially key members eg. the Chair
Want to get involved?