The final round of the thrilling 2017/18 HSBC UK | Cyclo-Cross National Trophy takes place in Ipswich this weekend, just one week before the HSBC UK | National Cyclo-Cross Championships.
While Ian Field has already secured the elite men's title thanks to two wins from five rounds - Trinity Park is set for a sensational showdown between Bethany Crumpton and Ffion James for the elite women's title.
About the series
The HSBC UK | Cyclo-Cross National Trophy is a six-round competition which takes place between October and January, with a rider's best five scores from the series counting towards their overall total.
The series opened last year at the Moorways Centre in Derby with defending men's champion Ian Field picking up the win, while Bethany Crumpton got off to the perfect start in the women's competition.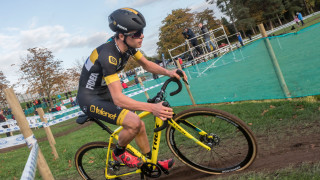 Crumpton topped the podium once again in the second round while Tom Pidcock beat Field at the Abergavenny Leisure Centre.

 Round three in Shrewsbury saw Field claim his second win of the series while junior rider Harriet Harnden took her first elite win.
Belgium's Braam Merlier was victorious in round four at Cyclopark in Gravesend in the men's race, while Ffion James took the win in the women's race with the pair repeating their successes at a snowy round five in Bradford in December.
The series concludes at Trinity Park in Ipswich on 7 January ahead of the 2018 HSBC UK | National Cyclo-Cross Championships in Sunderland a week later.
Elite, under-23 and junior women
All eyes will be on the women's competition in Ipswich with both Bethany Crumpton and Ffion James vying for the title.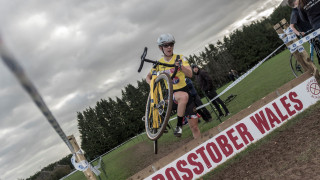 Both riders know that a race win will secure the prize with Crumpton (Storey Racing) currently on 164 points and James (Abergavenny Road Club) on 140 - with James having only competed in four races so far this series.
Should either Crumpton or James not win the race, the permutations for the title change.
Crumpton will secure the series win by finishing in any position ahead of James but the Abergavenny RC rider would only be able to claim the top honours by finishing second, third or fourth - and a fourth-place finish would need Crumpton to cross the line in sixth place or lower.
As well as the top two positions, third overall is also to be decided, with Amira Mellor (PH-MAS/Paul Milnes/Oldfield) currently in that position on 115 points.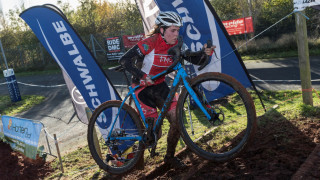 Anna Kay (EDCO Continental), Harriet Harden (T-Mo Racing), Hannah Payton (Team Kinesis UK) and Sophie Thackray (PH-MAS/Paul Milnes/Oldfield) could all potentially overhaul Mellor with a strong performance.
Elite, under-23 and junior men
Ian Field finished fourth in the previous round in Bradford - a result good enough for the Hargroves-Ridley-Montezuma rider to retain his HSBC UK | Cyclo-Cross National Trophy title.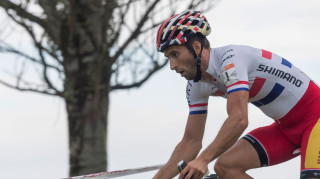 Overall podium places are still up for grabs and with a rider's best five scores from the six rounds counting, there could be significant movement in the rankings as riders look to climb the standings.
Braam Merlier (Steylaerts - Betfirst) has won both of the previous rounds and knows a win in Ipswich should be enough to secure second overall.
Steven James (Hope Factory Racing) currently sits second on 122 points, with Jeremy Durrin (Neon-Velo Cycling Team) and Paul Oldham (Hope Factory Racing) two points behind.
All three have produced consistent performances across the series and will hope to secure an overall top three finish as a reward for their season's efforts.
2016 Olympian Grant Ferguson finished second in Bradford last time out and the CST American Eagle rider continues his cyclo-cross season in Ipswich.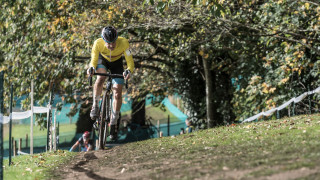 In the under-23 men's race, Billy Harding has once again secured the title.
The PH-MAS/Paul Milnes/Oldfield rider has an unassailable lead on 139 points, with teammate Joe Williams in second on 116.
Harry Yates (Hargroves-Ridley-Montezuma) is nine points behind Williams in third with Calum Fernie (Nottingham Clarion CC) - under-23 winner in Bradford - able to potentially reach third spot in the overall standings with a win.
Cameron Mason has already won the junior men's title - four podium finishes from five races has given the Leslie Bike Shop/Bikers Boutique rider a commanding 162 points.
Eight riders are competing for the final series podium positions, with Jenson Young (PH-MAS/Paul Milnes/Oldfield) and Ben Tulett (Beeline Bicycles RT) currently holding onto those places.
Schedule
The men's veteran races begin at 10.15am on Sunday, followed by the youth girls at 11.15am and youth boys at 12.05pm.
Junior men set off at 1.30pm, followed directly by the elite, under-23, junior and veteran women, with elite and under-23 men starting at 2.45pm.
How to follow