The 2017/18 HSBC UK | Cyclo-Cross National Trophy reaches its penultimate round this weekend as Bradford's Peel Park hosts round five.
Ian Field and Bethany Crumpton hold commanding leads in the elite standings with a strong lineup set to race in Yorkshire on Sunday.
About the series
The HSBC UK | Cyclo-Cross National Trophy is a six-round competition which takes place between October and January, with a rider's best five scores from the series counting towards their overall total.
The series opened at the Moorways Centre in Derby with defending men's champion Ian Field picking up the win, while Bethany Crumpton got off to the perfect start in the women's competition.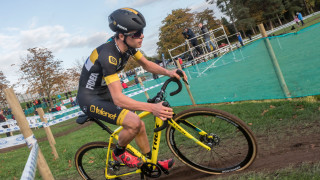 The second round saw Crumpton win once again while Tom Pidcock beat Field at the Abergavenny Leisure Centre.


Round three in Shrewsbury saw Field top the podium once more while junior rider Harriet Harnden claimed her first elite win.
Belgium's Braam Merlier was victorious in round four at Cyclopark in Gravesend in the men's race, while Ffion James took the win in the women's race.
Following this weekend's racing in Bradford, the series concludes at Trinity Park in Ipswich on 7 January.
Elite, under-23 and junior men
Ian Field could wrap up the 2017/18 HSBC UK | Cyclo-Cross National Trophy with one race remaining this weekend.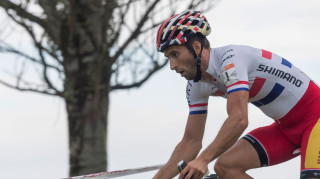 The Hargroves-Ridley-Montezuma's rider currently has 184 points and is 71 clear of his nearest rival, David Fletcher of Sherwood Pines Cycles / Forme.
With only a rider's best five scores from the six rounds counting, there remains a slim possibility of the reigning champion being overhauled - but a strong finish in Bradford would seal the title for Field.
Fletcher will take to the start line in Yorkshire, as will current third placed rider Paul Oldham (Hope Factory Racing).
2016 Olympian Grant Ferguson will swap mountains for mud as he makes an appearance, representing CST American Eagle.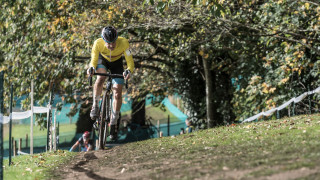 Current under-23 leader Billy Harding can also move one step closer to the title in Bradford.
The PH-MAS/Paul Milnes/Oldfield rider currently has 109 points, 19 clear of his teammate Joe Williams, with the pair set to go head-to-head on Sunday.
Cameron Mason (Leslie Bike Shop/Bikers Boutique) is on the verge of securing the junior title.
Mason is 12 points clear of Beeline Bicycles RT's Ben Tulett on 122 points - with Tulett set to miss the Bradford round.
Elite, under-23 and junior women
Bethany Crumpton leads the elite women's standings after four races - the Storey Racing rider has 130 points.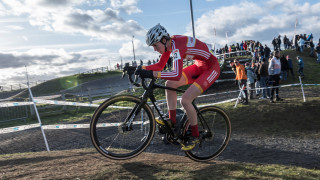 Ffion James (Abergavenny Road Club) is in second place on 100 - but the winner in Gravesend last month has only competed three times in this series, meaning two more wins would guarantee her the crown.
Neither third placed rider Anna Kay nor Harriet Harnden who sits fourth (and leads the junior standings) will compete in Bradford, meaning fifth placed Hannah Payton (Team Kinesis UK) could take advantage.
Payton has 86 points from the opening four races and could move into the podium positions with a strong finish.
PH-MAS/Paul Milnes/Oldfield's Amira Mellor and Renvale RT's Sophie Wright will have similar ambitions - currently sat in sixth and eighth places respectively.
Schedule
The men's veteran races begin at 10.15am on Sunday, followed by the youth girls at 11.15am and youth boys at 12.05pm.
Junior men set off at 1.30pm, followed directly by the elite, under-23, junior and veteran women, with elite and under-23 men starting at 2.45pm.
How to follow
Follow @BritishCycling on Twitter for race updates and results
Report and gallery will appear on the British Cycling website