Reigning elite series champions Ian Field and Amira Mellor are on the start list as the 2015/16 British Cycling National Trophy Cyclo-cross Series kicks off in Southampton on Sunday 11 October, the first of six exciting rounds visiting Britain's iconic cyclo-cross venues.
After Southampton, the series moves on Derby at the end of October before two November rounds in Durham and Ipswich. December sees action move to Bradford's Peel Park before the series finale in the New Year at Milton Keynes Bowl.
Round 1 - 11 October 2015, Southampton Sports Centre
Round 2 - 25 October 2015, Moorways Centre, Derby
Round 3 - 8 November 2015, University Cricket Club, Durham
Round 4 - 29 November 2015, Trinity Park Showgrounds, Ipswich
Round 5 - 13 December 2015, Peel Park, Bradford
Round 6 - 17 January 2016, Milton Keynes Bowl
The contenders
Elite and under-23 men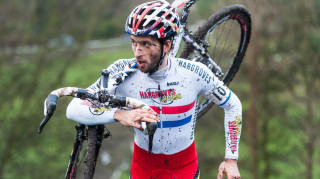 Ian Field completed a memorable double in the 2014/15 season, taking both the National Trophy and British titles in a dominant display.
The Hargroves Cycles – Ridley RT rider is back on the start line for round one and is on Hargroves' home turf with a quartet of teammates; Mike Butler, Tom van den Bosch, Steve James and Jody Crawforth. Field began his cross season early over in Las Vegas, placing 26th in the first round of the UCI Cyclo-cross World Cup.
Hope Factory Racing bring a strong team including last year's under-23 runner-up Jack Clarkson (now riding in the senior class) and former National Trophy and British champion Paul Oldham, who took the illustrious Three Peaks Cyclo-Cross race in September, triumphantly marking his return from long term injury.
Beeline Bicycles' Ben Sumner also moves up to the senior ranks having won the under-23 series in 2014.
Interesting inclusions on the Southampton start list include JLT Condor road man Graham Briggs and 2002 British junior champion (and son of world masters champion Phil), Steven Roach.
Junior men's runner-up Arthur Green moves up to an ultra-competitive under-23 category, which is also likely to see Nick Barnes, Jack Humphreys and Billy Harding vying for the opening win.
Elite women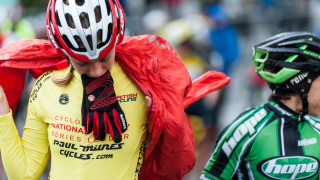 Amira Mellor was consistently brilliant last year, the talented junior a regular visitor to the podium, with a win and two second places sealing her victory.
The Oldfield/Paul Milnes Cycles ERT rider returns to the National Trophy after two weeks of racing and training in Las Vegas and Vermont and the 17-year-old will once again be hard to beat.
However Southampton will see no shortage of challengers for Mellor, with Hope Factory Racing's Adela Carter and Annie Simpson chief amongst them.
There too will be Team Kinesis UK's Hannah Payton, Beeline's Merce Pacios Pujado and North West Cycling Club's Bethany Crumpton.
Junior men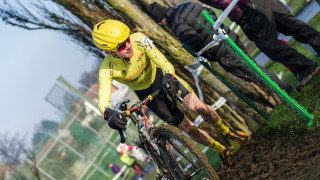 Last season saw Alfie Moses dominate the junior men's competition, beating runner-up Arthur Green by 60 points thanks largely to a string of wins in the opening three rounds.
With Green now riding in the under-23 category and Moses absent from the starting line-up due to a fractured hip, the landscape will be different in Southampton, more so with the talented Harry Yates and Dan Tullett moving up from the under-16 boys categories.
Yates and Tullett tussled for the top youth prize last year and it will be fascinating to see them make the jump, mixing it with established juniors such as David Barnes and Joshua Waters.
Venue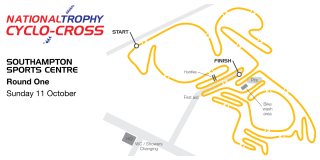 Southampton Sports Centre is a regular fixture on the cyclo-cross calendar having hosted many National Trophy events in the past, the venue a favourite with competitors and spectators alike.
Event schedule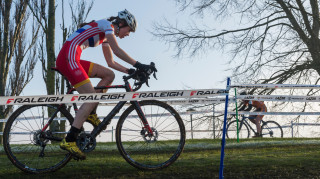 Race one
Veteran men 40-49 - 10:15am
Veteran men 50+ - 10:16am
Race two
Youth under-16 girls - 11:15am
Youth under-14 girls - 11:16am
Race three
Youth under-16 boys - 12:05pm
Youth under-14 boys - 12:06pm
Race four
Junior men - 1:30pm
Elite and under-23 women - 1:31pm
Veteran women - 1:32pm
Race five
Elite and under-23 men - 2:45pm
How to follow the racing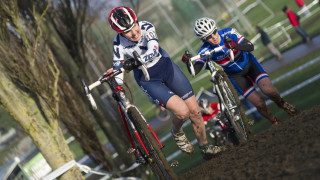 A report, results, images and reaction will appear on the British Cycling website.
Follow @BritishCycling for updates on Twitter.